Tactical preview
Euro 2012 Tactics - Denmark
ESPN's look at the plans of Denmark this summer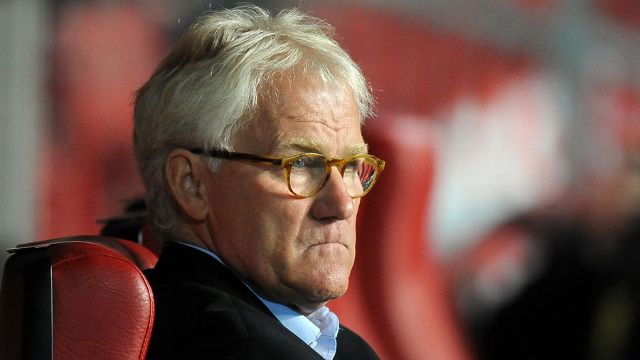 The Coach - Morten Olsen
Currently the longest-serving coach of any major national team, Olsen has done a wonderful job for Denmark over the past dozen years, building competitive sides from mainly middling raw materials and plotting a path to four international finals (the World Cups of 2002 and 2010 and the 2004 and 2012 European Championships). He is the only Dane ever to achieve a century of international matches as both player and coach.
An authoritative, calm, clever and scrupulously fair man-manager, he is also an enthusiastic tactical student, leaves nothing to chance when preparing a match as he endlessly studies the opposition in a bid to come up with tactical plans.
A highly intelligent sweeper for Denmark and Anderlecht during his playing days, he was renowned for his ability to read the game and he still has that footballing presence of mind today, quick to make perceptive adjustments to shape and personnel.
Throughout his coaching career (first in Copenhagen with Brondby, then at Cologne and Ajax and now with the Danes) he has proven himself a remarkable team builder, someone who never puts square pegs in round holes and for whom the effectiveness of the system is sacrosanct.
The Captain - Daniel Agger
With his status as defensive lynchpin, gritty, combative style and clear aversion to losing, the Liverpool centre-back was the obvious choice to skipper the side.
The great strength of Denmark's class of 2012 is their team ethic and honesty and Agger very much is the keeper of this particular flame, vocal, single-minded and indomitable. Thanks to his six years at Liverpool, he knows all about top-level pressure and like many of his club colleagues, he is inclined to save his best displays for the big occasion.
Agger's only problem will hopefully not be an issue at Euro 2012 - he is notoriously injury prone and which explain why he only took part in four of his country's ten qualifiers. Coach Olsen will be hoping he gets through this tournament unscathed.
The Formation
In impressively topping a qualifying group that also featured Portugal and Norway, the Danes stayed true to a fluid 4-3-3 or 4-2-3-1 formation.
Basically all depends on the deployment of wide-men Dennis Rommedahl and Michael Krohn-Dehli, either serving as out-and-out wingers or operating slightly deeper. The pair give Morten Olsen's team their balance: the orthodox flank trickery and pace of Rommedahl and the more industrious and team-conscious Krohn-Dehli.
Denmark's strategy is simple. Use Rommedahl, Krohn-Dehli and attacking full-backs Lars Jacobsen and Simon Poulsen to frequently penetrate out wide and provide main striker Niklas Bendtner with a plentiful supply of crosses.
Another plus for the Danes is having all the central midfield bases covered, from the subtle playmaking skills of Ajax starlet Christian Eriksen to the fire and water holding duo of Niki Zimling and William Kvist - the former a terrier-like tackler, the latter earning his keep with his covering, distribution and organisational skills.
The Weak Spot
Thomas Sorensen's latest injury problem is likely to see Evian's Stephan Andersen thrown into the starting line-up at Euro 2012 and his lack of experience at the very highest levels of international football must be a concern to coach Morten Olsen. Had Anders Lindergaard played a few more first team games for Manchester United, he may well have been pushing for a start in the Danish team this summer, yet all the responsibility will fall onto the shoulders of Andersen against Group B opponents who are certain to keep him busy. Is he up to the job?
Injury Nightmare
Aware that he does not boast the deep reservoirs of talent available to bigger European nations, Morten Olsen often expresses the hope that the sporting gods spare his first-team from injuries this summer and it would be nothing less than an unmitigated disaster if the Danes were to lose the services this summer of star striker Niklas Bendtner, who has been on loan at Sunderland from Arsenal this season.
Like or loathe the over-confident front-man - he polarises opinion both back home and in England - he not only is his country's one and only hope for goals but also does great work leading the line, ably holding the ball and playing in over lappers. With this in mind, an ill-timed injury to Bendtner in June would set the alarm bells ringing in Copenhagen as his deputy, Mads Junker of Dutch side Roda is a determined late-developer but not in the same class.
The Young Gun - Christian Eriksen
The 'next big thing' in Danish football gets another opportunity to prove his worth in the his second major tournament at senior international level this summer and this young man is good enough to snatch it with both hands.
A scorer in the vital Euro 2012 qualifying away win against Iceland, he offers a flair and creativity in a Danish side that will need some magic in their tough opening group assignment, yet Eriksen seems enthused rather than daunted by the challenge.
"We deserve to be at Euro 2012 and even if we are up against some of the favourite teams, the confidence we have from qualifying can work for us now," says the midfielder who was the youngest player at the 2010 World Cup finals. "There are always shocks in these tournaments, so why can't Denmark be the surprise team this time."

What they Say
""We could be good for a surprise. In our group we're the clear outsiders and that's no bad thing at all. We love being the underdog. This is a proud, pragmatic and very ambitious Danish side and even though we are already being written off, the players themselves do believe they can cause an upset. It's half the battle.""

Former Denmark star Brian Laudrup
The Verdict
Squad strength is all-important and the reality is the Danes' bench is substandard. Their best hope is that their star-studded opponents view them as the soft touch in Group B. An early exit seems more likely.