Tactical preview
Euro 2012 Tactics - Germany
ESPN's look at the plans of Germany this summer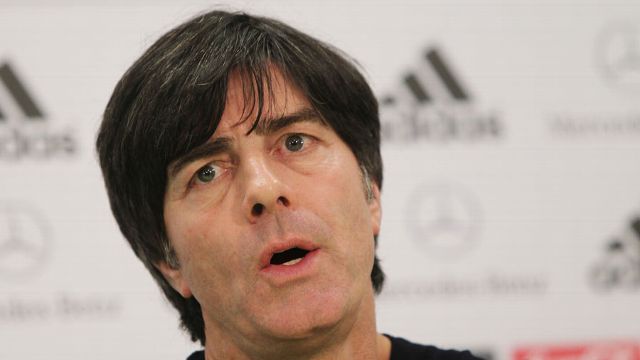 The Coach - Joachim Low
In his six years in charge, Low has not only proved immensely successful, leading Germany to the runners-up spot at Euro 2008 and a highly-worthy third-place at the last World Cup, but he had also done what no one thought possible - bringing about nothing less than a revolution in the playing style of the Nationalmannschaft.
Whereas the Germans used to be synonymous with power, endurance and discipline, Low has taken a completely new tack, insisting on a spectacular mix of technical mastery, good possession, creativity, risk-taking and movement. The Germany of 2012 are as spectacular as they are flexible, equally at home playing on the counter - as they did to great effect in the 2010 World Cup in South Africa - and relishing the chance to grasp the initiative and dictate terms.
The Captain - Philipp Lahm
Don't be fooled by his choirboy features and diminutive stature as while the Bayern Munich full-back certainly is no blood-and-thunder type of skipper, the 28-year-old does far more than wear the armband and attempt to win the coin-toss.
Calm, authoritative and hugely experienced (an international since 2004), Lahm very much leads by example and is an extremely strong character, someone who will not hesitate to criticise or flag up problems if he feels the need. In the last two or three years, he has become much more assertive, notably insisting in 2010 that the captaincy was his for keeps, that he did not see himself as a temporary stop-gap for the injured Michael Ballack.
The Formation
Although Low experimented with a 3-4-1-2 system in a friendly with Ukraine last autumn, the likelihood is he will stick to his favoured 4-2-3-1 formation this summer, a set-up with an impressive capacity for mutation.
It can quickly become a 4-3-3 when wide attacking midfielders Thomas Muller and Lukas Podolski push on, or even a 4-2-4, with chief playmaker Mesut Ozil weaving his magic close to the lone striker (either Mario Gomez or golden oldie Miroslav Klose).
Should Germany find themselves behind and chasing a game, Low's first step will be to sacrifice one of the two holding midfielders, incorporating an extra striker or chance-maker. Brilliant young attacking guns Mario Gotze and Marco Reus could well turn out to be the jokers in times of trouble.
The Weak Spot
There can be little doubt that Germany's Achilles heel is in defence and not merely because they are so attack-conscious and can leave the back door ajar.
Despite a perfect qualifying campaign - ten wins out of ten - Low was constantly chopping and changing his rearguard and this lack of stability could cost them dear. Individually there are more questions than answers in this sector. Are young centre-backs Mats Hummels of Dortmund and Bayern's Holger Badstuber a little raw at this level? Does long-serving stopper Per Mertesacker still have something to offer internationally after a season marked by poor form and injury at new club Arsenal?
There are also question marks over the right-back position, with central defenders (Schalke's Benedikt Howedes or Jerome Boateng of Bayern) likely to be handed the challenge of plugging that hole.
Finally, there is keeper Manuel Neuer. For all his world-class ability as a reflex shot stopper and one-on-one specialist, Bayern Munich's Champions League hero of the season just gone is somewhat less than convincing under high balls. That said, it is hard to find too much fault in a keeper oozing class and if it comes to a penalty shoot-out - which it tends to do for Germany in big tournaments - they have a great man on their side in Neuer, give or take events in the Champions League final.
Injury Nightmare
The reality is that Germany simply cannot do without deep-lying central midfielder Bastian Schweinsteiger, as he sets the tempo of the team's attacking play, does an excellent job of tackling and covering and relishes the role of being the side's emotional leader.
Busy, tactically-aware and superb in his distribution, the 27-year-old is a focal point for both club and country and the former certainly missed him badly when sidelined for much of the second half of this season with shoulder and ankle injuries. His recent return to fitness would have sparked sighs of relief all over Deutschland. If he was not available, Low probably would hope to fill the void with fellow Bayern star Toni Kroos, who while much-improved and outstanding on the ball, does not come close to matching Schweinsteiger's reading of the game, physical intensity and force of personality.
The Young Gun - Thomas Muller
Having come within seconds of scoring a career-defining match winner in the Champions League Final against Chelsea, the Bayern Munich starlet will be desperate to banish his agony with glory in Euro 2012.
His form at the 2010 World Cup finals saw him score goals aplenty and shoot to worldwide fame in an instant and at the age of 22, he is now firmly established as a key man in Joachim Low's line-up. Three goals in ten Euro 2012 qualifying appearances confirmed he is a potent force on the international stage, with his role supporting the leading striker reaping rewards.
"How do I feel heading into Euro 2012?" asked Muller. "I feel like I have something to make up for. We were so close to the Champions League, a matter of minutes away and my goal could have won the trophy. If Germany can win this summer, it would be the perfect consolation."
What they Say
""Jogi Low has proved time and time again what a clever tactician he is. Add his flair for a good game plan to his great motivational work and faith in young talent and you have a German team which is both good to watch and used to winning.""

Rainer Bonhof, former German midfielder
The Verdict
The majority of German football fans think another title is imminent for their team. The freshness, ambition, game-changing ability and leadership of the <i>Nationalmannschaft</i> point in the same direction. If Spain stumble and Holland fluff their lines in the big event once again, Germany will be at close quarters at Euro 2012.