Germany news
Bender twins in Germany bid
Lars and Sven line up for Germany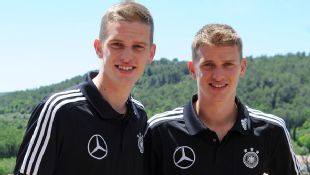 Twins Lars and Sven Bender will aim to secure their place in Germany's Euro 2012 squad when they line up together against Switzerland on Saturday.
The pair have not featured in the same team since moving from 1860 Munich to Bayer Leverkusen and Borussia Dortmund respectively. That could change this weekend in Basle when the twins are likely to benefit from the lack of Bayern Munich players in the Germany squad at this stage of preparations for Euro 2012 by lining up side by side in Joachim Low's midfield.
"We will try to recommend ourselves so we both travel to the European Championships," said Lars. "Everybody here has a chance of going to the tournament and we want to take that."
Sven, who made his debut against Australia last March, is one of the most likely candidates to be scratched from Low's current 27-man squad when the Germany coach must hand in his 23-man selection to UEFA on May 29.
"There is a battle for places and nobody is doing anybody any favours, for sure," he said. "Everybody has the motivation to be included, but we are also fair sportsmen and are all pulling in the same direction."
"It is a really important game, but it is only an addition (to training)," Lars added. "The coach will have already considered things in the many training sessions so far. We just have to try and use every training session and every game to recommend ourselves."
Meanwhile, Miroslav Klose remains in doubt after he was once again unable to train on Wednesday due to a back problem. That leaves only Cacau as a recognised striker in Low's squad with Bayern Munich's Mario Gomez due to link up with the squad on Sunday and Lukas Podolski preferred out wide on the left.