France v England
Benzema wary of England threat
France forward believes Three Lions are strong despite Rooney absence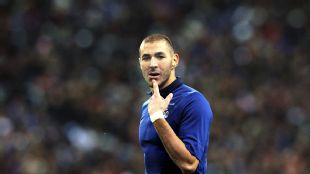 France striker Karim Benzema remains wary of the threat England pose despite the absence of their suspended key man Wayne Rooney.
England are without Rooney for the first two matches of Euro 2012 as they take on France and then Sweden, before finishing off Group D against Ukraine.
It remains to be seen who will spearhead Roy Hodgson's side come the tournament, but, regardless, Benzema is anticipating a fierce test when they tackle England at the Donbass Arena on June 11.
"It's true that England will play without Rooney," Benzema said. "But it's a great team which is used to playing in those big tournaments.
"They have the players to replace him so we need to be at our best for the first game (and) try to feel good, something we have been doing for the past year and a half."
Les Bleus have their sights set on a strong showing this summer after they endured a woeful Euro 2008 as they finished bottom of their group, failing to win a match.
Two years later, at the 2010 World Cup, their appearance was infamous for their players striking which resulted in Raymond Domenech's departure. Laurent Blanc is now at the helm, although his contract will expire after Euro 2012.