The view from Greece
Dissecting Santos' selection
Chris Paraskevas critiques Fernando Santos' squad selection for Greece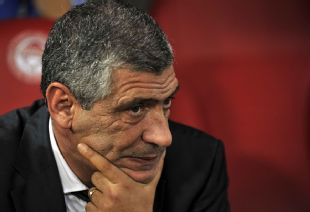 The generational transition of superpowers France and Italy has certainly been reflected in the squads their respective managers have assembled for the upcoming European Championship in Poland and Ukraine. While it is refreshing to see Laurent Blanc and Cesare Prandelli jettison the deadweight that caused their embarrassing group stage exits two years ago in South Africa, elsewhere on the continent certain traditions have been upheld.
One that this writer finds particularly amusing is the perennial pre-tournament complaint from certain, supposedly enlightened elements of the English media about an insufficient talent pool from which to select players. Apparently having 20 clubs playing highly competitive football more than 38 times a season isn't a proper breeding ground for players capable of lifting silverware on the international arena. If first-world problems were ever to be prioritised on a global scale, surely a 'lack of talent' in England would be top of the list.
The second tradition is upheld by the Greek national team managers, who almost always exclusively rely on just two clubs - Panathinaikos and Olympiakos - for the domestic contingent of their squads. Arguably they have little choice given these are by far the two best run clubs in the country: the only two capable of making a legitimate challenge in the Champions League and the only two who seem to pay their players' wages on time.
Outside of Manchester City and Manchester United, Roy Hodgson could have called upon players from clubs of the ilk of Tottenham, Chelsea, Arsenal and Liverpool. Greece boss Fernando Santos' equivalent list contained Atromitos, Aris, PAOK, and AEK Athens; the latter trio shadows of their former glorious selves who at various points in the past few years have flirted with financial disaster.
Given the scope of clubs from which he can potentially select (consider that Norwich, Everton and even Swansea could have also offered capable players) it is easy to see why Hodgson or any other England manager is under intense scrutiny when it comes to squad announcement; the variety available at his fingertips inevitably means there will be a clutch of omissions that spark debate.
Those unfamiliar with Greek football might take a logical leap and deduce that Santos would contrastingly be almost immune to criticism given the abysmal state of the domestic game both in terms of organisation and standard. Greece's best players largely reside overseas in some of Europe's top leagues and as a result the national team has enjoyed a historic period of consistency in qualifying for tournaments after their incredible success at Euro 2004.
However, the Portuguese coach has still managed a few surprises with his preliminary squad selection for Euro 2012, even if the Greek equivalent of Fleet Street won't subsequently rush to pen articles about the national team's impending doom.
Of those who have been excluded, Dionisis Chiotis will feel most unfortunate after inspiring Cypriot club APOEL Nicosia on a fairytale run to the Champions League quarter-finals. He was rewarded for a fine campaign when Santos included him in his preliminary 26-man list, only to see himself subsequently cut. The three 'keepers deemed more suitable than Chiotis were Michalis Sifakis (Aris), Kostas Chalkias (PAOK) and Alexandros Tzorvas (Palermo). Chiotis subsequently claimed the national team was being run on a meritocratic basis.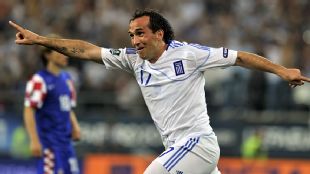 Given Chalkias is notoriously gaffe-prone and Jimmy Fallon look-a-like Tzorvas was an unmitigated disaster after moving to Italy this season, Chiotis seems to have cause for grievance. Sifakis is probably the most convincing of the trio but he has only managed four league appearances for his club this season due to medical problems.
Greece is thus left with three goalkeepers who for a variety of reasons are out of form and unfit for national team duty this summer. Despite all of them having far more experience internationally than Chiotis, it is a huge gamble taken by Santos in a group where fine margins could be the difference between an early flight home or a quarter-final berth given there is little to choose between the four sides in Group A.
Meritocracy and player power certainly aren't new issues to the national team given the complaints of veterans Theofanis Gekas (who is incidentally included in Santos' squad) and Sotiris Kyrgiakos in the past.
The exclusion of PAOK forward Stefanos Athanasiadis is another talking point given he's netted 12 league goals in a fine season with the Thessaloniki club; his place seems to have been taken by a man 13 years his senior in Nikos Lyberopoulos, though he has enjoyed an excellent final season with his club AEK Athens and will end his professional career at the Euros. Briefly returning to the goalkeeping front, Orestis Karnezis was another young talent ignored by Santos despite impressing for Panathinaikos this season.
However, his team-mates Nikos Spyropoulos and Loukas Vyntra have been dropped despite being mainstays in the national team recently, perhaps reflecting Santos' more ruthless, progressive tendency. He has also included starlets such as Giannis Fetfatzidis, Kyriakos Papadopoulos, Kostas Fourtounis and Panagiotis Kone, though the latter two are likely to be culled before the tournament begins. Kostas Mitroglou's call-up means his excellent season with Atromitos has not gone unnoticed, his questionable temperament failing to overshadow a raw talent that might just provide his country's X-Factor.
While Santos has erred on the goalkeeping front, his defensive selections are excellent, with Spyropoulos and Vyntra having never impressed consistently enough on the international stage. They make way for promising talents Jose Holebas and Giorgios Tzavellas, while Vassilis Torossidis, Kyriakos Papadopoulos and Sokratis Papastathopoulos are all young, reliable performers who represent the future of the national team.
In attack there is variety, with archetypal poacher Gekas included despite playing for relatively unknown Turkish side Samsunspor. Dimitris Salpingidis offers pace and a penchant for the big occasion while Celtic striker Giorgos Samaras - once the great white hope of Greek football - will look to replicate his fine domestic form this season.
While the inclusion of Euro 2004 veterans Giorgos Karagounis and Kostas Katsouranis doesn't represent progress and seems to reinforce Chiotis' complaint about meritocracy, Giannis Maniatis, Giorgos Fotakis and Grigoris Makos are midfielders who have been selected on merit. The talented Sotiris Ninis will also get his chance despite having a season interrupted by injury.
Santos has assembled a largely sensible squad that will also showcase a number of talented young players who will form the backbone of the national team in the years to come. Whilst he hasn't the resources of countries such as Italy, France and - dare we suggest it - England at his disposal, the 57-year-old has certainly produced an interesting blend of pragmatism and unpredictability. That will mean nothing however if his goalkeeping selections prove costly and send a potentially dangerous squad home early.