Poland news
Szczesny: My shoulder injury is fine
Poland stopper passed fit for tournament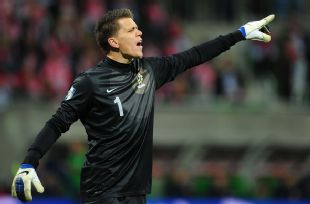 Poland goalkeeper Wojciech Szczesny has insisted that he will be fit to play for his country at Euro 2012 after Arsenal manager Arsene Wenger revealed that he had been playing with a shoulder injury for the final months of the season.
Szczesny, 22, has impressed for the Gunners and his performances were a key part of the club's revival to secure third place in the Premier League.
But, after Wenger cast doubt on his fitness ahead of the tournament, the stopper has claimed that he will be ready to play.
"Everything is fine with my shoulder, on Tuesday I report for training," he told Polish media. "I'm healthy and there's no need to do any injections. Wenger's words were true, for about five weeks I've played injured, but it hasn't got worse during this time.
"For a week I've been resting and the pain has completely passed. I think it was a bigger scandal in the media than a real issue. Now I'd really like to play a match against Slovakia [a friendly warm-up scheduled for May 26]."