Focus on Ireland
Trap quick on the draw
Miguel Delaney on the Irish squad, as McCarthy withdraws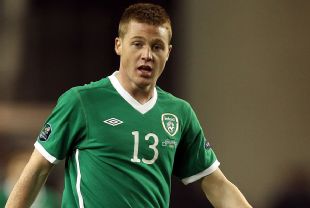 So it's Ireland who properly start the build-up to Euro 2012: At Lansdowne Road on Monday, Giovanni Trapattoni became the first manager to name his final 23 players for the tournament.

As a result, there should have been an air of excitement, anticipation and intrigue around the new stadium. After all, this is a first international competition for the country in 10 years; finally a chance to have all those enjoyable arguments about the rights and wrongs of the manager's picks.

And, for a time, there was all that. And more. Speculation had almost spun out of control in the previous week after Trapattoni had revealed that one senior player was very likely to miss out due to a "personal problem".

All manner of names were mentioned, a huge range of reasons proffered. Until, at 3.30pm, Trapattoni walked in. Stern-faced. "Now you know," he simply said.

By then, the assembled media had been handed a statement from Wigan midfielder James McCarthy. "I have made the very difficult decision to withdraw my name from selection from the Euro 2012 squad following the diagnosis of my father with cancer and an ongoing requirement for treatment," it read.

Naturally, it immediately altered the atmosphere from one of fevered speculation to solemn acceptance. But it also effectively ended any important questions. Because, while football may clearly be comparatively trivial, the fact is that McCarthy's hugely difficult decision essentially gave Trapattoni an easy one.

Over the past few months, the discussion that dominated the Irish international team has been over whether Trapattoni would bring one of the country's bright young hopes in: the choice was McCarthy or James McClean, or indeed either at all. Given the Italian's stated preference for five forwards and his clear appreciation of players such as Stephen Hunt and Keith Fahey, it seemed one was sure to miss out unless the manager completely unbalanced the make-up of the squad – something essentially anathema to Trapattoni.

McCarthy's sad withdrawal, however, removed the dilemma. The country's main cause celebre in McClean was included while the squad was otherwise as expected. At once, Trapattoni was allowed look both a populist and a pragmatist.

Indeed, once you accept that the Italian will never deviate from his rigid system, there were no real questions or caveats to the 23.

Of course, those with only a casual interest in Ireland may see a squad that contains the likes of Sean St Ledger, Darren O'Dea and Keith Fahey and wonder why Premier League regulars like Seamus Coleman, Wes Hoolahan, Anthony Pilkington, Ciaran Clark and Marc Wilson have missed out.

That, however, doesn't take into account Trapattoni's idiosyncratic - and, to be fair, vindicated – ideas about who fits his system and who doesn't.

The most illustrative example is Coleman at Everton. Only a year ago, the 23-year-old looked set to seize the Premier League. Even then, though, Trapattoni was refusing to abandon himself to the acclaim. He continuously spoke about how raw Coleman was, how he needed to improve tactically.

The winger was understood to have become hugely despondent as he realised he was never really going to get an opportunity in this campaign. Despite only bringing seven nominal defenders, Trapattoni simply doesn't think Coleman is a right-back (and neither, it should be noted, does David Moyes). Further forward then, the wideman's greatest strength – his aggressive abandon on the run – doesn't really synch with the controlled energy the manager's system demands of his starting wingers.

Elsewhere, Trapattoni doesn't yet fully trust Clark because of his age and won't pick Wilson because of a reported disciplinary incident. Hoolahan, meanwhile, may have been in superb form in roving midfield for Norwich but not superb enough to warrant the Italian altering his entire midfield shape. Two in the middle sit, two on the wings shuttle up the lines. That's how it is and that's how it will remain.

Despite such in-built constraints, though, it shouldn't be overlooked that Trapattoni has otherwise picked a moderately forward-thinking squad that generally ticks all the boxes as far as these announcements go.

For one, a notoriously conservative manager has not sacrificed increased quality up front for extra insurance at the back: he's picked five forwards and only those seven defenders. And while that may ensure the squad is slightly lopsided in terms of numbers, it is better balanced in terms of ability.

It's also actually the wings that see the widest range of options. Not only can Damien Duff and Aiden McGeady be replaced by McClean and Stephen Hunt but also Shane Long, Simon Cox and Jon Walters. Although, here, there is clear purpose.

In Trapattoni's system, the biggest burden by far is on the wingers. As well as aiding their full-backs and cutting in when defending, they are the only players really charged with any creativity. It isn't a stretch to say the success of the entire formation hinges on them. As such, inevitable exhaustion ensures they are always Trapattoni's first substitution. Now, not only does he have extra subs but also extra options in case of injury.

And one of them, of course, offers the most important element of any tournament squad: the livewire wild card that surprises opposition defences. In this case, McClean. On Monday, Trapattoni even went so far as to describe him as a potential Irish Toto Schillachi.

If that sounds outlandish, the Italian has often gone even further with his comparisons. At pointed moments throughout his four years with Ireland, he has merely mentioned "Greece". He clearly believes Ireland can come close to replicating their success of 2004.

And, when surprisingly asked whether this squad could actually win Euro 2012, he didn't exactly dampen such talk. Rather, he spoke with seemingly knowing nods.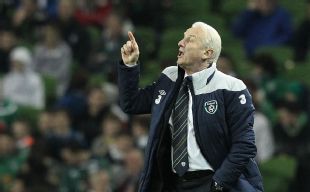 "I was a young player and I was playing against the best in the world at moment," he said. "His name was Pele. I thought 'I am dead.' But I won the game. Usually the stronger team wins, but 90 minutes is 90 minutes."

Many may balk at that. But Trapattoni insists it would be foolish to take his tough-to-beat team lightly.

"I think my colleagues respect us," he added. "In Italy and also Croatia the managers there say Ireland is a strong team with a strong mentality. I don't think any of my colleagues would be arrogant enough to think they are superior."

Trapattoni certainly doesn't think his system – if not quite his chosen players – are inferior. And that's possibly why he was so eager to name his team and get the party started.

Miguel Delaney is the owner of Football Pantheon and can be followed @migueldelaney