Euro 2012 news
Bilic: Croatia can make last eight
Coach confident his side can emerge from group of death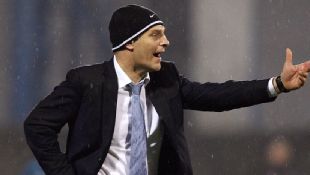 Slaven Bilic thinks his Croatia side can emerge from their group of death and make the Euro 2012 quarter-finals.
Croatia have been drawn in a bitterly tough group, alongside defending champions Spain, Italy and Ireland.
But despite their tough assingment, Bilic has confidence that his charges can claim a qualifying place and book a slot in the last eight.
"It is true that compared to some other squads our chances are weaker but we still have them all the same," he told the Vecernji List daily newspaper.
"We can go home after three matches but that's not why we are going to the European championship."
"We are going for success and I would be very disappointed if we did not make it out of our group.
"I don't say that we have as much quality as Spain. We are not better than Italy either. But we can defeat Italy and Spain."
Bilic is soon to announce his squad for the forthcoming championships, which begin in Poland and Ukraine on June 8.
"The negative points are the injuries of (Tottenham midfielder) Niko Kranjcar and (Lyon defender) Dejan Lovren, but I'm an optimist," he said.
"Kranjcar has started to run, he works hard and there are chances the he will be ready. For Lovren the predictions are also optimistic."
Croatia's finest performance to date came when they secured third place at the 1998 World Cup in France.