Denmark news
Sorensen: We have a chance
Denmark face Netherlands, Germany and Portugal in Group B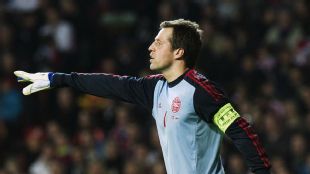 Thomas Sorensen is optimistic of Denmark's chances at Euro 2012 despite the nation being drawn in arguably the toughest group of the tournament.
Denmark have been placed alongside Netherlands, Germany and Portugal in Group B, and have been given little chance of reaching the knockout stages of the competition.
Goalkeeper Sorensen, though, is hopeful ahead of the European Championships, having seen his nation top their qualifying group ahead of Portugal.
He said: "Of course, on paper, it probably wasn't our preferred draw, but it's still incredibly exciting.
"As a player you always want to measure yourself against the best and you can say that we're in a group with two of the best teams in the world, and our own team is right up there.
"They'll be three very difficult games, but also three games that we're all very much looking forward to, and feel that we have a chance of winning."
Sorensen also highlighted the importance of Denmark's head coach Morten Olsen, who has been in charge of the country since 2000.
"It's great that he's around the team as he's the one who inspires us with his enthusiasm and his professionalism which he also had as a player," Sorensen told UEFA.
"Everyone has a great deal of respect for that, and I believe that's why he's still the national team coach after 13 or 14 years – because he's been able to command that respect from his players."