Euro 2012 teams
Team Profile: Russia
A look back at the key points of Russia's history in the Euros.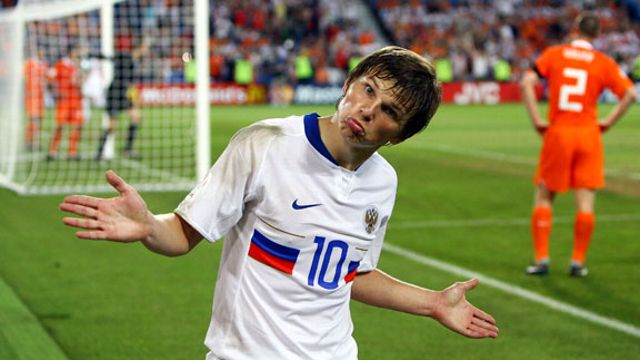 Overall record at finals: Played 11, Won 4, Drawn 1, Lost 6.

Best performance: Semi-finals in 2008.

Most appearances at finals: Aleksandr Anyukov; Igor Semshov (2004, 2008) - 6

Most goals at finals: Roman Pavlyuchenko (2008) - 3
European Championship high: With talisman Andrey Arshavin suspended for the first two games in Euro 2008, Russia got to semi-finals with the returning forward inspiring them past Netherlands. It took eventual winners Spain to halt their attacking charge, but they won plenty of plaudits for their play.

European Championship low: Failure to get to Euro 2000 came from a 1-1 draw against Ukraine in their final qualifying game. After taking a 1-0 lead, a terrible mistake by goalkeeper Alexandr Filimonov late in the game saw it end 1-1 and they finished third and missed out to their opponents and group winners France.

European Championship legend: Sergei Ignashevich is the most prolific defender in Russian history as he has bagged over 50 goals for his country. Netting one in the 6-0 win over Andorra, he has also made 34 European Championship appearances in qualifying and the final tournament to tie with another defensive legend: Viktor Onopko.

The story so far: Before the break up of the Soviet Union, Russia helped win the inaugural competition in 1960. With legends like goalkeeper Lev Yashin and Igor Netto, they beat Yugoslavia 2-1 in the final after extra-time. In 1964, they were runners-up to Spain and, after finishing the 1968 tournament in fourth place, lost the 1972 final to West Germany 3-0 in Brussels. Three years of failure followed, before Netherlands striker Marco van Basten and his famous volley saw them off in the 1988 final. Under the banner of the CIS (Confederation of Independent States) in 1992, they struggled to recreate past glories and did not get past the Group Stages until Andrey Arshavin inspired them to the 2008 semi-finals under Guus Hiddink.

Qualification: Struggling a little early on, a 2-0 victory over Andorra was sluggish and followed with a 1-0 home loss to Slovakia. But after that Dick Advocaat's side turned it around in Ireland and went 3-0 up before holding off a fightback to seal a 3-2 win. More accusation of laziness came in a 0-0 with Armenia and a laboured 1-0 win over Macedonia, but Russia sealed progress by virtue of a 6-0 drubbling of Andorra and maintained the second-best defensive record by conceding just four goals in ten games. "We took part in a difficult ten-match competition and deservedly won it," said Advocaat. "I hope any criticisms towards the national team will die down now."

Qualifying record: P10, W7, D2, L1, F17, A4, Pts 23

Most appearances: Vasili Berezutski, Andrey Arshavin (10)
Top goalscorer: Alan Dzagoev, Roman Pavlyuchenko (4)