Euro 2012 teams
Team Profile: Ukraine
A look back at the key points of Ukraine's history in the Euros.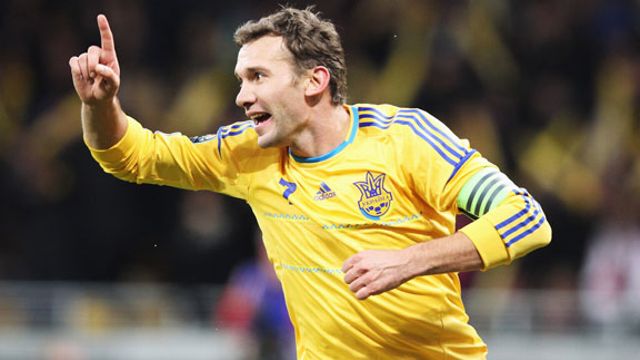 Overall record at finals: Played 0, Won 0, Drawn 0, Lost 0. Best performance: Never previously qualified.
European Championship high: Being selected by UEFA to co-host Euro 2012 with neighbours Poland. European Championship low: Missing out on qualification for Euro 2000 after finishing one point behind reigning world champions France. Ukraine were then beaten by Slovenia in the play-offs.
European Championship legend: Andriy Shevchenko. Ukraine's all-time leading scorer is unsurprisingly also their all-time top scorer in European Championship qualifying, having scored nine of his 46 goals international goals while trying to help his country reach the tournament.

The story so far: Since first competing as an independent football nation in 1992, Ukraine have fallen short of qualification on each of their four attempts, with a Euro 2000 play-off defeat to Slovenia the closest they have come. However, the country made some significant contributions to the continental achievements of the unified Soviet Union: Dynamo Kiev stalwart Yuriy Voynov marshalled the Soviets' midfield in their 1960 triumph; Ukrainian-born Eduard Mudrik played at the heart of their defence in the 1964 final defeat to Spain and Anatoliy Konkov scored the winning goal against Hungary in the 1972 semi-final. Euro '88 brought the most notable Ukrainian influence, though, as legendary Dynamo Kiev boss Valeriy Lobanovskyi led a Soviet Union squad containing 11 players from his club team to the final, seven of whom started the 2-0 defeat to Netherlands.

Qualification: Having qualified as tournament hosts, Ukraine have undergone a rigorous schedule of friendly matches and with just five wins in 18 games, it has hardly been an ideal build-up to their European Championship bow. Defeats to Brazil, Italy, France, Sweden, Uruguay and the Czech Republic suggest the hosts' chances of mixing it with the bigger teams are limited, while a loss to Israel in February was viewed as disaster. Nonetheless, coach Oleh Blokhin has retained an air of optimism: "Our job is to win the European Championship but we should remember that there are at least ten other very strong contenders.