Germany 1-2 Italy
Pass master Pirlo punishes Germany
John Brewin watched as Italy continued their tournament jinx over Germany thanks to Pirlo's possession and Balotelli's goals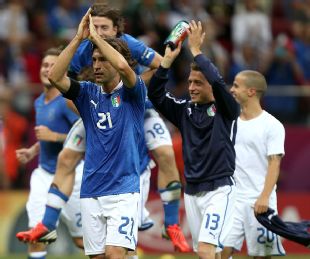 "Creating History Together" is Euro 2012's motto. Overcoming history may yet prove to be the keynote of this championship. Or it might just be that the Italians relive history and thus deny the creation of new frontiers.
Spain are in line to become the first international team to win three major tournaments in a row. Germany, however, will not be joining them in rewriting any records books. Instead, they are once again also-rans. They could not extend their mark of 15 competitive wins in a row, and neither could they end the tournament hoodoo the Azzurri have over them.
A whiff of scandal, a slow start, a preponderance of Juventus players are all hallmarks of Italy's World Cup wins of 1982 and 2006. The pattern is being repeated. Italy almost always perform best when written off. 'Work-in-progress' was the label most often attached to Cesare Prandelli's project in pre-tournament days. A remarkable progression takes them to the brink of denying Spain. A rerun of the group stage's most beguiling tactical battle, that Group C-opening 1-1 draw in Gdansk, will be Kiev's final. The team with no strikers will face one with at least two in form while the two best defensive records will be at stake. Most enticingly, a battle of midfield maestros awaits us.
Defeat to Slovakia at Johannesburg's Ellis Park saw holders Italy exit the 2010 World Cup in humiliating fashion. It was the end of the road for Marcello Lippi's group of old soldiers. Only five survivors in Giorgio Chiellini, Riccardo Montolivio, Daniele De Rossi, Antonio Di Natale and Andrea Pirlo played any part here. The last of that list came on as a sub on one leg against Slovakia, playing through the pain barrier of a serious thigh strain. South Africa will not now be remembered as a sad coda for Pirlo.
Italy's key man is both a pass and past master. Unless Sunday's final supplies something truly spectacular, we have our man of the tournament. He is slow as a coach. Paul Scholes might see him off in a sprint but Pirlo guided Italy to glory with unerring, peerless precision. His loping classicism set him streets ahead of playmaking pretenders like Mesut Ozil, Toni Kroos and Bastian Schweinsteiger.
To hear talk of Pirlo from England after Sunday night's performance in the quarter-final, it was as if much of the English media had only just heard of the Juventus playmaker, despite his playing of two Champions League finals against Liverpool, and another in Manchester. That he was a World Cup winner in 2006 might perhaps have marked him out further. That last fact, of course, did not escape the Germans. The 2006 semi-final in Dortmund saw Pirlo pass them to eventual death in extra-time.
Joachim Low, Jurgen Klinsmann's assistant that night, set out a gameplan to deny Pirlo. It proved just as ineffective as Roy Hodgson's efforts in stopping the playmaker with the cavalier looks assuming and retaining control of the game.
The Italians struck much earlier than they did six years ago. Extra-time was not required. Balotelli's first arrived soon after Pirlo was to be found meandering in the centre circle. It looked as though he had stumbled but a typical Pirlo pirouette ghosted him past Mario Gomez. His crossfield pass was hit with the fade of a nine-iron from Seve Ballesteros in his prime. It found Giorgio Chiellini, who fed Antonio Cassano, whose own skills burst him past Jerome Boateng and Mats Hummels. The cross was delivered and Balotelli's crashing header gave Italy a lead that their far more creative play had deserved.
By then, Pirlo had already revealed a lesser-known defensive side in clearing off the line in the fifth minute from Hummels' snap shot. The Borussia Dortmund man was to suffer disappointment throughout. So heavily praised throughout Euro 2012, and compared favourably to Matthias Sammer and Franz Beckenbauer for his bringing of the ball from defence, Hummels instead showed that he is no defensive equal to his predecessors. The impish Cassano ravaged him on numerous occasions and while Balotelli's two goals were beautifully taken, both seized on German defensive weakness.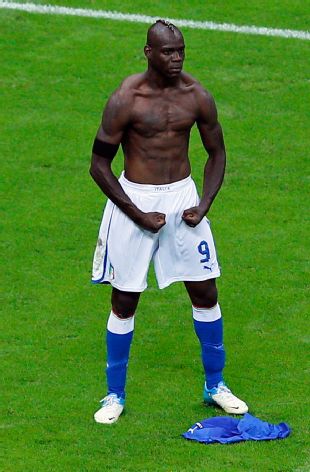 Low's hopes of flooding the midfield by preferring Toni Kroos to either Thomas Muller or Marco Reus could not quell Pirlo and able lieutenants Claudio Marchisio, Riccardo Montolivo and Daniele De Rossi. Italy dominated midfield in a fashion to suggest that they can go far beyond Portugal's near-successful spoiling job on the Spanish. Low's team failed to hit any passing rhythm until it was far too late. It perhaps happened as a result of too much tinkering from the coach. Germany exit the tournament having failed to hit on a formula.
The choice of Mario Gomez instead of Miroslav Klose suggested that Greece in Gdansk had been an exercise in rotation policy. Gomez departed at half-time, his reputation as a non-performer on the grandest occasion sadly enhanced. Klose, his country's most prolific striker since Gerd Muller, could not effect change. Even in the second half, as Germany pushed on, their backline threatened to undermine any comeback effort. Had Di Natale put the right boots on - he slipped twice when granted the freedom of Warsaw to score a clinching third - then the late surge that bore German consolation in Ozil's converted penalty would have been even more fruitless.
If Pirlo's dominance loosened Germany's grip on the title they felt was theirs then Balotelli was the man who cut their hands off. He followed his header with a wondrous finish from Montolivo's through ball. He might just be insane. He is certainly childish. But he is very often nerveless when in front of goal. Neuer was given no chance by a thrashing boot across the ball. Balotelli reconfirmed his immaturity when being booked for his shirtless celebration.
The Germans' long road of development towards glory that began in 2000 must continue and with serious reservations over possible success. Brazil in 2014 looks a monumental challenge considering the acclimatisation problems of playing in South America. Italy, two years on from disaster, prompted by Pirlo, have a chance to write history once more. In turn, they look capable of denying Spain their immortality.
MAN OF THE MATCH - Andrea Pirlo. Balotelli scored two goals of supreme striking quality but he still didn't hit the heights of the untouchable Pirlo. Euro 2008's best player was Xavi, and his battle with his Italian creative counterpart in Kiev will be simply unmissable.
GERMANY VERDICT: Are they beginning to become international football's nearly team? Since Euro '96 they have reached two finals and three other semi-finals, losing all five. Their attacking riches did not get enough quality possession, as Ozil and Schweinsteiger flopped while Khedira, the purported shield of the defence was more notable for his attacking forays. For glory to be reached by this 'golden generation', then they need to defend better, perhaps taking a leaf from the book of their obdurate predecessors.
ITALY VERDICT: Pirlo and Balotelli were their two stars but a team effort provided the platform for their wizardry. The defence was solid throughout, with Chiellini outstanding at left-back. Buffon is back at his commanding best to join Pirlo and De Rossi as members of the class of 2006 who can lead Italy to Euro glory for the first time since 1968.
FAREWELL TO WARSAW: The first city of Euro 2012 has hosted its last game. At times the city seemed unready for such an influx, at others it gave off the image of soon becoming a destination of choice. The National Stadium is a tremendous venue and gives the lie to the idea that new stadiums can never produce great atmospheres. England travel here soon. They will face a wall of sound.