Semi-final preview
Licence to thrill
Miguel Delaney wonders whether the adventurous semi-finalists can maintain their commitment to the attacking football that has taken them to this stage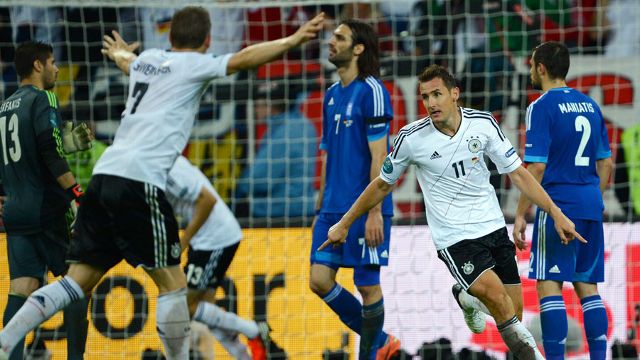 Something's going to have to give
So far, Euro 2012 has been a carnival of attacking football.
Even in the quarter-finals, which are traditionally more tense, caution always lost out. The successful sides have been those who have tried to push their limits rather than just working within them. The adventurous team won when Italy played England, Portugal kept taking the game to the Czechs, Germany cut loose against the Greeks and Spain played the French game exclusively on their terms.
In keeping with the general trend of being very forward, then, pretty much everyone in the semi-finals has indulged in a bit of self-praise. There's been a mood of congratulation in all of the press conferences. Anyone asked has gleefully gone on about how great it is that proactive teams have progressed.
And, of course, it is. The only problem is that someone is probably going to have to go back on their word. Something is going to have to give. The carousel is going to have to slow.
That is most likely to happen in the first semi-final. Unless Portugal somehow come up with a genuinely creative – in every sense – new way to beat Spain, they're likely to revert to the percentage-playing congest-and-counter approach.
Although the Portuguese would appear better balanced than most to pull this off, the fact is that that approach hasn't even produced a single goal against this Spanish side in a knockout match since 2006 and has only stopped them scoring once.
The pattern of the second semi-final, at least, is somewhat harder to predict. A certain pragmatism is expected, but we just don't know how much or from who.
The Italians, after all, have been praised for their adoption of a purer, possession-based game, but that hasn't stopped them sitting back in a more stereotypical manner when the occasion has demanded it. As Miroslav Klose argued on Tuesday: "You say Italy have a forward-oriented style. If the opponent sits as deep as England then you're right. I think we'll play different tactics."
But will the Germans play different tactics to their usual game, too? While their overall approach has been much more proactive than in 2010, they're perfectly comfortable to counter, too.
All are interesting questions, and they're likely to ensure the action is intriguing, even if it isn't quite as exhilarating.
The pursuit of player of the tournament may also settle the Ballon d'Or
Had Real Madrid won the Champions League, Cristiano Ronaldo would surely have reclaimed the Ballon d'Or he so craves. As it is, though, Chelsea's victory has created something of a vacuum. For one, the European champions don't really have an outstanding candidate other than Didier Drogba, and his selection would probably be more for sentimental reasons and single games rather than contribution over a whole season. Leo Messi, of course, broke many more records in another relentless season, but all those goals still didn't lead to the most important titles.
As such, the destination of the European Championship title may well decide the Ballon d'Or too. Even if Andrea Pirlo only steers Italy to the final, for example, then the added argument of an excellent – and unbeaten – Serie A campaign for Juventus looks a lot more convincing. Victory may settle it.
Likewise, Mesut Ozil may well trump his club team-mate if he can add Euro 2012 to his existing Spanish league medal. On the other side of the Clasico divide, Andres Iniesta has assumed a more central role for Spain than ever before.
Of course, Ronaldo can make certain if he continues this scoring run but, then, many thought much the same at the same stage of the Champions League. If recent history repeats itself and Ronaldo fails to influence the last four then there is actually merit in the argument that he doesn't deserve it at all, that he hasn't truly decided the destination of a trophy even if he did get things moving.
Because, for all that the early-round performances tend to influence these decisions, the strongest claims should actually start now. This, as Arsene Wenger would say, is "money time". It's when victories have the most value, when the margins are thinnest, when the gaps in quality are at their minimum but the demands at the maximum.
A classic example came in the 2010 World Cup. After an inauspicious start to the tournament, Iniesta himself rose to become the most decisive player in the most important games: aside from generally orchestrating so many Spanish attacks, his run released David Villa for the late winner against Paraguay before a similar move eventually led to the opening that saw him do the same against Netherlands in the final.
If a similar scenario unfolds at Euro 2012, the tournament's eventual standout player might not yet have staked his true claim.
History and histrionics
Whereas the drama of the quarter-finals was deepened by many off-pitch dimensions such as politics and economics, the semis are arguably even more interesting for simpler on-pitch affairs.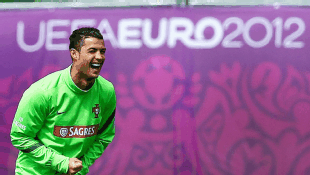 Most of all, of course, there is the fact that Spain are now within touching distance of a truly historic achievement. A third trophy in a row would confirm them as the greatest international team of all time. Complicating that, though, is their face-off against one of the most celebrated – and debated – individual players: Ronaldo. But, while that adds an interesting dichotomy regarding mere collections of individual players against truly cohesive collectives, there's also the intrigue of the Portuguese forward facing his regular Barcelona rivals and his everyday Real team-mates.
The duel in the second semi-final is more straight-forward but just as striking. Germany, the second most successful team in international football, are looking to end a 16-year wait for a trophy by, remarkably, beating the Italians for the first ever time in a tournament. And, through changing history, a young German side will also look to signal the future.
Italy, meanwhile, will want the past to repeat itself by illustrating that a scandal doesn't affect them and replicating the victories of 1982 and 2006 – right down to beating the Germans again.
Of course, the hope is that the high drama of these semi-finals will only create a newer, even more enticing set of dimensions.