Focus on Italy
Italy making pre-excuses
Roberto Gotta outlines the over-reaction in Italy that has followed the nation's penalty shootout scalp of England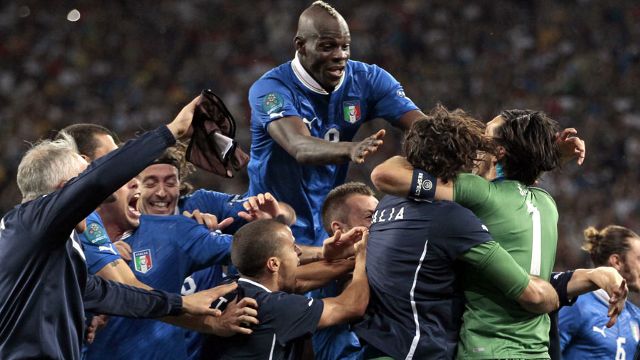 The Azzurri managed an astonishing feat on Sunday evening: they won the World Cup despite playing a European Championship quarter-final. Which takes some skill.
But as absurd as it may seem, that is the feeling you get on Monday by listening to pundits, reading newspapers and, worse of all, indulging in a quick look at social networks: a gigantic overreaction to an admittedly glorious performance in style and grit rather than efficiency.
Full-page headlines, triumphal tones, open celebration and oblique, or sometimes blatant, mockery of England, which may seem puzzling, considering the contorted, asymmetric description that had been made of Roy Hodgson's side in the days leading up to the game: according to whom you read or listened to, it was either a poor, primitive side, or a side which had made the most of its resources by deploying tactics that Hodgson, obviously a novice with no tactical background, has clearly derived from his Italian past, or inherited from Roberto Di Matteo at West Bromwich Albion.
You could not tell, at times, whether England were being praised for being a practical side or slagged off for lacking any apparent cumulative skills, and that is why reactions of elation for a win that only came on penalty kicks, after Italy had been the better side for at least 100 out of 120 minutes, could sound puzzling – if it wasn't that wins like that, in any nation, are taken as something more than simply sporting triumphs.
And while I'm not at all a fan of famous quotes, Winston Churchill's line that "Italians lose wars as if they were football matches and football matches as if they were wars" comes to mind, substituting "win" for "lose" in this case, of course.
Not that there was not cause for celebration, of course. In fact, it was probably Italy's most convincing performance in a major tournament since they beat Germany in the 2006 World Cup semi-final, and the fact it ended with a win, albeit only on penalties, is more a testament to the current side's inability to translate possession and chances into goals than to any other shortcoming the Azzurri may have.
Coach Cesare Prandelli must be praised for changing his starting XI yet again and still producing a result, with Riccardo Montolivo playing decently as a trequartista, a position he'd been asked to play a few times by his former manager at Fiorentina. He also escaped perennial censure for his mistake from the penalty spot, which apparently had him heartbroken until Andrea Pirlo – and Alessandro Diamanti, who scored the winning penalty but was barely mentioned in press reports – put things right.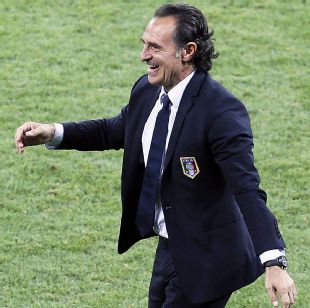 And while Italy go on to play the second instalment of the series pairing Germany with national teams from countries that can't keep their house in order but get irritated at those who require them to do so, the best memory we're left then with is Pirlo's wonderfully taken penalty, a chip imitating Francesco Totti imitating Antonin Panenka, whose name had been brought up before this tournament so many times you'd think he was still a force in modern football.
Pirlo – who was immediately hailed as a possible candidate for that absurd Italian obsession, the Ballon d'Or/FIFA World Player of the Year – showed his class and composure under pressure with that penalty, adding afterwards that he'd seen Joe Hart so pumped up he thought that the goalkeeper would never stand still and, having perhaps studied the Italian's penalty-taking habits, would commit to either side.
That's what a player with superior football intelligence does, and while it may have been easy to say – once the win had been secured – his chip was the turning point of the whole shootout, as it gave the Azzurri a boost. The confidence and skill Pirlo displayed in those moments make him as much a leader of the side as other, more vocal players like Gianluigi Buffon, who gambled correctly on Ashley Cole's weakly taken kick, and Daniele De Rossi, who was again a giant in all aspects of the game (except finishing), especially in positioning himself in such a way that opponents would rarely find an open lane for an easy pass.
The euphoria will last for a couple of days, while enthusiastic reports from Poland and the Ukraine keep coming, cleaners put away the trash and debris left from street celebrations that were staged on Sunday night across Italy – this did happen, sadly, for a quarter-final – and a new, or rather old, tactic is not-so-subtly introduced ahead of the Germany match: putting in excuses, which is perhaps consistent for a country that rarely owns up to its own shortcomings.
First, it was the feared "biscotto" between Spain and Croatia, which never happened; then it was Italy's moderate success in penalty shootouts (cheer up, guys – others are worse), and this never materialised, either. Now it's "the Germans have had two more days' rest", which would be a good excuse should the semi-final run into energy-sapping extra time. And if a win comes, of course, another cliche would be unearthed again: the "we won against everything and everybody", which has already been employed in the past.
This side, for what it's done in difficult circumstances, including a change of formation in the group's first two matches, deserves more than petty excuses, or pre-excuses. It is, arguably, much better than the collective mentality and attitude of the country it represents. The Azzurri progressed from the group stage, and won, by being positive, facing opponents without fear, without cheating, without closing up shop and waiting for others to make mistakes, led by a man appointed for his skills only, not because of political connections or intrigue. How many of us could claim to be doing the same in our day jobs?