Spain 2-0 France
Spain stroll into the semis
Phil Ball on confidence returning for Spain after France were made to look second rate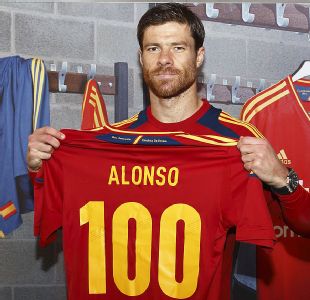 First of all, congratulations to Xabi Alonso on marking his 100th appearance so significantly, with the two goals that take Spain to a semi-final clash with Iberian neighbours Portugal on Wednesday.
Alonso is a great player and an excellent chap - one of the nicest guys to ever pull on a football shirt. As I sit typing this report, I can crane my head around to the balcony and cast my eyes upon the flat where his parents live, although I note that the blinds are down. I guess they're pretty happy for their son. The dad (Periko) was a good player too, and played for Real Sociedad, Barcelona and Spain - but only 20 times for the national side. Xabi's done rather better and will now want to make it to another major final.
It was the night of San Juan here in Spain, when folks light post-solstice bonfires, jump over the flames, open little boxes at midnight to let out the bad spirits of the year, and normally ignore a football match which happens to coincide with the time that the bonfires are lit, but hey - there's usually a bar and a telly nearby.
I wandered out after the game here in the north in search of flames, but only encountered the damp squibs of a dying bonfire in the plaza. Elsewhere in Spain, and on Telecinco (TV5) that covered the game, the good vibes had returned after the rather nervy performance against Croatia. Spain's easy domination of the quarter-final against a disappointingly defensive France side has meant that the semi-final can be prepared for with morale even higher (it's always a progressive thing for Spain - start slow but gradually confound the critics), and all the players in the squad available. Sergio Ramos was the only player booked, but was not among the five who started the game only one booking away from missing the semis.
The win is sweet in several ways for Spain. First of all, it once again shows the virtue of sticking to your guns, even when, in Vicente Del Bosque's case, it seemed tantamount to stubbornness. Maybe it was, but Del Bosque is a man of few words, and therefore a difficult target for a media skilled in the deconstruction of careless manager-speak.
Spain's rectors have learned their lessons after the more loquacious regimes of Javier Clemente and Luis Aragones had the media engaged in a constant pitched battle with the Spanish team and its customary failures. Now, VDB just mutters quietly into his moustache and tells the nation that he sees no reason why he shouldn't play with a 4-6-0 formation, and that Cesc Fabregas looks just fine in training. And once again, the team's overall performance ratified the manager's confidence in his own view of the system.
His substitutions weren't bad either, with Santi Cazorla (on for Iniesta) setting up Pedrito (on for David Silva) to run through a tiring defence and win the penalty that sealed the game and put the French out of their misery. Fernando Torres (on for Cesc) ran around a little and misplaced a few passes, which is his usual contribution. We might as well have a look at what Fernando Llorente can offer at these stages of a match.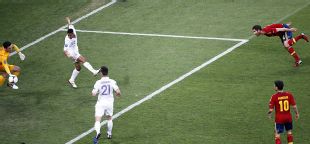 Del Bosque's further contention, that Sergio Busquets and Xabi Alonso are also offensive players, was underlined by this game. Given France's tactics, both of them were freed up to join the party, Alonso rather more than Busquets. VDB has made a point of playing Alonso in more advanced positions than those that he occupies for Real Madrid, and of the 15 goals that he has scored for Spain, 14 of them have come in the Del Bosque era. Or perhaps Real Madrid should just sign Busquets to accompany him. Okay - only joking.
Secondly, it was revenge for the 2006 defeat in the World Cup to France, a game that represented a before-and-after for the national team. Two years later the most promising young elements would gel and win the Euros, dispelling forever the myth of a nation of football chokers. The 3-1 defeat in the second round to the eventual finalists in 2006 was a blow to those in Spain who had begun to express some timid optimism about the developing squad's possibility, and although many bemoaned the defeat, the manner in which Spain acquitted themselves that year eventually proved to be the seeds of the present harvest. The French side back then was too experienced and battle-hardened for Spain, a fact that has made Spain's easy dismissal of France in Donetsk all the more satisfying. It is also the first time that Spain have defeated France in an official competition.
The third sweet element is that there has been some bad blood spilled over the past couple of years between France and Spain, with elements of the French media more than implying, on several occasions, that the only reason for the sudden rise of Spanish sporting prowess (almost across the board, save cricket) is the ability of their 'applied' chemists to stay one step ahead of the drug-detection teams. In the build-up to the match, this issue figured prominently in the newspapers.

Spain seemed absurdly comfortable all night, smiling in their armchairs whilst the French huffed and puffed in a fog of angst and disorganisation. Why flood the field with withdrawn midfielders if they are to subsequently fail in the most basic of footballing rules - backtracking to support their full-backs?
Florent Malouda won't be keen on replays of Xabi Alonso's rare headed goal which changed the nature of the game in the 19th minute and revealed France's lack of a Plan 'B'- plus their messy scheme. Failing to track Alonso and simply watching him steal into the area to meet Jordi Alba's fine cross was stupefying.
They improved somewhat after the break, and there was a period in the middle of the second half when they enjoyed more possession and began to make Spain's back-line just hoof the ball away, but it was just a chimera. As soon as Cazorla and Pedro came on, normal business was resumed. Portugal must find it scary that Juan Mata was not even considered for a part of the action.
So Spain are suspect in defence? Well those who desperately look for chinks in their armour (and this column does that too, from time to time) suggested after the Croatia match that when the heat is on, the Spanish defence loses its composure. Maybe so, but the statistics do not bear this out. Spain have now conceded the least goals (one) of any team left in the tournament, and more tellingly, before the France game, had received fewer shots (21) from the opposition than any other team. France, curiously, were in second place. England are still there and are way down the pecking order, with a busy Joe Hart having had to consider 47 attempts. Ireland, incidentally, are bottom (and home) with 68 peppered at Shay Given.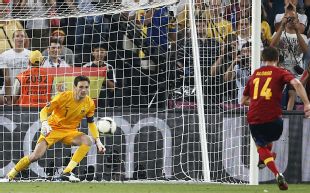 So teams don't seem to be doing Spain much damage, despite the fact that when another team has an attempt on goal at them, it's as if there's a sudden crisis at the heart of Del Bosque's planning. France hardly troubled Iker Casillas all night, with the header from Debuchy and the free-kick from Yohan Cabaye the only really notable moments from a side with enough big guns to theoretically cause some rubble to appear. Leaving Sami Nasri and Ben Arfa out from the starting line-up hardly helped their cause.
Some of Spain's passing, both short and long, was mind-bogglingly accurate on Saturday night, with Alonso displaying his full repertoire, Andres Iniesta and Xavi up to their usual crafty stuff and David Silva excellent in the first half (although he does tend to fade later in games). Sunday's headline in the tabloid Marca was again spot-on in its patriotic punch: "Ni la olieron" (they didn't even get a sniff). Jordi Alba was again their stand-out player, marauding down the left whenever he could, and lending a more direct approach to the attack which is sometimes lacking when the Spanish metronome is in full swing.
However, you do get the impression that Portugal, on the crest of a temporary wave, will cause them more problems on Wednesday night, possessed as they are of several players (apart from Ronaldo) who are technically proficient and far more aggressive and self-confident than the oddly timid French. It will be interesting to see how Alba (or Alvaro Arbeloa) copes with Nani, and the Sergio Ramos versus Cristiano duel has a war-games video battleground look about it. Best of mates in Madrid, but not on Wednesday night.
To conclude, the English magazine When Saturday Comes always publishes a witty wall-poster for major tournaments, and this time around they have sketched small cameos of the various stadia chosen for the tournament. The Olympic Stadium in Kiev, the venue for the final, has a small paragraph attached stating 'The stewards are said to be practising their German and Spanish'. Well it could be English, Italian or Portuguese, but we don't really think that do we?