Spain 2-0 France
France given reality check
Paul Marshall on how France failed to compete with Spain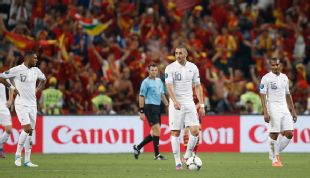 "We have to lay the lie of history, and impose on them the present," said Vicente del Bosque in Friday's pre-match press conference, conscious that Spain had never beaten France in a competitive fixture. Some 24 hours later, Del Bosque's men gave Les Bleus the reality check their coach had promised.
His opposite number, Laurent Blanc, had gushed almost embarrassingly about just how good Spain are when he had faced the press in Donetsk. "It's a kind of football I like because not only is it pleasing on the eye, but it's also effective," he had said. Based on that, he must have enjoyed Spain's display against his side.
L'Equipe had seen a glimmer of hope for Blanc's men, saying 'Spain seem not quite as exceptional as before' while both Gael Clichy and Samir Nasri said they were happier to be meeting Spain than Italy. That was undoubtedly based on La Roja's less-than-impressive performances in the group stage. However, when a Spanish trio pinballed passes between them with unerring accuracy on the French right just a couple of minutes in, you suspected Spain had just stepped up a gear. Not that they were all that impressive, but they were still too good for France, and there seems to be more left in the tank.
One area where Blanc did succeed, to a certain degree at least, was in his selection of Anthony Reveillere at right-back, pushing Mathieu Debuchy into the midfield role in which he started his career. Aimed at countering Andres Iniesta, it worked to the extent that the Barcelona midfielder, exceptional in the tournament up till then, had a quiet game. "We tried certain things to block up their left flank," Blanc admitted afterwards. His and France's problem was that Spain simply have too many other weapons in their armoury.
The choice of Debuchy also left France one-dimensional. Without a Jeremy Menez or Hatem Ben Arfa on the right flank, Spain only had to worry about Franck Ribery on the opposite side or Karim Benzema through the middle. On a number of occasions, Debuchy swelled the capacity crowd at the Shakhtar Stadium by one as he watched his naturally attack-minded team mates toil, looking every inch a stranger in a strange land. When he headed over in the second half, it merely highlighted the incongruity of it all.
It did not help France all that much either. Xabi Alonso's first goal stemmed from the French right, Debuchy – having fallen – attempting to stop Jordi Alba from crossing with a desperate reach for the ball. There were eight white French shirts behind the ball when the move started, but they were pulled apart by a pass, and Clichy's positioning – or lack of it – must be questioned as Alonso ambled towards the back post with only a tumbleweed or two for company.
While the tactical switch of Debuchy was not a debacle, the decision to replace Samir Nasri with Florent Malouda did prove a disaster. Though it was in keeping with popular opinion – a L'Equipe poll had 80% of fans demanding Nasri be dropped – Malouda was invisible in the central playmaker role. Not coincidentally, an interview with Zinedine Zidane was published in France on Saturday morning. In it, Zizou, who celebrated his 40th birthday on Saturday, said: "I look in the mirror and ask myself what kind of legacy have I left." The answer which does not involve the word 'headbutt' is that his former team-mate Blanc is still trying to find someone to replace him.
Malouda, though, was not the only attacking player to struggle. "We can perhaps have a few regrets that we didn't have a little more technical quality in the final third," said Laurent Koscielny, whose sure-footed performance suggests he, rather than the suspended Philippe Mexes whom he replaced, should figure regularly at centre-back. The Arsenal defender's analysis may not be Gary Neville-esque, but it was accurate. Blanc had warned his players would have to take their chances when they came. They simply never arrived.
The only significant stop Iker Casillas had to make came from a beautifully-struck free-kick from Yohan Cabaye, undoubtedly France's player of the tournament. However, the Newcastle United man was often pressed back too far to allow him to lend his usual support in attack, while Ribery and Benzema's famed understanding off the pitch was certainly not transposed onto it.
"If France are to win this crucial game, and remain in the tournament, Ribery and Benzema will have to hook up successfully for at least one goal," had said no less a figure than Diego Maradona, showing uncharacteristically clear insight. The pair, however, did nothing of the sort. Ribery's ripped shirt early in the game provided an excellent metaphor for his performance, which simply had too many holes in it. While his powerful bursts promised much, his final ball all too often failed to arrive at its intended target.
That was also true to a lesser extent of Benzema, though he once again looked a player confident he can keep this sort of company. Yes, he was a little impatient, particularly in the second half, when France could have perhaps exploited better some opportunities to counter-attack, but he was often the creative catalyst for his team, dropping deep à la Wayne Rooney to try and create something. 'The only crack who hasn't scored' was the headline in Marca before the game, referring to the Real Madrid star's lack of goals. He had, however, teed up two for team-mates, and he has the clarity of vision and quality of pass to suggest he could be France's future No. 10.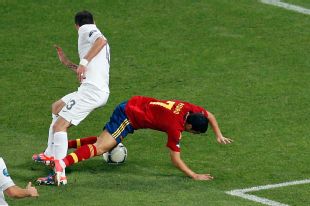 The defence also remains a problem. The left-back situation is the most critical, but the centre-backs are also deeply troubling. Adil Rami was made to look utterly ridiculous by Pedro's marvellous body swerve which led to him winning the penalty with the unfortunate Reveillere simply trying to cover for his team-mate's shortcomings. Physically imposing, but not mobile enough nor good enough on the ball, Rami remains a weak point.
It is hard to argue with Benzema when he says: "We have to keep going. We came up against a very, very strong opponent. We're getting there slowly." France certainly do have reason for optimism, but the back four and the playmaker position remain to be resolved before World Cup qualifying, during which they will meet Spain again, begins in September.
They may be questions, however, that Blanc does not have to find the answer to. Irked by the French FA's refusal to extend his contract beyond the tournament prior to its start, the former Bordeaux coach's future is uncertain. "We have to analyse this EURO. We're going to do it in the coming days. There'll be positives and negatives, and you'll see what happens after that," Blanc said enigmatically post-match in Donetsk.
Given how he has turned France from the laughing stock of South Africa 2010 into one of Europe's best eight teams come Poland and Ukraine 2012, the biggest negative for France would be if Blanc were not in the dug-out when the road to Brazil 2014 starts in Finland on September 7.