England v Italy
Pantomime villains take centre stage
Paolo Bandini on the two combustible Italian strikers in focus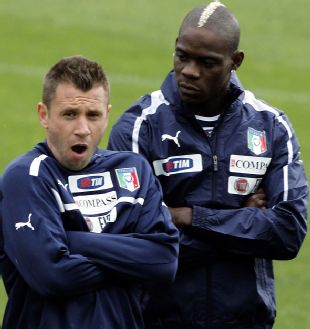 Still always him. Mario Balotelli might have thought a summer away would afford him a break from the media spotlight he has attracted since joining Manchester City, but that was before the fates conspired to pit the nation where he grew up against the one where he now resides. From the moment England booked a quarter-final against Italy by finishing top of Group C, it was clear that he would once again be the centre of everyone's attention.
He did not even start Italy's last game, yet for the past week Balotelli's likeness has adorned the pages of almost every major newspaper in both countries. From taking a breather while his team-mates did press-ups, to guffawing with a corner flag clutched to his crotch, he has certainly given the photographers plenty of material. Then again, it also speaks to editors' priorities that such shots should abound while those of Balotelli staying behind long after his team-mates to sign autographs for Krakow schoolchildren proved rather less popular.
Balotelli was long ago cast into the role of pantomime villain – occasionally dangerous, never reliable, always entertaining. He scored 18 goals for City last season, as well as providing the assist for Kun Aguero's Premier League-winning goal, but such contributions just don't capture the public imagination as readily as red cards, bathroom fireworks and bother with a bib.
Even his one goal so far in this tournament – a brilliant late volley against Ireland – was overshadowed by his actions afterwards; Balotelli angrily shouting a few words towards the bench before Leonardo Bonucci thrust a hand over his mouth. But if the Italy manager Cesare Prandelli felt the need to take him aside for a private chat about the incident a day later, then at least one member of his squad cannot understand what all the fuss is about.
"Mario is young," Antonio Cassano told reporters this week when asked about his team-mate's antics. "I was speaking with [Andrea] Pirlo and I asked him whether I used to be like that. He told me not to joke – that I was 10 times more crazy, that there's not even a comparison. And he was right."
Cassano's misdemeanours as a younger man do indeed put Balotelli's into perspective. Fabio Capello – then the player's coach at Roma – was the first to coin the term Cassanata (Cassano-ism) for the forward's various meltdowns. But while that word is often applied affectionately these days to minor indiscretions, at the time it was borne out of exasperation. In a single season at Roma, Cassano walked out of training sessions on three separate occasions.
A player of prodigious natural gifts, Cassano had burst onto the scene at 17-years-old – scoring a flabbergasting goal against Inter on his first ever senior start for Bari – and by 19 had secured a 60 billion Lira (equivalent to roughly €30 million) move to Capello's Roma. Yet by 24 many feared he was already washed up – overweight and out of favour at Real Madrid, a club he had joined for a fraction of that fee
As he would later confirm in his autobiography, Cassano simply did not care. His life in Madrid revolved less around football than having sex and, infamously, having hotel staff smuggle him in a few pastries afterwards. "I know I haven't given 100% physically or mentally to this game," he said. "At best, I gave 50%. Maybe a tiny bit more in the good years. But so what? Thanks to my talent, I live like a king, I play football and have a great time."
Cassano has undoubtedly matured since the book's publication, discovering a fresh passion for the game at Sampdoria then working hard – both prior to and since his mini-stroke in October – to make a success of his time in Milan, even if there have still been one or two Cassanate along the way as Samp's president Ricardo Garrone can attest. His marriage to Carolina Marcialis and the subsequent birth of their son Christopher are credited with having brought a calmness and stability that Cassano had never before achieved following a tumultuous upbringing in rough sprawl of streets called Barivecchia.
Having witnessed such a dramatic transformation, many journalists wondered aloud in the build-up to this tournament whether Cassano might not be the man to help set Balotelli on the straight and narrow. The City player did not seem adverse to the idea, even suggesting at one point that they room together – an offer that Cassano was quick to decline. He is too self-aware to view himself as an example that others should follow.
"A leader is someone who runs more than the rest, and I don't do that," Cassano said this week. "A leader is someone who is always humble, and I am not. A leader is someone who is always available from the morning to the evening, and I am not. Let's say, as [the Italy manager Cesare] Prandelli does, that I am a technique leader. But I'd say that others are the team's leaders."
Yet if Cassano is not a figurehead for this Italy team he is certainly a cornerstone of it – along with Giorgio Chiellini (whose tournament may be over due to a hamstring injury) – and is the only player to have featured in every one of the team's games through qualifying and into the finals. Though debates have raged over what Italy's first-choice striking partnership should be, it has always been understood that Cassano would form one half of it.
From the outset of his tenure it has been Prandelli's dream to build a team that can incorporate both the talents of Cassano and Balotelli: two players he considers to possess superior technical ability. Yet between injuries, dips in form and exclusions over breaches of his code of conduct, Prandelli had managed to field them together for a total of 128 minutes coming into this tournament – split between two friendlies in which Italy had both times failed to score.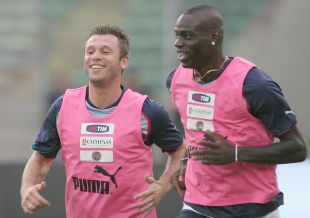 Deployed together for Italy's opening two matches of Euro 2012, their results were mixed – Balotelli undermining an otherwise solid performance against Spain by delaying long enough to waste a golden opportunity (albeit one he had created single-handedly) to open the scoring, while Cassano started both games strongly before tiring in the second half on each occasion. It has not escaped the attention that both players' goals in the win over Ireland arrived when the other was off the pitch.
Nevertheless, the expectation in Italy is that they will once again start alongside one another for the quarter-final against England. The challenge is to ensure that this time the spotlight falls upon them for the right reasons.