England v Italy
A rather Italian England
Adam Digby envisages a tight quarter-final in a match of subplots and history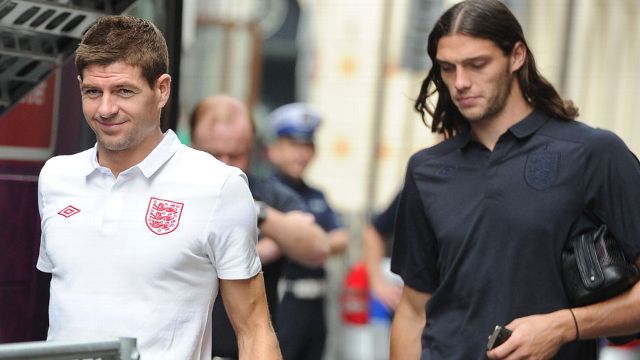 'A present for all the waiters' was how Fabio Capello described his winning goal against England at Wembley in 1973 - a reference to jokes in English newspapers that 20,000 waiters would be descending on the national stadium to see their native side in action. That one strike, coming in Sir Alf Ramsey's penultimate match as manager, was only five months after the Azzurri had recorded their first ever victory over England and, more than any other game, finally gave the visitors a sense of parity in a rivalry which had previously been remarkably one-sided.
Until that point, Italy suffered what is known on the peninsula as sudditanza psicologica (psychological slavery) when faced with the creators of the game, gripped by an unshakeable inferiority complex despite themselves having won far more international honours even then. With England having not entered the World Cup until 1950, they were still revered as the best team in the world with defeats to them being more keenly felt than any other.
That was never more true than in November 1934 when, fresh from their first World Cup victory, Italy travelled to London looking to confirm their status as the best, yet were defeated 3-2 in a match marred by horrific challenges and broken bones. 'The Battle Of Highbury', despite being spun into a glorious failure by Mussolini's propaganda machine, ensured Italians still held up England as the masters of the game. It was a theme that would continue with a 4-0 rout of the Azzurri in Turin and the eventual relief which greeted those 1973 victories was palpable.
Italy would begin to win with increasing regularity - particularly in the competitive encounters - eliminating their old foes in qualifying for the 1978 World Cup and the Group Stage of the 1980 European Championship. England would record a morale boosting win at Le Tournoi in 1997 as well as a famous 0-0 draw in Rome that eventually enabled both sides to qualify for the 1998 World Cup and left Paul Ince with his iconic bandaged and bloodied head.
The most high profile encounter was perhaps the third place play-off at Italia '90 when both nations shook off the immense disappointments of their respective semi-final defeats. England fans remember that competition for Pavarotti and missed penalties against Germany while Italians can only recall being stabbed through the heart by Neapolitan idol Diego Maradona who led his team to their own shootout victory against the hosts. They would put on a game - won 2-1 by Italy - that was far more enjoyable than that tournament's comparatively dull final would prove to be.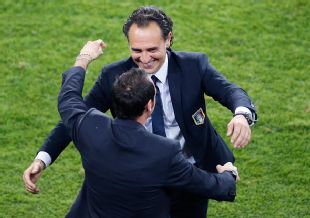 This Sunday, when the two nations go head-to-head for the first time since Vincenzo Montella grabbed a winner at Elland Road back in 2002, it won't just be the history of the fixture that they share. All over the pitch there are small stories that link the two sides particularly James Milner, Joleon Lescott and Joe Hart all potentially lining up against club team-mate Mario Balotelli. There is Scott Parker's own recent familiarity with the Manchester City striker's boot and also Andy Carroll, who scored his first senior Newcastle goal (in a friendly against Juventus) past none other than Gigi Buffon five years ago.
Both Fabio Borini and Alessandro Diamanti have played in England but perhaps nobody has greater ties to the opposition than Roy Hodgson, remembered fondly in Italy for rescuing a poor Inter side from the foot of the table and qualifying for Europe. He would eventually lead them into the UEFA Cup final and his calmness under intense pressure served him as well then as it does today. Despite tainting that reputation somewhat with an ill-fated second stint with the San Siro club and a brief period in charge at Udinese, he is still well respected across the peninsula.
Third choice Azzurri goalkeeper Morgan De Sanctis and midfield star Andrea Pirlo are among his former players from those days and he has instilled what many view as a typically Italian approach to England very quickly. Gianfranco Zola has compared him to legendary Milan Coach Arrigo Sacchi this week, telling sports daily La Gazzetta dello Sport: "Hodgson's England are a little less English. I've watched them play 4-4-2 with a lot of pressing, taking great care to ensure that there's less space between the lines than usual. Thanks to the export of Italian coaches to England, the English have understood that to win it's necessary to defend well."
If England are steadily becoming Italian, it is somewhat ironic that they do so not only after sacking their Italian manager Fabio Capello, but at the exact moment Italy themselves have made a conscious decision to move away from their traditional values. Under Cesare Prandelli they have shown tactical versatility - switching between 3-5-2 and 4-1-3-2 in the group stage - and far greater attacking intent than at any point in recent memory.
Pairing Balotelli with the equally volatile Antonio Cassano has been the focal point of his plans in the two years he has been in charge but that has yet to properly click, with opportunities limited by injury and suspension. They were on the scoresheet together for the first time against Ireland, but when each did so it was notable that the other man was off the field. If their understanding does finally fall into place it may give the Azzurri the edge in what is perhaps the most finely balanced of the four quarter-final ties and hand a new generation of Italians in England (be they waiters or otherwise) a hero of their own.