Germany 4-2 Greece
Germany show wealth of resources
John Brewin saw Germany display their strength in depth in devastating style to reach the Euro 2012 semi-finals at Greece's expense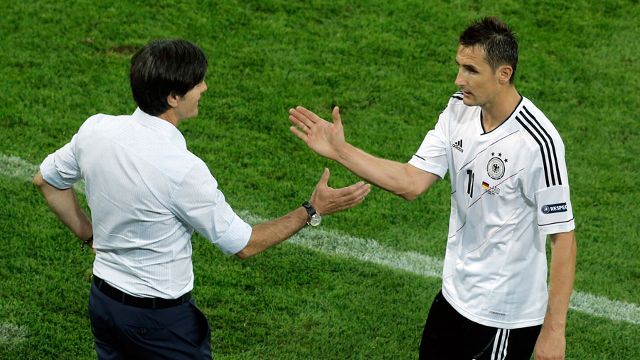 Not having enough in reserve is the problem facing Greece as a nation. The ability to draw on resources means that Germany can ride out a Euro crisis. When in deficit, the Greeks ran out of fortune to bail them out.
Hopeless puns aside, Gdansk provided evidence why Germans will consider anything less than victory at Euro 2012 to be a failure. Danzig, as some of them still call it, supplied a fourth win in succession. It was achieved with a completely different forward line than in the group stage. If anything, their first knockout opponents supplied less of a challenge than any of their first-round foes.
A 4-2 win did supply brief glimpses of why being crowned kings in Kiev may not happen. When Georgios Samaras equalised it was as a result of loose defending, a lack of concentration after Germany went too casual, perhaps enjoying the creating of space and chances rather more than they should have been. However briefly the scores were level, an Achilles heel - the crossed ball - had been revealed. A better team than Greece may find others. Germany are not the type of 'broken team' that the Dutch revealed themselves as, but their defence is clearly weaker than their attack. That comes as a by-product of their attacking approach.
The modern Germany play a more free-thinking brand of football than their glorious predecessors. But do they possess the same fortitude to see this through to ultimate victory? Spain, who destroyed Joachim Low's hopes at both Euro 2008 and at the last World Cup are one team who will not allow them to play with such assurance. They need to be able to play at a rhythm and there were still moments of German frustration. This does not appear to be a team comfortable with sitting on a lead or even being level with their opponents.
German chancellor Angela Merkel was booed in pre-match by the Greek fans and early on, there were on-pitch signs this may not have been the leisurely march to Warsaw she must hope will provide distraction for her rather under-fire nation. German disquiet was little to do with the Greeks, who again started horribly. Instead, Miroslav Klose and Mesut Ozil were to be found regularly losing their footing, Germany's passing dragged down in the mud of a Pomeranian storm.
After Reus, Ozil and Khedira had all failed to beat Michalis Sifakis and as Greece began to crowd their area, a moment of long-range thinking was required. Captain Philipp Lahm reprised his World Cup 2006 strike against Costa Rica when coming in from the left and drilling home with his right. A new-look Germany had a deserved, if still hard-won, lead. Perhaps unfamiliarity had been a factor in the overlong wait.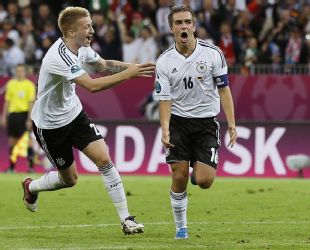 Resting star players - Mario Gomez, Thomas Muller and Lukas Podolski - was either a sign that the rotation policy so prevalent in club football could soon be a part of international tournaments, or that German confidence does not merely rest with its economy in comparison to that of Greece. It was probably a fair chunk of both.
It served as a mighty and clearly deliberate show of the resources that Germany have at their command. This is a markedly more youthful squad compared to those teams who played in four World Cup finals, winning two, and five European Championship finals, winning three, between 1972 and 1996. Euro 2000, a pointless fiasco, was a watershed moment for Germany, a time when dinosaurs like Lothar Matthaeus still strode the turf. The redrawing of youth policy that followed that disaster first bore fruit with Bastian Schweinsteiger, Philipp Lahm and Lukas Podolski at Euro 2004 and the trio, all still in their twenties, are now senior professionals. The Bayern pair were key to victory once more.
Podolski's time is not yet gone. A sign that Low's changing of the guard was not a question of age was Muller joining him on the bench. Marco Reus and Andre Schurrle were two fledgling talents selected to support a proven veteran in Miroslav Klose, a native of Silesia in Poland, yet Germany's key goalscorer for a decade, even allowing for the eventual arrival of Mario Gomez as an international performer.
Reus and Schurrle first looked the more comfortable as Klose, caked in mud, repeatedly slipped. Schurrle's ability was made clear though his decision-making was less impressive. Klose eventually got his goal. A warhorse like him does not let missed chances put him off. Reus shone in the first half and was rewarded in the second when scoring a tremendous volley to follow that which Sami Khedira righted the German ship after Boateng's error had let Dimitris Salpingidis get away to set up Samaras.
Germany are now beyond the point of statements of intent. The business end of Euro 2012 has been reached with something in hand, and with powder kept dry. With key men rested, they now have two extra days on the opponents they meet in Warsaw. Low's personnel switches, and what he may do after being granted a viewing of his options in match conditions, may also serve to confound either England or Italy. However, the Germans should not need slight of hand to gain advantage on their possible rivals. They still believe they are good enough to be champions. Knocking them from that belief is possible but difficult.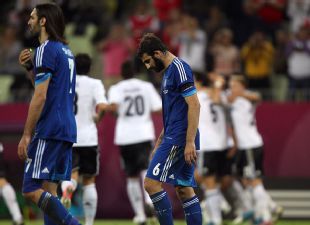 MAN OF THE MATCH: Marco Reus. Mesut Ozil was the official choice of the sponsors but the soon-to-be Borussia Dortmund man gave a performance to support Low's selection . He is quick, can cross well, and possesses thunderous shooting. We only got a fleeting ten-minute sight of Mario Gotze, mostly because Ozil is in his way, but Reus showed why Dortmund will again be so good to watch next season.
GERMANY VERDICT: They created chance after chance, too many of which were missed. However, they believed in themselves more than enough to see out a brief setback. They may hope that Warsaw is rather drier. Having the roof on in the National Stadium will rather suit them.
GREECE VERDICT: They depart the tournament as indomitable of spirit and vulnerable as they were in their opening match. Germany presented far more than could challenge them, and though the injustice of being without Giorgos Karagounis might have been a factor, it would surely not have been enough to make this an even contest.
GOODBYE GDANSK: The awesome docklands that stretch as far as the eye can see, Gdansk's pretty old town, the bijou seaside town of Sopot and the pleasant port of Gydnia will be missed. The PGE Arena is a fine stadium, but it really could have done with having its surroundings finished off. Anyone unlucky to be dropped at the wrong side of the ground faced a near-hour walk across a grim building site littered with slag heaps.
Follow John Brewin on Twitter: @JohnBrewinESPN