Sweden 2-0 France
Warning signs
Paul Marshall found few positives for France in their 2-0 loss against Sweden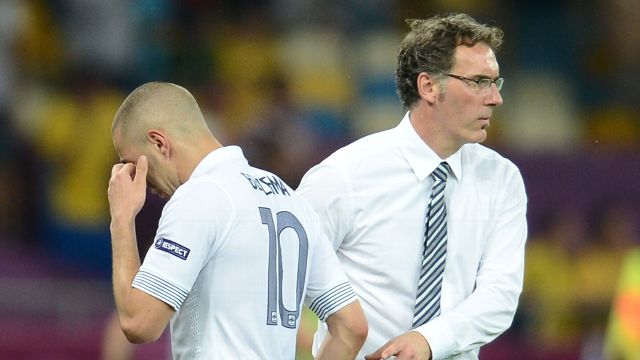 France have really gone to town in Ukraine. Not only have they commandeered Shakhtar Donetsk's state-of-the-art training camp, had new, wider beds installed, and a games room set up for the squad's PlayStation generation, they have also brought a small army of specialists to help them. Among the cooks, kitmen and physios is Thierry Marszalek, the video analyst. Other than presumably recommending films for the team bus, his job is to compile DVDs of each player's individual performance. Few in the French team beaten by Sweden will want to see their display again in glorious HD technicolour.
The case for the defence would state the difficulty of playing a team with nothing to lose. Also, in Zlatan Ibrahimovic, Sweden possess a player of rare talent, and even the most francais of French supporters could not fail to utter a "C'est magnifique!" after the AC Milan striker's wonderful volley. That, though, is as far as the mitigation goes as Les Bleus' 23-match unbeaten run came to an end in sorry fashion.
"There's a risk you lose concentration when you win a game," Blanc had mused pre-match, referring to his team's controlled 2-0 victory over co-hosts Ukraine. "It's up to us to approach it seriously." Blanc can rest assured there was application from his players. Sadly, inspiration had gone AWOL. "We can console ourselves with the qualification," Karim Benzema said. Hatem Ben Arfa's remedy to raise spirits was earthier. "Those who have their wives here should take advantage of them this evening," the Newcastle United man said.
Blanc's team selection did not help matters. Yann M'Vila returned in central midfield alongside Alou Diarra, the man who had replaced him after the Rennes grafter had turned an ankle in the build-up to the tournament. Though Diarra – who many were talking about as a potential makeshift centre-back prior to the tournament – tried to go against his nature and push forward, the pair are too similar and defensively-minded to provide the link between defence and attack that Yohan Cabaye had established so brilliantly in the opening two games.
The Newcastle United midfielder, who had felt a twinge behind a thigh during the defeat of Ukraine and again later in training, was not risked, but Blanc will have noted Cabaye's importance simply by the conspicuousness of his absence. "When you lose, it's because you haven't put out the right team," Blanc conceded. "If we had to do it again, we wouldn't name the same team."
With Diarra and M'Vila in front of the back four, France might have at least expected to be defensively sound. While the midfield duo were worrying outmuscled – "We were too weak in terms of physical impact. The Swedes played with their hearts," Blanc said – the defensive quartet were unconvincing once again. Blanc used the same back four as against Ukraine, but they failed to perform to a man. Even Mathieu Debuchy was afflicted, struggling desperately with the pace of Christian Wilhelmsson after the Swedish winger came on at the break.
The winger failed to make the grade in France in a two-year spell at Nantes during which he racked up more loans than the Greek government, but even four years spent playing in Saudi Arabia has clearly done nothing to deaden his naturally searing pace, and he used it to beat Debuchy on several occasions. Suitors of the sought-after Lille full-back, notably Newcastle and Inter Milan, will have taken note.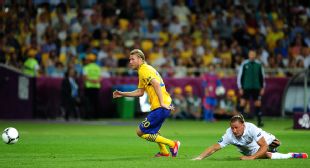 Debuchy's opposite number on the left, Gael Clichy, will have been happy not to have been given such a torrid evening, but they both offered little going forward and were both badly caught out for Sweden's second goal. But for Hugo Lloris, the defeat would have been yet more damaging. After seeing him caught out by Ola Toivonen, who should have opened the scoring, Philippe Mexes' ban-inducing second yellow card is perhaps a blessing in disguise, with Blanc forced into playing Laurent Koscielny, who looked a surer bet in the build-up to the tournament.
The one-dimensional stodginess of the midfield is one explanation for France's inability to break down Sweden. The French squad emerged for their pre-match stroll on the pitch dressed in immaculate white. It was as if they were stepping onto Centre Court at Wimbledon, and appropriately enough they fired the ball anywhere but into the net. "They're very good up front, I think," Michel Platini said a couple of days ago. "No, I don't think it, I know it." The UEFA president may be somewhat less sure now.
Excellent against Ukraine, Samir Nasri was much less effective in the playmaker role, though he was hampered by a knee injury sustained just before the break, and emerged with it heavily strapped for the second half. Franck Ribery had no such handicap, but except for an early effort stopped by Andreas Isaksson, this was a display that will only add weight to the argument that he performs better for his club than his country. That allegation could also be levelled at Ben Arfa, whose first start of the tournament will not live long in the memory. Jeremy Menez's eye-catching cameo suggests the Paris Saint-Germain player will start against Spain.
Sweden had clearly done their homework, too. "It wasn't Ukraine who played badly, it was France who didn't let them play," Mexes had said after Les Bleus' victory in rain-soaked Donetsk on Monday. If that was so, then Sweden exacted a measure of revenge on behalf of the co-hosts. They remained disciplined at the back, just as England had done, to stifle France's attacking quartet in the same manner as Roy Hodgson's men. With no Cabaye cavalry to arrive late in the box, France were too predictable and ponderous to take advantage of the 57% possession they enjoyed.
Blanc, however, will have enjoyed Benzema's display. Apparently, the Real Madrid striker has been one of the first to demand the DVD of his game from Marszalek, and – along with Lloris – will be the only one not to be too embarrassed to watch his outing in Kiev. His movement has been excellent throughout the tournament so far, and was so again in the Olympic Stadium. With no-one else of a creative bent in the mood on the night, Benzema dropped very deep on more than one occasion to start attacks, and produced one wonderful ball through for Ben Arfa while also showing his taste for the game's darker arts in battling for a high ball which then broke to Ribery for his early chance. If the supporting cast could play their role, Benzema will be able to give up the day job and get back to scoring goals.
He may get the chance against some familiar faces in the Spain side on Saturday. France will have the advantage of once more playing in Donetsk, their home-from-home at Euro 2012, though they will have had a day's less rest. Also, as Benzema put it: "Against Spain, a team which plays, we'll have more space," which will suit him and Ribery in particular. Knowing that and being able to do something about it are two separate things, however, as Blanc acknowledged. "We can expect a team which will want the ball, but we have to be able to counter them and cause them problems," the France coach said. "Croatia showed us what we have to do." If they can't, Marszalek will certainly be able to show them again and again where it all went wrong.