Sweden 2-0 France
Zlatan is Sweden's beating heart
Mark Lomas was in Kiev as Zlatan caused the French a major headache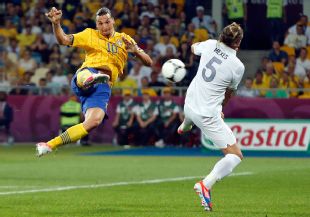 "I couldn't give a s**t who wins it now, I'm going on holiday," was Zlatan Ibrahimovic's rather curt response after being asked to tip a Euro 2012 champion in the wake of Sweden's elimination last Friday.
Zlatan may well have had his mind on sailing the Azores prior to his country's final game against France, but there was no sign of distraction on the pitch as a beautifully-executed scissor-kick finally gave Sweden's suffering supporters a happy footballing memory to take home.
Ibrahimovic's celebrations were not excessive; Sweden had, after all, also led in both their opening games before going on to lose. But there was not to be repeat of those capitulations or of the embarrassing, pointless exit of Euro 2000. Sebastian Larsson crashed home a late second to hand a below-par France side a 2-0 defeat and the most foreboding of punishments for their failure: a quarter-final against Spain.
Kiev will be a divided city of yellow and blue after the game. As Sweden's fans departed the Olympic Stadium in search of richly-deserved revelry, their Ukrainian counterparts at a heaving Nezalezhnosti Square – where Ukraine v England was shown on giant screens - were left to weigh-up whether Wednesday's day at work would be worth missing for a session of sorrow-drowning. The atmosphere inside the ground suffered a little as a result of the co-hosts' match being played simultaneously, though the worrying number of empty seats left 30 minutes before kick-off were eventually filled, or at least appeared to be thanks to the abundance of Sweden kits present.
Despite there being the small matter of a group winner to decide and a nation's footballing pride at stake, the first-half played out like a dead rubber, exactly how many had been treating it before the game. Presumptions of a France victory were near universal and even the Swedish journalists present - horrified by their team's defending at Euro 2012 – feared the worst.
Les Bleus performance against Ukraine, where Franck Ribery breezed gracefully around the pitch, unlocking the co-hosts' defence at will, had brought feelings of extreme trepidation prior to the Kiev meeting.
What the Swedish media did not bank on, however, was just how driven Erik Hamren's side were to reward their fans' steadfast commitment at this tournament. "We finished strongly in front of our supporters and that was one of the things we discussed this morning," an unusually humble Ibrahimovic said after the game. "We wanted to get a good result so they didn't have to travel here for nothing. We've had a lot of fans at every game, it feels like we've been playing at home. I would like to thank them all."
Ola Toivonen had the pick of the efforts in a low-key opening 45, rounding Hugo Lloris before striking a post from an acute angle. It was a warning that Sweden would not roll over but France did not heed it. The introduction of Christian Wilhelmsson at half-time was an inspired move by Hamren, and his exploitation of space, particularly behind full-backs Gael Clichy and Mathieu Debuchy, was a source of much consternation for Laurent Blanc.
Ibrahimovic's goal came at a time when the game had opened up into a real spectacle of attacking football, though the defending from both teams remained unreservedly suspect. Larsson, who also enjoyed a profitable evening as a result of some French generosity, whipped the ball in and watched his captain elude AC Milan team-mate Philippe Mexes to connect with a spectacular acrobatic effort.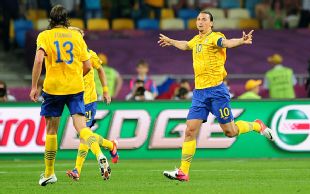 France swarmed forward, surely aware that England were leading in Ukraine and thus topping Group D, but they faced a group of Sweden players desperate to hold on to victory. Olivier Giroud, Florent Malouda and Jermey Menez made up a trio of attacking subs by Blanc, but there was to be no way through. When Larsson volleyed home a second in stoppage time, it was already clear that bonne chance was not to be Les Bleus'.
A 23-match unbeaten run brought to a chastening end, Blanc gave his opponents their due after the game. "We were prepared for a very tough game, he said. "Was it going to be as difficult as it was? No, we did not expect that. Sweden were much better than us, they played with a lot of heart."
With yellow-and-blue blood coursing through his veins, Ibrahimovic again cemented his position as Sweden's pre-eminent pulmonary power.
MAN OF THE MATCH: Zlatan Ibrahimovic. He promised prior to this match that he will not abandon the national team and his touch of brilliance demonstrated exactly why all of Sweden is praying he keeps his word. While Sweden's uber-resilient defenders also deserve an honourable mention for their efforts in thwarting France in the second half and finally keeping a clean sheet, it is "the player who can make the difference" – as Blanc described him after the game – who inspired his country to only a third victory in their past 14 European Championship games.
SWEDEN VERDICT: Too little, too late it may have been, but it was nonetheless a commendable performance. Sweden's defence has taken a battering at this tournament so a clean sheet was a welcome bonus, particularly for the retiring Olof Mellberg. Both captain and manager were optimistic looking ahead to September's World Cup qualifiers after the game, with Ibrahimovic stating that the result "is the beginning of a new future".
FRANCE VERDICT: A turgid display that was a world away from their domination of Ukraine. Ribery sparkled too infrequently and Benzema cut a frustrated figure up front. Ben Arfa botched his opportunity to earn a place in the XI to face Spain and Jeremy Menez can almost certainly expect a recall in his place. A reshuffled defence should also be on the cards, with Philippe Mexes suspended and Gael Clichy often appearing defensively suspect.
HONOUR IN DEFEAT: While Blanc was willing to praise his conquerors after the game, Ukraine's fans also showed humility after suffering a painful exit at the hands of England. My respect for the country's people was further augmented by the receiving of no fewer than six congratulatory text messages from supporters of the co-hosts who I had met Kharkiv and Donetsk.