Italy 2-0 Ireland
Job done, now down to business
Form in the group stage means nothing as Italy head into the quarter-finals, writes Roberto Gotta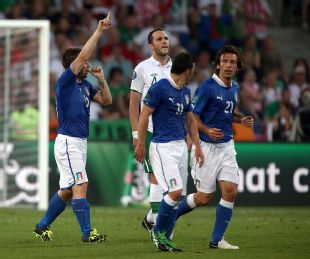 There was no biscotto between Spain and Croatia - the silent agreement that Italians feared would send the Azzurri out of the tournament - but the bad taste associated with an over-baked media campaign based on suspicions that went beyond the shameful should linger for some time, in a country that cares about integrity. Which is why it won't, of course.
Italy are through, and that's all that counts, in a purely cynical sense. History, after all, teaches us the group phase rarely, if ever, serves as an indicator of a side's real chances of winning a tournament.
The pool stage does have the purpose of a decompression chamber between the often tedious pre-tournament training and the real deal of the knock-out phase, but with the additional threat of being sent back into the depths if you make a mistake.
Form may count, just as subtle tactical changes, but proceeding to the quarter-final stage is often a matter of a sum of several different factors which may then have little or no influence once a team has advanced.
Take Italy, for instance. Half of their goals in the first round were scored by players who had started the game on bench. Does that mean they should be promoted to the starting line-up?
Scoring goals comes down to taking chances. And, as the astonishing statistic that Mario Gomez had possession for just 18 seconds in the Germany-Netherlands match but scored twice shows, in certain positions you may not even have to be a complete football player - not that Gomez isn't, of course.
So the debate about whether the other Mario, Balotelli, should be back in the starting XI is quite pointless. Being on the pitch longer obviously increases a player's chances of getting into those goalscoring positions, but adds tactical responsibilities which, if neglected, may also contribute to lower an individual's standard in the eyes of his coaching staff.
Both Balotelli and Antonio Di Natale have arguably influenced their side more after coming on as subs, which would make things interesting ahead of the quarter-finals if it wasn't for the fact no footballer worth his fluorescent boots would ever admit to preferring starting the game on the bench.
Balotelli, described in at least one newspaper report as "living in his own world" after an indifferent performance against Croatia, scored a great goal against Ireland, albeit one any top striker with enough strength to hold off a defender could have scored, considering he had a clear view of the approaching ball and had perfect position for a shot.
He had decent success holding the ball up and slowing play at a time when Ireland were trying to pin back the Azzurri, and left onlookers wondering what exactly he was going to say after he scored the goal. Fortunately Leonardo Bonucci stopped him from getting into trouble by putting a hand over the striker's mouth during his celebration (his outburst was directed at the media, by the way).
Yet Mario looks as if he's still someone who cannot be counted on to last a full match without taking time off to address his frustration - being rich, famous, talented and envied must be oh so awfully stressing - and there must be a limit on the well-worn concept, and justification, that the source from which his talent flows is the same that supplies the stream of his moods and tempers.
Team-mates had gently prodded him about thinking less about himself and more about the side as a whole, which also involves not trying too hard to be the saviour, but you never know with a player and person like Mario. A player who can drive his club manager, Roberto Mancini, to say he will surely be sold one month, only to all but guarantee he will stay the next.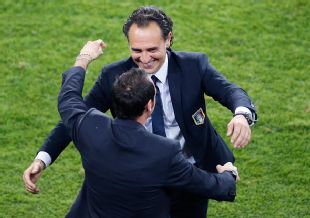 In the days leading up to the next game - right now, in fact - much debate will centre over Cesare Prandelli's selection of Thiago Motta, which seems puzzling to most observers. While Motta is solid tactically and was singled out by Claudio Ranieri last January as the most important player for Inter (he was sold to PSG the next day, by the way) his lack of pace and tendency to rely on safe, square passes hardly make him the ideal trequartista, which is the position he was asked to play.
That left shifted the onus to be creative onto Antonio Cassano and Andrea Pirlo, who had perhaps his worst game of the season. Claudio Marchisio provided his good runs into dangerous positions, while Daniele De Rossi was his solid, unselfish self.
A note should be made about Alessandro "Alino" Diamanti, the former West Ham player who's currently at the centre of a tug-of-war between Bologna, whom he played for last season with brilliant results, and Brescia, who hold his registration.
Diamanti did what he did for most of 2011-12 in the Rossoblu jersey: hold the ball well, take opponents on, and inject some energy into a tiring side. He's among the few in the squad who can dribble his way past an opponent out of sheer talent - Cassano has a similar but more powerful way of doing the same - and while his overall talent may not be on a par with more illustrious team-mates, his confidence is high at the moment. Confidence he displayed when he twice lined up to take a free kick next to Pirlo, who has feudal rights to every dead ball in any stadium Italy plays in, and its immediate surroundings.
Every other tactical angle has to be postponed until Italy know who their opponents will be, and while it may be fascinating to anticipate Balotelli going up against old acquaintances Joleon Lescott and John Terry if England win their group, there's too many combinations for Italy to start planning for a specific opponent.
Their overall quality is better than has been on show in the second half of matches at Euro 2012. Italy have invariably lost pace and shape late on in games, and it has to be said, based on the theory exposed above, that once you get into the knockout stage truly anything can happen, and games can be won on a flash of genius or a defensive mistake that throws previous form out of the window. That is why Italy should be confident, despite the trouble they had in keeping Ireland and Croatia at bay in the second half of those matches.
The media went overboard about a biscotto that remained half-baked in the oven, but it's time for them, and everybody else, including the coaching staff and players, to erase previous judgment and move on. This is, truly, a rebirth of sorts.