Croatia 0-1 Spain
Sloppy Spain edge out Croatia
John Brewin watched as a shadow of Spain knocked Croatia out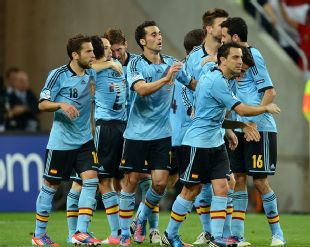 Euro 2012 has been a tournament blessed with goals in every match so far, but if ever the thrills of the group stage could throw up a goalless draw this looked like being the occasion. A game played at half speed until its last few seconds eventually supplied a strike that registered as a genuine surprise. It seemed almost converse to Spain's plan of action. Croatia had found a way to break up their play, that teasing rondo style that has won them such glory.
Spain were unusually deficient, and played in a shell, never hitting either the rhythm they displayed against the hapless Irish or the strangulating possession that has frustrated better teams to distraction.
Shooting at goal from distance seems almost anathema to Vicente Del Bosque's team. A seeming aversion to 'having a dig' makes even Barcelona look like pot-shot merchants. And once a striker is abandoned, as happened early in the second half when Fernando Torres was removed for the type of winger in Jesus Navas who should by orthodoxy be providing him bullets, then Spain were never going to pepper Stipe Pletikosa's goal. Yet they won. They still know how to get the job done.
Croatia did look the more dangerous for several phases of play. This was not a persuasive advert for Spain's defence of their title even though the job of winning Group C was eventually done.
At times, it rather resembled a friendly game; there was a definite air of détente. The atmosphere on the streets of the 'Tricity' of Gdansk, Sopot and Gydnia had been convivial, fans of both Croatia and Spain greeting each other warmly and usually making the same gesture. Two fingers from each hand signified the desired scoreline – 2-2 – that would allow both teams to make their way to the Ukraine for the quarter-finals, at the expense of Italy.
Could this be a repeat of the heavily suspected – in Italy at least – Scandi-pact of Denmark and Sweden at Euro 2004? Or a Mediterranean version of the footballing anschluss that Germany and Austria played out at the 1982 World Cup? Giovanni Trapattoni, whose Ireland team could make sure that the Italians could not even cry "fix", had suggested that events in Gdansk needed to be placed under close monitor from UEFA. But it did not come to pass. Four goals were never going to be scored in this game.
Many fans had been late in arriving because of direct action by local construction workers that saw bulldozers block a key road to the PGE Arena. That lent itself to an unhurried start. It was as if a signal from Poznan, where Italy had to beat the Irish, was being awaited. Should anything not occur then there seemed to be no sense in stirring things up unnecessarily. When news came that the Italians had scored, there was action among Croatia's fans, and a sense of urgency finally appeared.
"It was a very difficult victory. We defended and we also suffered. They had 17 shots on goal, but we had more corners and higher ball possession."

Vincente Del Bosque
Cassano's goal meant a need for one of those permutation sheets you may have seen rather a lot of on this website. Such things are a required text in the light of UEFA's preference for head to-head separation rather than goal difference. As it was, two Group C wins removed the need for a slide rule.
Croatia suffered first-half injustice when Sergio Ramos clearly caught Mario Mandzukic in the penalty area after the lone striker had played the ball. Greece's missed spot-kick in the opener remains the only awarded penalty at Euro 2012, amid plenty of genuine claims.
Ramos provided Spain's first real shot in anger in the 24th minute. It was a long time coming and, as in their opening match here, the issue of watering the pitch came into play. A day of dry heat in Gdansk meant this was a surface without the zip that heavy rain provided them for a dissolution of Ireland.
Spain remained circumspect as the second half progressed into its latter stages, and they could have paid the price. Luka Modric put in his own claim in his phony rivalry with Xavi by carving a chance, with the outside of his boot, that Ivan Rakitic met. Iker Casillas could only claw away, and the rebound took time to be cleared. Had Croatia scored then Spain would have followed Netherlands out of the competition, both World Cup finalists perishing on successive evenings.
Fernando Torres was soon sacrificed, but not for Fernando Llorente; instead it was winger Navas who came on. No recognised centre-forward, and a winger? This was yet more unorthodox stuff from Vicente Del Bosque. The 4-6-0 experiment had another addition to its artifice. Problem being it did not make Spain play any better. Cesc Fabregas came on for David Silva only to dither over a chance to have his team's first shot on goal for some time. He repeated the same trick a minute later. Spain did not even look as if they wanted to score. They did not need to to ensure a top-two finish, but it would have been nice if they looked interested in doing so. Such profligacy may yet cost them.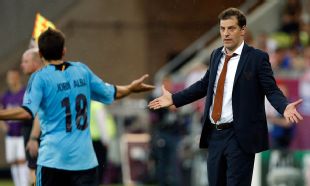 Instead, Croatia exhibited the more danger. Nikica Jelavic was thrown on by Slaven Bilic. Soon after, Eduardo was, too. A goal now would secure first place. A shot from another sub in Ivan Perisic had Casillas working hard once more. Pique was suddenly to be found berating colleagues. Were Spain to pay for looking so sloppy?
Vedran Corluka headed over with Casillas straining for the ball. The shock looked ever more possible, but then Spain scored. It was not against the run of play, but it was hardly in keeping with what had gone previously. Xavi awoke from a jaded evening to thread in Andres Iniesta, and his Barcelona colleague slotted the ball across Stipe Pletikosa for Navas to score.
Mario Balotelli's goal in Poznan put Italy's win beyond doubt but, even so, a Croatia equaliser would have taken them through; however, Bilic's exhortations from the sideline in his last game before heading for Lokomotiv Moscow were to no avail. Spain could then play the possession game that has made them so successful. They could now pass it around with their usual calm but they knew they had been tested. Croatia had proved they can be got at.
MAN OF THE MATCH: Luka Modric. In the battle with Xavi, he was the victor, and at the centre of almost all of Croatia's raids on a well-worked Spanish backline. His creation of Rakitic's chance was the best play of the match.
CROATIA VERDICT: "Our group was really difficult but we played really well in all three matches," Bilic said, and he was correct. Ireland perhaps made them look better than they were but they were highly difficult opponents for the Spanish. In the end, they were a little unlucky to go out.
SPAIN VERDICT: The machine does not look as well-oiled as it once did. Xavi looked tired, and Iniesta somewhat distant on the wings. Still, that pair conjured the winner to confirm that their class is still highly present.