Focus on Ireland
Irish enjoy the ride
Kevin Palmer on the Ireland fans' positive approach despite their team's failure to register a point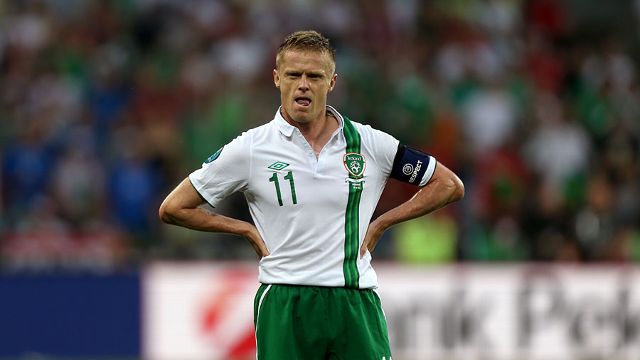 It has felt as if the clock has been rolled back a decade as Ireland's out-classed footballers found themselves overshadowed by a familiar, menacing presence at the tail-end of their Euro 2012 nightmare.
Ten years have passed since Roy Keane turned the Pacific island of Saipan into an Irish disaster zone, the scene of an event so seismic that it brought the peace process in Northern Ireland to a temporary halt and divided a nation of sports lovers who were forced to take sides in a tale that was laced with undercurrents of the class battle and a cultural divide.
In essence, every Irishman had to either stay loyal to Ireland skipper Keane once he was removed from the team's training camp days before their World Cup finals adventure following a bust-up with coach Mick McCarthy or else back the man in charge of the Irish team left behind in their battle to defy the odds and succeed in the Far East.
Some of those old wounds have been re-opened in recent days, with Keane's return to the front pages of every Irish newspapers reviving memories of that tumultuous summer of 2002, with what was perceived to be his criticism of the Irish fans out in Poland putting him firmly back in the spotlight at a time when the national team's lamentable performances have been a subject well worth avoiding.
Keane may have long since retired and his coaching career is tarnished after unconvincing stints in charge of Sunderland and Ipswich, but his each and every word is still capable of bringing his supporters to their feet, while alienating his detractors at the same moment.
So when he said "we shouldn't just turn up for a sing song every few years" in the aftermath of Ireland's 4-0 thumping at the hands of defending European champions Spain last Thursday, his detractors in the media were quick to suggest he was having a pop at Irish fans who accepted second best with far too much relish.
"It's great that the fans back their team during the game, but staying on long after the final whistle could make the players believe what has happened on the pitch is acceptable, when it's not," Keane wrote in his Sunday newspaper column, before suggesting the entire Ireland XI should be dropped for the Italy game.
However, the truth must be that Ireland's magnificent travelling supporters – all 25,000 of them if estimates are to be believed – have been the nation's only bright spark in a pointless Euro 2012 campaign, so for Keane to single them out for his particular brand of chilling abuse has hit a raw nerve with many back in his homeland.
'Leave the Irish fans alone Roy' was the headline screaming out of the most recent edition of Ireland's biggest newspaper, the Sunday World, which printed photographs of Football Association of Ireland chief and long-term Keane nemesis John Delaney enjoying the 'booze and banter' with the Irish fans until the early hours on the night of the Spain rout. Apparently, the nation's soccer chief even bought rounds of drinks for the partying hordes, with his generosity undimmed by Ireland's Euro 2012 disappointments. Keano would not have approved of such joviality.
Ireland boss Giovanni Trapattoni joined the debate by claiming Keane should "keep quiet", with the endlessly outspoken former player turned journalist Eamon Dunphy wading in with his typically brash appraisal. "It seems to me as if a lot of what Keane says at this stage is attention seeking and he has become a pain in the backside," Dunphy, who co-wrote Keane's autobiography, said.
"He has stated for a long time now that Trapattoni is doing a great job so, when he is exposed in a big tournament, Keane turns on the players and the fans. It's sad. I had huge admiration for him as a player and he is a smart guy, but Keane struggles to understand how journeymen footballers play the game.
"Many people in Ireland still see him as a hero and you get the sense that his fame may have gone to his head. When he speaks, it's as if it is a statement from the Pope and we all should listen, but some people have lost interest in him."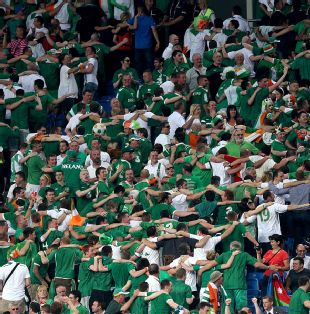 Patriotic travelling Ireland fans who had every right to be riled by Keane's latest outburst were determined to make the most of their final taste of Euro 2012 action on Monday night, with their ever present humour in evidence and as thousands donned 'Keano' masks both outside the ground and inside Poznan's Municipal Stadium.
"The table's upside down, the table's upside down... you're never gonna believe us," they cried out in their thousands and tried to convince themselves that their side were good enough to compete with their heavyweights in Group C, though their final game in the competition served to confirm the opposite reality.
Even though Ireland's display against the Italians was a little more memorable than their previous efforts, the final 2-0 defeat will do little to quell the discussion that has been raging in the Irish media over recent days as to whether the time has come for veteran performers in the Ireland ranks to call time on their international careers.
Robbie Keane, Richard Dunne, Shay Given and Damien Duff, who toasted his 100th cap against Italy by leading the team as captain, will all consider their futures in the coming days, though one former Irish hero offers some sombre advice.
"I would tell any player to continue his international career for a long time yet," Aldridge said in his Sunday newspaper column last weekend. "There is life in Keane, Dunne, Given and Duff and, let's be honest, Ireland still need them. We don't have too many alternatives waiting to come in."
Former Ireland defender Chris Hughton summed up Ireland's plight in typically articulate manner, as he believes the criticism flowing in the direction of coach Trapattoni has been misplaced. "It's easy to point the finger of blame at a manager when things go wrong, but the truth may be that the Ireland boss could do little to change what happened at Euro 2012," the new Norwich boss, who has been tipped to succeed Trapattoni, said.
"Ireland were always going to face a massive challenge with the teams they had in their group and, in the end, it proved to be too much for them. Whatever anyone says, there is no shame in losing to top sides like Croatia, Spain and Italy."
Coming from one of the most respected tacticians working in the Premier League, Hughton's comments put the anger-fuelled rants of out-of-work coach Keane into perspective.
A mediocre Ireland side were always likely to make up the numbers at Euro 2012, so enjoying the ride was the best they could hope for. Their wonderful supporters have done just that and, at a time when finances in Ireland are tight and so many have sacrificed so much to be there, working-class hero Keane is the last man who should belittle their passion.