Denmark 1-2 Germany
Low's Midas touch
Uli Hesse considers the Midas touch of Germany coach Joachim Low after the country's progress to the quarter-finals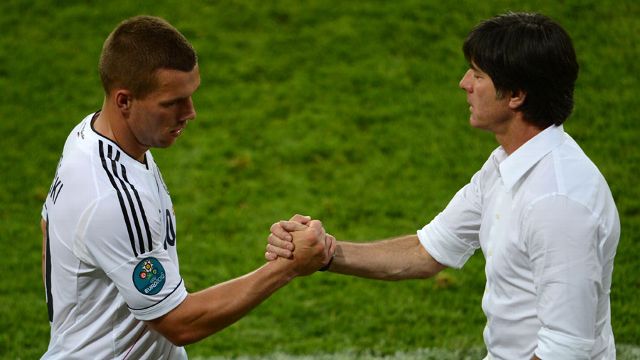 One day, Germany coach Joachim Low will make a wrong decision. However, as yet it's entirely unclear when that day may come.
An hour before the game between Germany and Denmark kicked off, I sat down with a well-known ESPN blogger from Florida in the oldest beer garden in Berlin, surrounded by hundreds of expectant Germany fans, and discussed the line-up. First we agreed that the people's choice would be benching Lukas Podolski, then we agreed that Low wouldn't do it, would give one of his favourite players one more chance to find his footing in this tournament. "He will do that because players have a tendency to come through for him," I said, adding: "Actually, I can see Podolski scoring two goals today." The blogger laughed.
Following that, we debated the question of how to replace the suspended Jerome Boateng. Most German fans, according to the polls television fills airtime with during long tournaments, would have moved Lahm from the left to the right flank and put Dortmund's Marcel Schmelzer at left back. But again, we were fairly sure that Low would ignore public opinion, wouldn't even follow this clueless columnist's suggestion of using Benedikt Howedes, and instead ask Lars Bender, who had never started a game for Germany, to fill a position he isn't used to. (The German FA lists him under "midfielders" in their Euro squad.)
And of course ... yes, you're always tempted to type "of course" when discussing Low and the choices he makes ... of course Podolski scores in his 100th international, and with his weaker foot. As if that wasn't enough, the man whose name on Sunday was pronounced all over Germany as "Bender-Of-All-People" then scores his first international goal to win the game.
In brief, it's crazy. Germany have now won every game in the so-called Group of Death. What's more, they have done so with a different, unexpected hero in every game. They have played well even though their playmaker, Mesut Ozil, is actually not playing well.
They dominated the Denmark game and kept looking for the winner, even though they didn't need a winner and could have sat back and waited for the Danes. Who instead sat back and waited for the Germans. Like I said, it's all crazy.
Does this mean Low's team is now the favourite to win the trophy? Well, let me tell you a story. Two-and-a-half weeks ago, I was in Copenhagen to promote a book. Naturally, none of the interviews I did had anything to do with the book, all everybody was asking about was the upcoming European Championship and the fact that Denmark and Germany had been drawn into the same group.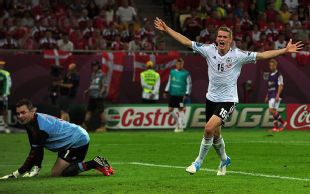 Some of the Danish journalists wanted to know if Germans were still pained by the stunning defeat in the 1992 final. No, I said, losing the semis on home soil, to Netherlands in 1988 and Italy in 2006, was much, much worse.
Some wanted to know what Germans thought about the Denmark match, the final group game. Trying to come up with something positive and polite, I said that Matthias Sammer, the German FA's director of football, felt it would be the most difficult group match for Germany.
And then, out of the blue, one of the journalists said to me that the game, scheduled for Lviv in the Ukraine, should really be played in the Polish city of Wroclaw. My face must have betrayed an utter lack of understanding, as he added: "Breslau. Wroclaw is called Breslau in German." Of course I knew this, yet I still didn't understand what he was getting at. Then he said: "The Breslau XI. It was almost exactly 75 years ago."
How could I forget that? On May 16, 1937, the German national team played a friendly against Denmark in what was then called Breslau in Silesia, at that time a part of Germany. In one of the best performances ever put in by a team representing Germany, a pretty decent Denmark side were demolished 8-0, to this date the worst-ever defeat suffered by the Danish national team.
The game became so famous that the German team acquired the nickname "the Breslau XI" and is considered by historians of the game as one of the most legendary sides we've ever had, almost on a par with the "Miracle of Berne" team and the team that won the 1972 European Championship. Five years ago, on the game's 70th anniversary, a piece in "Die Welt" newspaper called the Breslau XI "a myth".
The difference between the Breslau XI and all our other great, legendary teams is that it's not widely remembered among normal fans - because it never won anything of importance. (By the time the 1938 World Cup came around, national coach Sepp Herberger had been forced to incorporate Austrian players into his side, which effectively dismantled two potential title contenders, as Austria also had a strong side.)
"This is a fatal flaw in a country with three World Cup winning and three European Championship winning teams," deadpanned the "Die Welt" article. And I couldn't help but remember this sentence as Sunday's events unfolded. Because when you go to the beer gardens or the carefully erected public screening places, when you stand in the bars and cafes in Germany, you can sense that the atmosphere is not quite as carefree and joyous as it was two years ago. Back then, the team's performances caught the country by surprise, now good football is considered to be a given.
When I picked up Monday's edition of "kicker" magazine on my way to the office, a lady standing next to me took a look at the cover, then said: "They should have done better yesterday, shouldn't they?" I'm never in a confrontational mood and I was in a bit of a hurry, yet I took the time to reply: "Actually, I think they did pretty well yesterday."
But in a way the lady's misguided comment was symptomatic of the public mood, which - to borrow a famous British phrase - is: Germany expects. Not demands, no. The team and the coach are much too popular for the fans to be mad at them if they should end up not winning this thing. Still, expectations are there, and they are high. The team is expected to play well, dominate games and move forward looking for a goal against teams like Denmark, even if they don't really need that goal.
And now, of course, the team is also expected to defeat Greece and comfortably make the semi-final. The way things are going right now, I predict that Low is going to bench the man of the match, Bender, and put Boateng at right back again. Who then scores the deciding goal as this Germany side goes one step closer to being as legendary as the Breslau XI. Though with a title to show for it.