Portugal v Netherlands
Ronaldo form shadows Portugal
Portugal close ranks to protect below-par star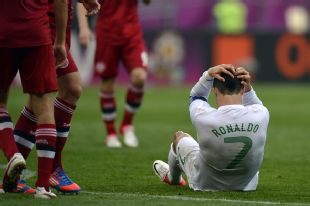 At least ten extra television crews were at Portugal's training camp in Opalenica on Thursday, the day after the win over Denmark, besides the regular crowd. They weren't there to laud the team's first win of Euro 2012.
- Preview: Odds against Oranje
The aftermath of what should have been a joyous win, thrillingly snatched in Lviv by Silvestre Varela's late strike, has been an unusual one. Little has been said of Portugal's more aggressive performance and the move into a favourable position to qualify from Group B. Instead, a huge, Cristiano Ronaldo-shaped shadow has engulfed all of that.
On a personal level, he had endured a miserable early evening, spurning a series of presentable chances, Including a barely believable miss when one-on-one with Danish goalkeeper Stephan Andersen, which seemed likely to be very costly when Nicklas Bendtner equalised for Denmark a few moments later.
A typically pugnacious reaction from Ronaldo post-match, when he evoked Lionel Messi's elimination from last summer's Copa America with Argentina, only stoked the media fire. While his comments were ungracious and factually threadbare (Messi's side at least reached the quarter-finals before being "knocked out in his own country", as Ronaldo put it), it is hard to fully comprehend the widespread outrage given that Ronaldo is contextualised in opposition to Messi at every turn.
Denmark fans in Lviv taunted him pre-match with chants of 'Messi, Messi', just as Bosnia's supporters had done from the moment he arrived at Sarajevo airport ahead of November's qualifying play-off first leg in Zenica. As Portugal trained in a private session on the shambolic surface at Bilino Polje before the latter match, some teenagers scaled the stadium fence to reprise the chant. Ronaldo responded with his middle finger. It's hard to blame him. There really is no escape from this phoney war.
Portugal's reaction has been much as you might expect. The players and staff have closed ranks around him, with Nani claiming Ronaldo's current form is "nothing to worry about", while coach Paulo Bento shrugged in Saturday's press conference in Kharkiv that the criticisms "are typical of the Portuguese people and others around football".
Bento's move to bring the focus away from international critics to domestic ones is interesting. The Portuguese media have largely been clement with Ronaldo, with even the more sensationalist outlets tending more towards concern than the vilification he has been the subject of further afield.
This makes sense, of course, given Ronaldo's popularity at home and his visibility, but it also underlines the fact that all of Portugal is immensely proud one of the greatest players on the planet is a fellow countryman. Their relative protectiveness of Ronaldo in a difficult moment is reminiscent of sections of the Spanish media reacting spikily to English criticism of Fernando Torres' Chelsea form, with a couple of newspapers peddling the line that England's media was 'picking on him'.
So Bento is unwittingly revealing he is unconcerned by the brickbats hurled towards his captain, despite this degree of arranged outrage. The coach's line of fire is not really specific to Ronaldo; it's an echo of what all the squad have been saying since before the start of the tournament, claiming that the Portuguese media are treating them unfairly. The criticisms of Ronaldo are indiscriminately added to the bonfire of complaint, as Bento and Portugal attempt to stiffen a siege mentality.
Whatever the public front, Bento is a sanguine personality, and knows that Ronaldo's performance against Denmark was – globally – not that bad. The Real Madrid man continues to link well with his club-mate Fabio Coentrao, whose lusty runs from left-back allow Ronaldo the liberty to drift inside, as he did to good effect in the first period against Denmark.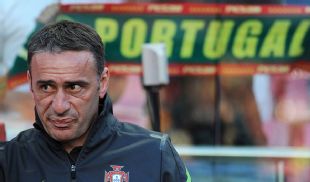 The moves are right, even if the finish leaves a bit to be desired at the moment. If the win over Denmark intermittently conjured memories of Portugal's performance in Bento's first match in charge – against Denmark, in an October 2010 qualifier – so did Ronaldo's individual display. The captain endured more than 80 minutes of personal frustration that night at the Dragao, hitting the crossbar and drawing a series of saves from now-Manchester United custodian Anders Lindegaard.
When Ronaldo finally did make it count in that match, it was with a goal that could have easily been plucked from one of Real Madrid's regular hammerings of hapless visitors to the Bernabeu. He strode into the penalty box, pulled the ball onto his left foot and drew Lindegaard before sweeping it past him into the corner. That one moment of cool-headedness was probably the sole difference between Porto in 2010 and Lviv in 2012.
It was also the start of a highly productive run for Ronaldo under Bento. He finished as Portugal's top scorer in the team's goal-happy, if sometimes haphazard, route to Euro 2012 qualification. Ronaldo's personal tally was eight goals in Bento's first ten competitive matches, a record that proves the coach is the right man to coax the best from his country's superstar at international level.
Just as it is inconceivable to think Ronaldo's barren run – of two competitive matches for Portugal – will continue, it is as unlikely to imagine that chances will not arrive for him when he faces Netherlands on Sunday. Bert van Marwijk's team must seek to attack, and this pressure, allied to an already suspect defence, will surely give Ronaldo room to profit. He has good memories of the Dutch, having opened the scoring against them in the Euro 2004 semi-final victory in Lisbon as a 19-year-old. Ronaldo is the only survivor from that side, showing how long he has carried Portugal's hopes.
The difference is that now, he has matured – and he lacks the support of quite as accomplished a cast as he did in 2004, when Luis Figo, Manuel Rui Costa and Deco stood shoulder to shoulder with him. Maybe it takes the latter, speaking in O Jogo, to provide some perspective of Ronaldo's current challenges from outside Europe's goldfish bowl.
"Ronaldo always has pressure with the national team," Deco said. "When you achieve at such a high level as he does, it's normal that the cost is high when you don't achieve what everyone expects. But he's in good form, he's the team's leader and he'll show up, like he always has up to now."
The expectation will not diminish, so Ronaldo will just have to meet it.