Czech Republic 1-0 Poland
Poles apart
Nick Bidwell watched as co-hosts Poland fell out of Euro 2012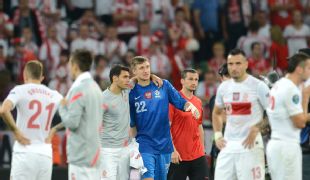 So the Polish dream of making it to the knockout stages of 'their' European Championships is over, their hearts broken by Czech Republic on a night when the tears flowed in tandem with the brutal Wroclaw rain at a shell-shocked Municipal Stadium.
Since achieving a brilliant third-place finish at the 1982 World Cup, Poland have wandered through the footballing wilderness, only rarely looking capable of putting together a competitive side, and yet this was the summer when a nation collectively dared to dream again.
Unfortunately for the hordes of red and white optimists, their enthusiasm was snuffed out after just three games and the mood in the media room in Wroclaw was dripping with an air of anti-climax.
"It was such a shame to see our boys fail at the final hurdle tonight," former Poland midfielder Jacek Krzynowek said, a man who collected almost a century of caps in his extended international career. "There had been such an incredible build-up to this game, but the story did not have the ending we all wanted.
"This is a football-mad country and the entire population were behind the boys, and urging them on to make history, but it simply wasn't to be and I feel for the players right now. They are all patriots and realised this was a moment when they could make history. Maybe that pressure was too much for them.
"I'm particularly sorry for 'Kuba' Blaszczykowski and Robert Lewandowski. Those guys are high-class performers and deserve to be doing their thing in the later stages of Euro 2012. Kuba was trying harder than anyone. He is the sort who wears his heart on his sleeve and you could see how determined he was to make an impact against the Czechs. He busted a gut for us tonight and you can't ask anymore of your captain."
Borrusia Dortmund star Blaszczykowski was dejection personified at the final whistle, but promised the fans that they would have their day in the sun. "Not in my wildest dreams did I imagine the Czechs beating us tonight," he told the media throng in a packed-out post-match mixed zone.
"I imagined the fans would roar us on the victory we needed because after the draw with Russia we really seemed to catch the public imagination and it's such a pity we could not capitalise. Our fantastic supporters deserve success and they must not give up on this team. We can and will bring them what they crave. I'm just so sorry it could not be at Euro 2012."
In the wake of the Poles' elimination, coach Franciszek Smuda swiftly announced his resignation. In charge since October 2009, the 63-year-old has never been a particularly popular figure and clearly felt his position had become untenable, yet he found an ally in one of his predecessors in the national team job.
"Smuda did the best he could with the personnel he had available to him," ex-Poland manager Jacek Gmoch said. "The plain fact is we do not have the depth of talent of other nations. This is not the Poland of the 1970s and '80s when we could call on greats like Deyna, Lubanski, Lato and Boniek.
"He hasn't been frightened to make big decisions. You saw that when he left out Wojciech Szczesny for this final group game. He stuck to his principles and did improve the team in my opinion. Tactically we've moved forward and we're much harder to score against than we used to be. He's assembled an essentially young team for the future and deserves credit for that. Look at the spirit his team showed in fighting back to get a draw against the Russians.
"I don't happen to think we went out of the Euros because of the loss to the Czech Republic. For me the die was cast when we didn't beat Greece in our opening match. It was ours for the taking when we took the lead and the Greeks went down to ten men. We should have gone on to take full advantage, but because we lack experience of international tournaments, we allowed the Greeks to find a way to haul us in. That's why we are now spectators at Euro 2012."
There was a feeling that the Poles had buckled under the pressure of this do-or-die encounter, with former Liverpool and Poland 'keeper Jerzy Dudek believing there may be something to that theory. "Every host nation has to deal with huge expectations and it was the same with us," Dudek said.
"We do have a rather young team and, when you lack some experience, emotions can get the better of you. You sometimes try too hard - maybe that was Poland's problem. We seemed to run out gas a little in the second half and needed more creativity in the middle of the field, also more support up front for Robert Lewandowski, who is an outstanding striker. However, he can't do it all on his own and the same goes for Kuba, who fought so hard and was inspirational. In an ideal world he should not have ended up on the losing side, but this is a result that everyone in Poland will regret for a long time."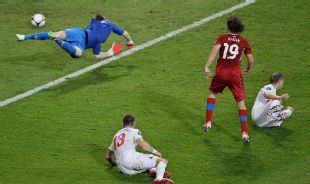 So, just eight days after Czech Republic opened their Euro 2012 campaign with a 4-1 thumping at the hands of Russia, they found a route to the quarter-finals as Group A winners, on a night when their initial conquerors suffered the indignity of a first-round exit.

At the same moment, the Czech revival claimed the scalp of a Poland side who threatened to explode into life for spells during their three games without ever quite serving up the finishing touch to their promise. In the harsh and highly competitive world of tournament football at the highest level, there can be no room for sentiment and, while Euro 2012 may lose a touch of its momentum among Poland fans following their side's premature demise, the intrigue oozing from every day of this gripping tournament shows no sign of waning.