Ireland v Italy
The master and the student
Adam Digby on Trapattoni's chance to upstage protege Prandelli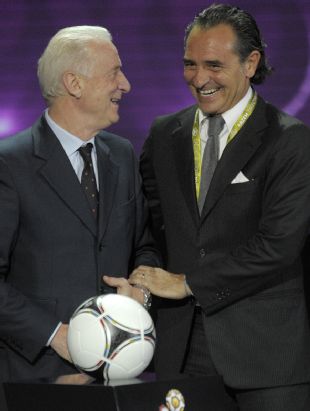 At his final press conference ahead of the draw for Euro 2012, Cesare Prandelli admitted that the one team he wanted to avoid were not reigning world and European Champions Spain – or heavy favourites for the competition such as Germany or Netherlands – but Republic of Ireland. Then ranked as low as 21st according to FIFA's rankings, the Italy coach was deadly serious in his wish to not be paired with them at the group stage for one simple reason: the presence of Giovanni Trapattoni on the opposition bench.
Prandelli told public broadcaster RAI that facing Ireland would be difficult as "Trapattoni will try to get the best results until the end," hinting at the fierce competitor that lies beneath the surface of the kindly demeanour 'Il Trap' portrays in public. He elaborated further after the draw, telling those gathered at the UEFA press conference that: "We didn't want to face Trapattoni for many reasons and must arrive at the European Championship prepared because it's a difficult group."
While the embarrassment of the World Cup in South Africa is still fresh enough to taint public opinion of Marcello Lippi despite his remarkable achievement some four years earlier, the 73-year-old Trapattoni is undoubtedly the most admired coach across his homeland; revered in a way few other managers in world football are. He is truly the Grand Master of Italian football with a list of honours that is simply unparalleled as, following a stellar playing career in which he won two European Cups with Milan, he embarked on a journey around the continent, lifting titles in Italy, Germany, Austria and Portugal.
He is of course most famous for two spells with Juventus, during which he built them into the most dominant side in the world, earning both domestic and continental honours with remarkable consistency. His first spell, lasting an incredible ten years, would see the Bianconeri win six league titles while adding no fewer than four European titles, and it is there that he first came into contact with the man who will look to block Ireland's hopes of redemption on Monday evening.
Cesare Prandelli joined the Turin club in 1979 as a 22-year-old midfielder, going on to represent the club almost 100 times, largely as a reserve for iconic players such as Beppe Furino and Marco Tardelli. He was never a regular but his coach and mentor could always rely upon him to be ready when he needed and even then he recognised the talent of the younger man.
As such they forged a close bond, their mutual respect and affection clearly on show whenever they meet, and speaking last summer Trapattoni told RTE: "Prandelli was a very intelligent player - he wasn't the best player when I had him at Juventus – but he was a great man, one of those players that any coach would like to have. He was a reserve, but he was one of those reserves that you could count on - and when you needed him, he was always ready to step in and be counted. A great team needs reserves like that, reserves who are always ready to step in and deliver, he was a coach's dream."
Much has changed for Prandelli since those days of filling in behind Michel Platini in the famous black and white stripes, as he has carved out a successful coaching career of his own. It has been nowhere near as trophy laden as his former mentor's but has been equally nomadic, taking in promotions with Venezia and Verona before dragging Fiorentina (another of Trapattoni's former clubs) from the brink of relegation to the Champions League.
Unlike the forever spikey Trap, Prandelli has built a reputation for valuing the collective over the individual and deferring to his squad wherever possible and practical. The use of the 3-5-2 which has become prevalent in Serie A this term is proof of that with the coach happy to abandon the 4-3-1-2 shape that characterised Italy during their flawless qualification campaign. By drawing on the experience of players from Juventus, Napoli and Roma who have used it all season, Prandelli gave them the confidence and belief to stand toe-to-toe with Spain in their opening encounter.
In stark contrast to his ever-evolving protégé however, Trapattoni appears to have managed to go through the past thirty years almost untouched, still playing the same pseudo-Catenaccio he did back then. While it bears no real resemblance to Nereo Rocco's original, 'Trapenaccio' is the most obvious example of what commentators mean when they refer to the system: sit deep, defend with every last ounce of energy and attacking either on the break or from set-pieces.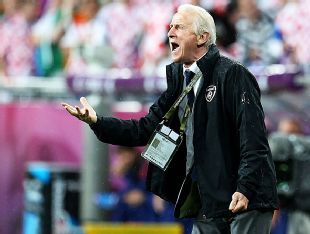 If anything he has taken it further than ever with Ireland, drawing not on his own previous glory but that of Greece at Euro 2004, hoping to replicate their success with a team perhaps even less likely to emerge triumphant. Speaking in his usual pidgin English, laced as ever with Italian idioms translated literally from his native tongue he told reporters last week that "We have a great opportunity to show people," going on to add "I am sure the players understand this. My feeling is they believe; they trust what we can do." Unfortunately for the Irish at Euro 2012, this has not proved the case so far and they have been well beaten in both group games.
However for their last game, history is, oddly enough, with an Ireland side who prior to the tournament had not lost since October 2010. They managed a friendly win over Italy last summer and famously defeated the Azzurri during the last tournament they qualified for, the 1994 World Cup. Italians will remember they went on to reach the final of that competition and, while Ireland may not have a chance of progressing, the old Trap may still have an impact on his home nation and his former protégé's hopes.