Italy 1-1 Croatia
Italy take the biscotto
Roberto Gotta fears for the Azzurri as they face a group stage exit from Euro 2012 after their 1-1 draw with Croatia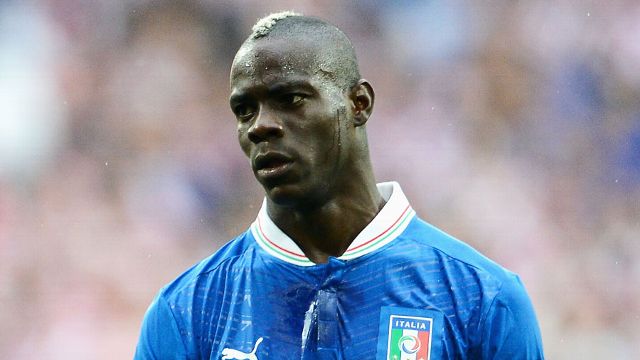 Fire Cesare Prandelli. Sack him. Give him the pink slip. Hand him his P45. Before running out of synonyms and alternative sentences, let's point out this is a joke.
A knee-jerk reaction, which may or may not put me on a par with the countless numbers of UEFA-A licensed coaches (which I am not by far, by the way) who have expressed their opinion on every social network available to mankind while Italy v Croatia was in progress.
Skills that separate average managers from those who excel in their professions can be of different kinds: how they prepare for matches, how they adapt to their opponents before the game, how they force opponents to adapt, how their in-game reaction are, how, and when, they make substitutions.
Prandelli has been heavily criticised for getting the last part wrong, when he took off Mario Balotelli on Thursday while Antonio Cassano was clearly struggling to keep up with the game.
Unlike Sunday, Balotelli had provided a decent option up front, by not only looking for the ball played at his feet but engaging the Croatian central defenders by playing off their shoulders; which had been a question mark about him. Last November, while talking about him, Prandelli had said: "Mario used to ask for the ball at his feet all the time, but he now looks as if he's improving in moving towards the goal when his side's in possession."
Antonio Di Natale, who was sent on for Balotelli, did not produce a goal as he'd done against Spain, and it was ironic that Luka Modric mentioned Balotelli's exit as the turning point of the game.
Italy's failure to keep their lead was down to tactics – as Richard Jolly pointed out, Croatia's move to 4-2-3-1 helped stifle the Azzurri's midfield – and fitness, as Prandelli noted after the game. Cassano, who missed most of the season because of a heart ailment, was not the only one who looked tired after the hour, and in fact Prandelli hinted at changes he may make for next Monday's match against Ireland, which add to the intrigue about what that XI may be.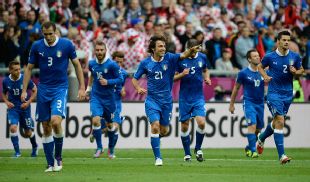 With Andrea Barzagli recovering from his injury, changes may also be made in defence, with Daniele De Rossi moving forward to join Andrea Pirlo and Claudio Marchisio in central midfield. That would leave Thiago Motta out, and while it may be a popular move, as the PSG midfielder has a way of irritating viewers with his languid style and apparent inability to change gears, he's also a solid passer who rarely gives the ball way, perhaps knowing he'd have trouble getting it back on his own anyway.
Criticism of Prandelli, who's gone from being a saint to a sinner in a matter of days as is bound to happen during international tournaments, also concentrates on his repeated preference for Emanuele Giaccherini on the flanks, but this may really be too much, as the Juventus player did struggle at times with defensive duties, but has surely not let his side down in any way, and it's perhaps Christian Maggio, despite playing in a very similar role to the one he has for Napoli, who has had more trouble in both matches so far.
Nit-picking, perhaps, as Italy were only a couple of easy missed chances away from finishing the first half with a two-goal lead, which they might have held on to without much trouble in the second half.
It is true tiredness set in and this usually means sides lose confidence in their ability and sit back too much, which happened on Croatia's goal, but there is no shame for a team who did not have much time to practice together to draw with Spain, having perhaps a better game than the World Cup holders, and Croatia. In fact, the Azzurri may go out on five points, if they beat Ireland and the unthinkable happens.
Readers may remember I mentioned Italians had already started dreading a last-day draw between Croatia and Spain after the first game, and the paranoia increased exponentially after Thursday's match, which set the scene for a potential repeat of the 2004 situation, when Sweden and Denmark played out a 2-2 draw, exactly what they both needed to knock Italy out of the tournament. That was, famously, called a "biscotto" ("biscuit"), a term of uncertain origin when used in reference to a tacit, unsigned pact of non-aggression between two sides.
An old, childish syndrome, which is not just an expression of popular opinion but is fuelled by major media agencies, too. All three sports dailies, who couldn't ever be accused of raising the collective sporting culture of their readers anyway, mentioned the possible "biscotto" on their front pages on Friday, and other newspapers did, increasing the national paranoia about going out of yet another tournament without losing a single match.
Unfortunately, with the current match-fixing scandal giving the Italian game yet another black eye, no one connected with the calcio would be wise to cast too many suspicions on other sides, lest he gets pelted with rotten tomatoes.
As readers may remember, Gianluigi Buffon, still one of the best characters among the Azzurri, dismissed (or perhaps increased...) suspicions about end-of-season matches which produce predictable results by saying "due feriti sono meglio di un morto" (two injured are better than one dead), which meant a result suiting both sides may not be a fix but a simple matter of common sense.
Extending the meaning of his words, then, Spain and Croatia may end up being those two "injured", which may leave Italy "dead", and the Italian goalkeeper would then have no reason to criticise Spaniards and Croatians for doing exactly what he himself says can happen out on a football pitch.
You may have heard unfortunate sentences then but Buffon's, considering the circumstances, really takes the biscuit.