England in focus
Unshackled Gerrard can inspire
Former England manager Glenn Hoddle casts his eye over the current team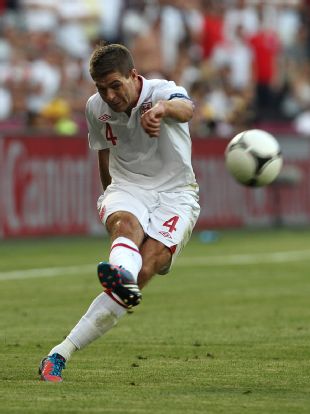 England's first games at major tournaments are traditionally cagey affairs and their Euro 2012 opener against France was certainly no different. Avoiding defeat can be more important than going out to win as preserving the players' confidence levels is key for those second and third games.
I think a 1-1 draw was a fair result after the sort of gritty performance we had expected, with Roy Hodgson sticking to his principles and executing a strategy that he has perfected at club level - playing with a lot of men behind the ball and making his team very difficult to beat.
Set-pieces will probably be England's biggest threat at this tournament and it was wonderful to see Joleon Lescott, who I had at Wolves and who is both a really good player and a good lad, score such an important goal. He's been a danger from set-pieces for Manchester City this season and I think there are more contributions to come from him and John Terry as the tournament goes on.
Defensively, England were really excellent in Donetsk - working tirelessly when they did not have the ball, which was often the case. Steven Gerrard was playing as deep as I've seen him for a long time, even deeper than Scott Parker at times, and both central midfielders worked extremely hard. When you have to defend like they did, chasing down a team who are enjoying a lot of possession, the concentration levels fatigue you more than anything. Their work rate was superb, but you could see towards the end that both lads looked tired.
I'd really like to see Stevie play a little more advanced against Sweden because if he is not making those lung-busting runs forward and popping up on the edge of the box, he is only playing to 40% of his potential. In the next game, England should be able to keep a little bit more composed possession in midfield and hopefully he can play a little further up the pitch and influence the game more in an attacking sense. We need him there.
There weren't any performances against France that have us thinking 'he should be dropped' for the Sweden game, but then again there weren't any that you thought 'wow, we can't leave him out'. It was a six-and-a-half out of ten performance, but the same personnel are capable of earning a victory and I think Roy will trust those same 11 players from the start.
That will mean another cap for Alex Oxlade-Chamberlain, who I thought put in a decent shift on Monday and could really bring some positive momentum with his pace and power. It was always going to be difficult for him but I think it helps that he's a young man; the pressure is off when you are that age and you play with a freedom that perhaps leaves you as you become more experienced. Roy's put him in, clearly believes in him and will be telling him to just go out and enjoy himself – if he sets the world alight then great, if he doesn't then it is the responsibility of the more senior players to step up. Having a youngster playing with no fear can be a dangerous weapon, as Wayne Rooney proved at Euro 2004.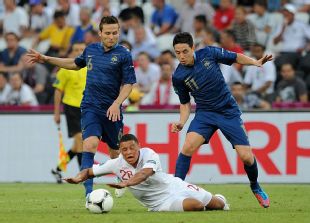 The Sweden match will be an interesting one, as on paper it represents a chance for Roy to utilise a more attacking approach against a team that had the stuffing well and truly knocked out of them when they let their lead slip to lose to Ukraine. However, I don't envisage an overhaul in philosophy, Roy's tactics have been engrained on this group of players and, though they will almost certainly enjoy more possession, there is no need to go gung-ho.
Sweden need to gamble as they could be eliminated with a defeat and I think that will play into England's hands. Sweden are not an attractive footballing team like Spain and France and they will try to look to get around the outside and get the balls into Zlatan Ibrahimovic - Glen Johnson and Ashley Cole will have to be on guard for that. If England play the way they did against France, I really think they will pick off Erik Hamren's side and take away a victory.
How many fans will actually be there in Kiev to watch the Three Lions has been the subject of discussion this week, after only around three to five thousand were in attendance against France. There was a lot of scaremongering before the tournament which probably put a lot of people off and it's a shame because following your country at a major finals is always a memorable experience.
In a strange way, though, I think the fact that there are less fans could actually be a help to the players on the pitch. Going out in front of 25,000 of your own supporters at a tournament is fantastic but it also puts a lot of pressure on - you think about how far the fans have travelled and you are scared of letting them down - it's something else for the players to think about, aside from doing the business on the pitch in front of the millions of people who will be watching on TV at home.
We've seen England struggle in front of big, partisan crowds, most notably at Wembley, in recent years and so, with people not giving this current team much of a chance and expectations pretty low, the pressure has been reduced significantly. The players are more relaxed and I think that could work in our favour. However, if England reach the quarter-finals, we can expect a significant influx of fans, probably up to 20-plus thousand – and then I guess we will really see what this group are made of.