Denmark 2-3 Portugal
Flaky Portugal leave it late
Andy Brassell feels Portugal are struggling with a split personality after scraping past Denmark
By doing what he probably should have done four days earlier, smashing home a cross from the left in the dying minutes of the game, Portugal substitute Silvestre Varela saved his side and his captain from the most unwanted early headline of Euro 2012. Had this match with Denmark in Lviv ended as a draw, as seemed likely after Nicklas Bendtner's second goal of the game, all focus would have been on Cristiano Ronaldo's improbable miss minutes before when he should have killed the match.
Ronaldo was bright and zesty in the first half, causing Morten Olsen's side all sorts of problems as he drifted into central areas for his spot on the left. After missing a pair of gilt-edged chances to put Portugal out of sight in the second period, he ended the game as the player with the second-greatest number of shots at the tournament without scoring – ten, as opposed to the 11 unsuccessful efforts of Russia's Alexander Kerzhakov – and with a needless booking, picked up in the closing moments for a frustrated hack at William Kvist.
The captain's Jekyll and Hyde performance was in fact Portugal's in microcosm. They started and finished the first half under pressure from Denmark, but in between were as aggressive and decisive as their critics said they had failed to be in their Group B opener with Germany. Nani shone on the right against Simon Poulsen, a man playing with the caution of someone who knew that a booking would rule him out of the final group fixture against the Germans.
It was the Manchester United winger who created the second goal, sending in an inviting ball that Helder Postiga dispatched with élan at the near post. Postiga, Portugal's second-highest scorer in the qualifying campaign behind Ronaldo, had been heavily criticised back home for his performance against Germany, and his team-mates fought a stern rearguard action in front of the media on Monday to defend him. Former colleague Nuno Gomes even wrote 'Postigol', as he called him, an open letter of support in Portuguese sports daily O Jogo on the day of the match. "If the opportunity comes up, I'm sure you'll leave your mark on the Euro, like you already did in the last two," Gomes said.
Despite Portugal starting both games in the Ukraine so far with the same XI that began the qualifying play-off second leg thumping of Bosnia-Herzegovina, that qualifying campaign has seemed a long way away of late. The side's lack of goals, in friendlies at least, had been even more disturbing than the actual results. Bento's men had entered the tournament winless in three matches in 2012, a run extended to four against Germany, but the blank also meant Portugal had scored just once in four matches.
For those who have seen little of them since the painful slog of the 2010 World Cup, it seemed a natural continuation of a spartan theme, but a lot has changed since the exit of Carlos Queiroz as coach. The team's inhibitions left with the old boss, with Bento deciding fortune would have to favour the brave if Portugal were to turn around a poor start to the Euro 2012 qualifiers.
With Pepe allowed to return to centre-back, the team was equipped with a new, more dynamic midfield of Raul Meireles, Joao Moutinho and Carlos Martins, where the trio took turns to be the holder and fluidity was the key. In that first year of Bento's charge, Portugal were prolific, rattling them in at an average of just under three goals per game. Ronaldo was happy and scoring, and others were chipping in, too.
There has been one small but significant change to that midfield since, with Miguel Veloso replacing Martins. Veloso gave two very accomplished performances in the play-off matches with Bosnia, and even scored a splendid free-kick in the second game in Lisbon, but he is a more defensive-minded player than Martins. The Granada man's late withdrawal from the squad through injury means Bento no longer has the option to switch up the pace in midfield, with replacement Hugo Viana a considered passer of the ball but with none of Martins' explosiveness.
This was an issue against Germany, even if we have to consider that Portugal were adopting a more conservative approach than normal out of respect for their opponents. Against the Danes, they struggled to either maintain possession – Portugal's pass completion rate in the match was the lowest of any team in the tournament so far – or protect the defence. Essentially, with a midfield three anchored by a dedicated defensive midfielder, it is very easy for Portugal to fall back into bad old habits, splitting into disparate parts rather than working as a whole.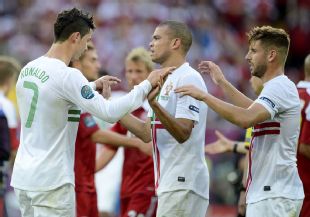 Against Denmark, there was enough of the swagger of Bento's early days in charge to make us forget about this disconnect for long periods. In the build-up to the match, much had been made of Denmark's emergence as Portugal's bogey team in recent years, but a large part of the match was a rewind to the very first game with Bento at the helm, a resounding 3-1 win in Porto during qualifying, back in October 2010.
Yet as the game went on without Portugal having put it to bed, the same themes that maligned the match with Germany began to emerge – the inability to be clinical in front of goal, carelessness in passing, and the odd unexpected defensive mistake. Pepe, the scorer of the opener and generally one of Portugal's better performers, even allowed Nicklas Bendtner to drift two yards off to his left for the equaliser in a carbon copy of his lapse for Mario Gomez's winner in Lviv on Saturday.
The good news is that Portugal have something to work with ahead of a meeting with Netherlands, a side that they have a very strong record against. The worry is that we have no idea which Portugal will turn up, or which combination of characteristics they will display on the day. Bento's team is struggling with a split personality.