Spain v Italy
Italy draws on the negatives
Roberto Gotta explains how paranoia has clouded Italy's impressive start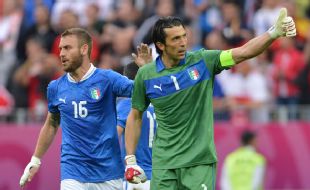 The morning after the night before and Italy, typically, is already worried. Once Croatia had beaten Ireland, fears of a final-day draw between the Croatians and Spain that would send them both through to the next stage, on the assumption that Vicente del Bosque's side will beat Ireland on Thursday, have already crept up on the internet and social network.
Ironically – or perhaps appropriately – for a nation rocked by a match-fixing scandal every other year or so, attention quickly turned in some quarters from Italy's more than decent draw against Spain to the thought of again going out as in 2004, when the Azzurri could do nothing but watch as Sweden and Denmark played out a 2-2 draw that sent Giovanni Trapattoni's side home.
The one remedy against other results influencing your destiny is, of course, making sure that they don't, and one way to do that is winning all your matches. Italy tried to do just that against Spain, which makes the shift of attention towards the next week or so even more shameful, as if the nation – or the more paranoid part of it – could not even enjoy a good result without dragging itself into yet another matter of discord, a situation where excuses for potential failure are ridiculously easy to find.
Little was expected of Italy on Sunday, and that was also typical. For some reason, optimism is never a part of the build-up towards a first game in any international competition for the Azzurri. Whether it's the focus on players undeservedly – or so some say – left out, as Alberto Gilardino was in 2004, or the ritualism of scandals or the focus on coaches using tactics deemed wrong by makeshift critics even before they're put to the test, gloom seems to be the dominant sentiment.
And, as often happens, pessimism turned first into moderate optimism. Those who had started watching the game curled up on their sofas, peeking through their hands, slowly sat up straight and leaned towards their TV sets as if anticipating that something positive could actually happen. That said, those who watched the live broadcast on Italy's state-owned RAI were treated, apart from the good colour commentary by Giuseppe Dossena, to an annoying but typical diet of interviews with several boring men in grey suits (read: politicians) and the dismaying sight of a well-known actor sitting in the Gdansk studio to offer his, er, invaluable views on how the game was being played. Good thing Gian Piero Gasperini was in the Rome studio injecting some sense into the situation, at least.
Richard Jolly already examined Italy-Spain from a tactical standpoint here, and it has to be said Cesare Prandelli got most of his moves right, something which is even more impressive when one considers he had spent the previous 18 months installing a completely different system. The best was probably trusting Daniele De Rossi with the task of manning the central defensive position in the 3-5-2, with the unorthodox twist of helping Andrea Pirlo build from the back when Italy had possession, in order to offer Spain a double threat that would nullify their high pressure. Pirlo did not play his best game but managed to slip through a typically brilliant ball for Antonio Di Natale's goal, which itself made a mockery of the annoying reputation of the Udinese striker as a "bottler" on the international stage – which may happen if you play for a provincial side and had the temerity to turn down a move to a big club like Juventus, as he did two years ago.
De Rossi, whose only shortcoming in a career as one of the best midfielders in Europe has been a quick temper – you may remember that he missed three matches in the 2006 World Cup after being sent off in the group stage for elbowing USA's Brian McBride – showed a good command of the position, which was new for him. He'd played as a central defender for Roma this season, but always in a back four, and had frequently dropped between the two central defenders, usually Gabriel Heinze and Simon Kjaer or Juan, when the Giallorossi had possession.
This time, though, he was supposed to be in the most critical position on the field for Italy, although Del Bosque's decision not to employ an orthodox centre-forward may have actually helped him, despite his expecations. As he told the media after the game: "I was worried at first because playing against a central striker helps you focus on a specific player, but I actually had more trouble against Fernando Torres than a striker-less side." And that was because at times he looked uncertain as to whether keep his position or step forward to close down the man in possession.
Prandelli was not completely happy with De Rossi, noting after the game that he had done "well enough" but had not supported Pirlo as much as he'd asked him to do, but his plan worked out more than decently. Emanuele Giaccherini played well as a left wing back, his performance only marred by the failure to box out Cesc Fabregas on Spain's equaliser – not surprisingly, perhaps, for a player who had been a forward for Cesena last year and was only deployed as a wing back for Juventus a handful of times this season.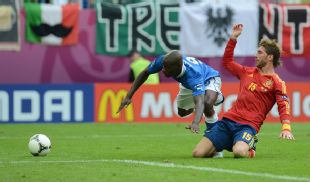 An obvious point of controversy will, again, be Mario Balotelli. Burdened with heavy expectations, he did not deliver the goods: apart from being booked, he did a decent job of defending from the front but did not provide a solid reference point upfield and at one point inexplicably dallied too long, having taken the ball away from Sergio Ramos, before shooting, as he was apparently waiting for Antonio Cassano to move into a goalscoring position. He will not be dropped by Prandelli, who's worked hard to help him settle with the Azzurri and make him central in his tactics, but it's more obvious than ever that Mario will have to do something or else face making a grim glance towards the bench after an hour or so to check whether Di Natale or someone else is taking off his tracksuit.
By the time the tricky Croatia game comes up, on Thursday, the general mood will have shifted from praise – which seemed to come from across the spectrum of media and fans on Monday morning – to worry again, perhaps looking at how the Croatians played against Ireland or at the four Italian players, among them Leonardo Bonucci and Giorgio Chiellini, who were booked against Spain and will need to be careful in the next game.
But, hey, Cesare – listen to the conspiracy theorists, please. Don't you know Croatia and Spain have already agreed to a draw, right? So why worry, train, prepare, work out and do a film study? Roll the ball out, give out the training bibs, sit back and relax.