Spain v Italy
Del Bosque confounds Spain
Eduardo Alvarez was left baffled by Spain's lack of a striker against Italy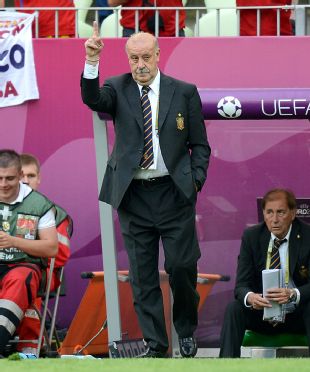 After a pulsating encounter, Italy and Spain ended up settling for a 1-1 draw that keeps alive both sides' chances of making it to the knockout stages of the tournament. Their fate will be decided in their next two Group C matches against Republic of Ireland and leaders Croatia.
Sunday's early game had already been hyped, but it acquired an extra degree of interest half an hour before kick-off, as Spain's manager Vicente del Bosque puzzled fans, media and arguably most of his own players by announcing a starting XI without either of the three centre-forwards he's brought to Poland.
In a decision taken out of Pep Guardiola's tactics book, Del Bosque fully embraced the 'false nine' approach, making a trade-off that sacrificed presence in the final third in favour of greater ball possession and near guaranteed superiority in midfield. The Spain manager trusted the ability of his offensive midfielders to surprise Italy's defence coming from behind, in open combinations.
Del Bosque's choice smelt of conservatism; against a skilled competitor such as Italy, he wanted to avoid repeating Spain's negative start of the tournament in the 2010 World Cup, when Switzerland stunned the Spaniards with a 1-0 victory. However, by playing without a real striker, Del Bosque implemented an almost unprecedented tactical formation for the Spanish national team, having tested up to four different players in the centre-forward position in 2012 alone.
In the opposite dug-out Italy manager Cesare Prandelli simply applied what his team had worked on in training during the week. Italy started off well in a 3-5-2 formation that made sure the Spaniards weren't able to succeed in their stubborn attempts to get to Gianluigi Buffon's goal using the central part of their attack, and they countered well whenever Andrea Pirlo could find Antonio Cassano and Mario Balotelli.
Del Bosque's tactical manoeuvre, rather than confusing the three Italian centre-backs, had the opposite effect: Italy took a few steps forward and pressed Spain in their own half, as the Azzurri backline had no concerns to track down any conventional striker. For most of the first half, the middle of the pitch got clogged up in a tough, fruitless struggle, with scoring opportunities rare for either side.
During the first 45 minutes, Cesc Fabregas, Andres Iniesta and David Silva took turns to lead the Spanish line, starring in several slow, one-touch combinations that blatantly lacked the intent to finish. At times it felt like the Spaniards wanted to walk the ball into Italy's goal rather than take a shot. While Spain fought their own limitations to score, the Italians acted in a more direct way and enjoyed a couple of decent chances, especially the one just before the interval when Thiago Motta produced a powerful header that Iker Casillas repelled in trademark fashion.
When Hungarian referee Viktor Kassai blew the half-time whistle, Spain left the pitch flabbergasted, having been unable to impose their game and having clearly lacked a consistent reference up front. It wasn't the case with Italy, who – after a quite convoluted fortnight dealing with injuries and the match-fixing scandal – had performed rather well on the pitch and felt they had the upper hand.
Most of the Spanish media expected Del Bosque to resort to a more traditional formation after half-time, but the quiet man from Salamanca stuck to his starting XI for 15 more minutes, during which the match broke open and the fun started.
First, Iniesta took advantage of a through ball from Fabregas and saw Buffon save his left-footed shot with the tip of his fingers. Then, Balotelli stripped Sergio Ramos of the ball, only to get his pocket picked by the Spanish centre-back when he seemed bound to score.
Antonio Cassano had another opportunity shortly thereafter, but finally it was substitute Antonio Di Natale, just introduced in place of a frustrated Balotelli, who broke the deadlock on the counter, making the most of a delightful pass from Andrea Pirlo. Fortunately for the Spaniards, the only successful combination involving their offensive midfield happened just three minutes later. Following great one-touch play, David Silva found Cesc Fabregas inside the box, and the Barcelona playmaker scored coolly with his left foot.
Right after Fabregas drew level, Del Bosque took the most dumbfounding decision of the match, and decided to replace Silva with Jesus Navas, a pure winger whose best trait lies in his ability to cross the ball when he reaches the line. The fact that no one in the Spanish side stood a chance of beating Giorgio Chiellini and Leonardo Bonucci to one of his crosses didn't prevent Del Bosque from keeping this bizarre formation for ten eventless minutes.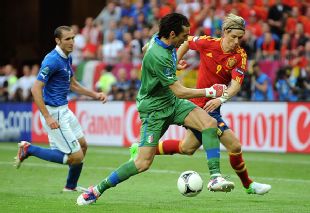 The Spanish manager then tried to steer the ship in the right direction by resorting to what remains of Fernando Torres, who came onto the pitch as a replacement for Fabregas with only 15 minutes left. If someone was in doubt about Spain's desperate need of a pure striker, the following minutes made an eloquent case: as Italy started to tire, spaces appeared and Torres seemed to be at the end of every offensive play or through ball.
However, the Chelsea striker made the erroneous decision each single time. The balance of his brief spell on the pitch included a few misplaced five-yard passes, one yellow card due to a careless elbow and two glorious chances wasted – a one-on-one situation with Buffon in which Torres went the wrong way, and a failed chip over the Italian goalkeeper's goal when he had Navas wide open to score on his right. As in the 2010 World Cup, Del Bosque keeps giving the former Atletico Madrid forward the benefit of the doubt, despite his performances providing most of us with a sense of certainty over his lack of confidence and poor shape.
Both teams left the pitch content enough with the result, as their prospects of reaching the knockout stages remain very much in their own hands. The Italians have recovered their self-esteem doing what they do best and in the process have become a worthy rival in the tournament, while the Spaniards have indeed learned that, in order to play without a pure striker and score aplenty, you need something more than extraordinary but terrestrial midfielders on your team: you need to have someone called Lionel Messi.