Ireland 1-3 Croatia
Conservatism costs Ireland
John Brewin was at the Municipal Stadium in Poznan to watch Giovanni Trapattoni's defensive tactics fail to bear fruit for Ireland against Croatia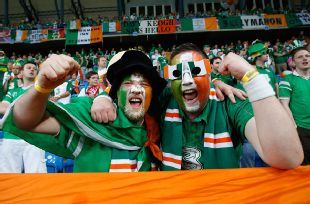 Being there to make up the numbers or just here for the beer were the labels the Irish did not want to be patronised by. To qualify from Group C now would rank as high as any of Giovanni Trapattoni's achievements in 40 years of being a coach. It looks improbable at best, and almost impossible when the high-quality fare supplied in Gdansk by Spain and Italy is introduced to the equation.
There were moments of ill fortune, but too many incidents of inadequacy to write a hard-luck story. Croatia's greater quality and poise were the real reason for the result. As the final whistle sounded, Ireland's fans sang the 'Fields of Athenry' in loyal defiance but the prospect of facing Spain, that most adept of all passing teams, is chilling considering how the Croats' possession game had pulled the Irish apart.
Fan fervour and vocal support could not carry the men in green through. And Croatia were their equal in terms of decibel levels, despite being outnumbered in one corner of the ground. Rarely can two national anthems have been belted out with such gusto. Two countries whose histories share something in common were keen to show their pride in being at the European Championship. Ireland's stay looks likely to end a week on Tuesday, whereas Croatia can now aim to split the superstars.
From the moment that Richard Dunne took their first touch - a header - in the game's embryonic moments, Ireland's fans intended to roar every touch. Economic pain and austerity were placed to the back of minds as the game began, but a new agony was soon felt. Mario Mandzukic showed real improvisation skills to head in a deflected cross from almost a kneeling position. Shay Given was far less alert as the ball squirted past him and the 'Trap' plan needed to be torn up in just the third minute.
It was the type of goal that Trapattoni will feel should have been drilled out of a defence he has worked rigorously for three solid weeks, and indeed the last four years. "Mr Calcio", as labelled by opposite number Slaven Bilic, patrolled his technical area in exasperation, his silver hair beacon-like on the sideline.
Croatia's passing was always the slicker. They possessed an ability to switch the play that their Irish counterparts did not. With the lowest pass completion of the tournament so far, Ireland never gained themselves those moments of calm that possession can bring.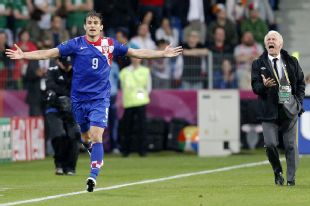 Trapattoni's Ireland may not be as agricultural as their predecessors from the Jack Charlton days but creativity is at a premium and too often a loss. Glenn Whelan and Keith Andrews are employed to protect in the centre of midfield. The burden of creation lies with two inverted wingers in Aiden McGeady and Damien Duff. The pair ran gamely, yet without incision. McGeady may have supplied Sean St Ledger's goal with a ball to an area of uncertainty that had Vedran Corluka beaten, but his contribution otherwise was anaemic and wasteful.
Defensive duties taking precedence was always the plan, but playing defensively only works if you actually defend well. Ireland did not.
Too often, last-ditch tackling was required, clearances were too hurried. Croatia's pressure and pressing proved too much, and Stephen Ward's horrid slice into the path of Nikica Jelavic was a product of a growing discomfort brought on by the probing of Luka Modric in particular.
Calls for offside were in vain, since Jelavic could not be offside from an opponent's last touch despite Trapattoni's protestation that he "was already offside" from Mandzukic's initial shot. The Irish may feel they have been hard done by from referees in recent years, with Thierry Henry's handball in Paris still a subject of conversation in the pre-match bars of Poznan, but any such complaints were moot, and especially in the light of Croatia's dominance of the game as a whole.
A far more telling case could be presented for a cast-iron penalty claim when Robbie Keane was ploughed by Gordon Schildenfeld in the 63rd minute.
In pre-match, Slaven Bilic had promised "some surprise that I can't repeat to you" but in fact what Croatia supplied was familiarity, a reversion to the salad days of Euro 2008. Modric was not the heavy-legged figure of Spurs' late 2011-12 season, while Jelavic, playing instead of the always willing but now faded - and in the case of Euro 2012, out injured - Ivica Olic, is the type of predatory goal threat that Robbie Keane no longer is and Kevin Doyle never will be.
And Ireland do not have a Mandzukic or an Ivan Perisic either. Mandzukic's danger from a position between midfield and attack took the game beyond Ireland, while Perisic's probes from the flank and fierce shooting could have won the game before half time.
And Ireland could not even boast of being plucky minnows. Croatia, a country with 60,000 fewer people and probably far less of a diaspora to call from, had landed what already looks a fatal blow. Ireland must prepare to be patronised rather than feared.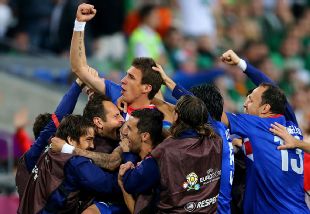 MAN OF THE MATCH: Mario Mandzukic. Currently with Bundesliga side Wolfsburg, here was a shop-window display of finery. Use of his notable height saw him score the two goals that won the Group C points. His was also the shot that eventually led to Jelavic's goal. A true match-winning display, then.
IRELAND VERDICT: Trapattoni's conservatism had got them there, but cost them here. The occasion got to too many of the Irish, with Ward and Given both guilty of goal-making mistakes. 'Trap' hinted at changes for Spain, but refused to level blame, saying that any omitted players still deserve to play. He just might try something different, which already felt somewhat tardy.
CROATIA VERDICT: "It was important that we scored an early goal," Mandzukic said. "And after that it would be easy." Bilic's plan worked swimmingly, and thereafter his midfielders were able to offer far more options than their counterparts. Italy may think they have something to fear.