Focus on Spain
Simply Red
Phil Ball assesses Spain's chances of successfully defending their European Championship crown in Poland and Ukraine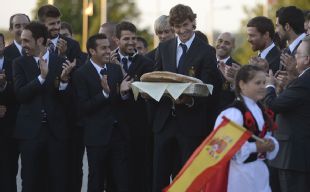 I was pleased to read on some blog the other day that I wasn't the only one annoyed by the constant minimalist references to 'La Roja' – a phrase that you can't really translate, so just think 'red'. Of course, Spain are actually red with dark-blue shorts, but let's not get pedantic. They're a very good team, as you may know, and if they win Euro 2012 then they'll have broken a record by being the only country to win three consecutive majors.
They've just arrived in Poland, flying into Gdansk on Tuesday afternoon, and trundling by coach out to the village of Gniewino, some 35 miles to the north-west of the airport. The population of the town boasts around 1,700 folks and a wind farm, so it should be nice and quiet. When the squad arrived on their bus, the locals greeted their guests with some folkloric gifts, received by Fernando Llorente, because he's the best-looking one. Well, my wife says he's got 'interesting eyes', so there you go. Maybe that's why he was preferred to Roberto Soldado. Ok - don't write in. I know that it was Alvaro Negredo who was preferred to Soldado, but his eyes seem very ordinary to me.
Will they win the tournament? I don't think so, but they'll come fairly close. I'll expound on the reasons in a moment, but in a very general sense there is perhaps too much serious opposition this time, and in a more specific sense, teams are out to get the simply reds. Just as Barcelona set a template, offered it to the world and won everything available while the shock factor was still intact, the rest of Europe took a while to work out what they had to do. But all giants have feet of clay, and all machines break down - just as all systems can be unraveled. Spain can be beaten too, of course, and frustrated by well-organised and quietly ambitious sides like China last weekend, a team who almost snatched a draw from them in the final friendly in Seville before the flight to Poland. Switzerland proved that too in the World Cup group stage two years ago in Durban, but it made no difference to the final reckoning. This time, you get the feeling that Spain will win their group, cruise through the quarter-finals (against a side from England's group), but come unstuck in the semis. I think they'll run out of gas and ideas.
Spain are in Group C, and open their campaign against Italy on Sunday. Then come the Republic of Ireland followed by Croatia. We'll look in more detail at these matches when the tournament begins, but Italy's state of mind can be none too propitious, coming into the tournament with a moral hangover and possible further revelations to come. As the cliché goes, they can never be discounted in a major tournament, and opening games can often go against form, but they would probably be happy with a draw against Del Bosque's men. The Republic will put up a fight, of course, but it's hard to see them getting much from the game, and Croatia have some classy players in their midfield, but their recent results show a certain inconsistency which could spell curtains against Spain. There might be a slip-up somewhere - Spain can sometimes take their time playing their way into a competition, but the quarter-finals look a perfectly plausible berth from this week's perspective.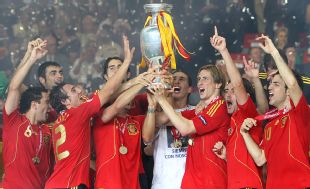 This is what most of the Spanish press thinks too, but there has been a general mood of sobriety, as if the country cannot quite believe that it can pull off a hat-trick of wins. Germany and Netherlands are the two teams most feared, and although Spain's traditional inferiority complex towards the northern European sides has been reduced by the events of 2008 and 2010 (cue wins against both Germany and Netherlands), there is still that nagging little duende (goblin) in the Spanish psyche, the one that causes it to forget its lines on the night. It's been gone for some time now, but it can always return. That's the trouble with gremlins.
Does this all sound a bit cautious and pessimistic? Yes - but it's worth considering the weaker points of the ship this time. We know how majestically it can sail, but the captain and crew aren't quite the same as before. Coach Vicente Del Bosque, for example, is showing certain signs of fallibility, although his moustache continues to be magnificent. His policy appears to be one of stability - since 19 of the 23-man squad were in South Africa two years ago, but you could argue that a couple of surprise elements might have shaken things up a little, and added some new qualities to a squad that will either benefit from its automatism, or suffer from tiki-taka fatigue. It's difficult to understand, for example, the decision to omit Valencia's Roberto Soldado from the squad. He scored 27 in all competitions this season, and a hat-trick for Spain in only his second international, which is rather more than Fernando Torres managed.
But it isn't just the Torres factor. The Chelsea forward is a good choice, because on form or otherwise he always scares defenders, has pace and strength, and is capable of winning games alone. He remains something of an enigma, but Del Bosque was right to pick him, whether it sends out the wrong messages to the fringe players or not. But neither Alvaro Negredo nor Fernando Llorente seem as good as Soldado to me. Llorente has had a good season, and despite looking tired towards the end, he is a good alternative to have around. But Soldado is as good as Llorente in the air, is quicker on his feet, and is very intelligent on the ball. Negredo had a pretty average season for Sevilla, like his team-mate Jesus Navas, but the latter's inclusion was a good one - because he gives Spain that orthodox right-wing pace that can change the tactical flow in an instant. Negredo's ok – he would make most international squads, but Soldado has been on fire for most of the season. Barcelona's Pedro is difficult to exclude, given his ability to find space out wide - like the missing David Villa - and yet inflict damage by creeping unseen into more central positions and confusing defenders. But it might have been an interesting idea to have brought Atletico's Adrian along, a player in form and capable of many of the things that Cesc Fabregas can do - when the Catalan is fit and confident. But he isn't. Adrian would have mixed things up a little, and added a new element of invention.
Santi Cazorla is back, after a good season with Malaga, and Valencia's Jordi Alba is perhaps Spain's most exciting addition - a sensational left-back with pace and aggression. But over on the right there'll be no Sergio Ramos (check out his new hair-cut) because Carles Puyol's absence means he'll be in the middle with Gerard Pique. This leaves Alvaro Arbeloa for the right-back spot, and although he's a thoroughly decent player, he doesn't really set the flank on fire. I'd also have taken David de Gea in place of Pepe Reina, just to change things up a bit, but Del Bosque's the man paid to assemble the squad. The same old faces seem to comfort him, and the policy hasn't worked too badly so far.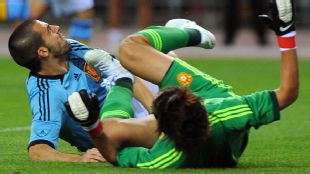 Talking of old faces, the conductor of the orchestra, Xavi, has been looking a little tired and grumpy of late, despite the plaudits that always come his way. It's not a good sign, because when you take away his metronomic presence, the tune can get a trifle messy. Spain's midfield, of course, is still the best in the cosmos, but intelligent man-marking can reduce Xabi Alonso's effectiveness. Sergio Busquets and Javi Martinez are magnificent protectors nevertheless and, when all is said and done, Spain still have the wonderful David Silva and Andres Iniesta, possibly the two best floating attacking midfielders in the world.
In the end, Spain go into the tournament representing a country on its knees, financially speaking. Prime Minister Mariano Rajoy, under fire for his belt-tightening policies, expressed the unwise wish that the national team could put a smile on the country's face in these times of hardship. This opium-of-the-people appeal got short shrift from the normally diplomatic Del Bosque, who quietly shunned the role of national saviours with the acidic line 'I fear that winning the Euro is unlikely to solve Spain's problems'.
Maybe so. But first they've got to win it.