Group B
Dutch weakness is defence
The Dutch have plenty of attacking options, but a poor back line could crack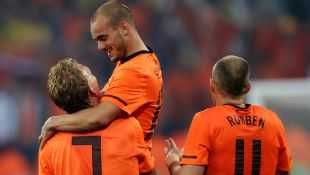 Not quite two years ago, Netherlands' then-assistant coach, Frank de Boer, stood in the bowels of Cape Town Stadium in South Africa. He explained how the Dutch national team had just reached the World Cup final, whereas the arguably more talented 1998 squad of which he was a star performer had faltered in the semis. "What's different is that we now believe we can be world champions," he told me. "In 1998, we didn't realise that we could be world champions. We were happy just to have made the semi-finals. Now we have one mission - and that mission is to become world champions."
Five days later, the Netherlands would fall to Spain in extra time in one of the most grotesque displays of football cynicism in recent memory, punctuated by regular assaults by Dutch studs on Spanish legs and a monstrous Nigel de Jong karate kick to Xabi Alonso's chest. In the time it took Alonso to clatter to the ground, the Dutch ceased to be the world game's beloved aesthetes. Process had, for the first time, become subservient to production. No longer preoccupied with shape and fluidity and form, the Oranje sought to win. Even if it meant winning ugly, once a cardinal sin in Dutch football. (Ajax Amsterdam once fired a manager, Co Adriaanse in 2001, whilst top of the league because the football his team played was ugly.) The nation was abhorred, the media up in arms.
The sudden but long overdue realisation that the Dutch were a world power - 36 years after they lost the first of three World Cup finals - had awakened a realism in coach Bert van Marwijk and his squad. If finally getting a chance to win it all meant forsaking their principles in exchange for hard-fought results, then so be it. That day, the Dutch went from being a nation of idealists – emphasising movement, possession, technique – to ordinary strivers.
The Euro 2012 squad is, like most all of its predecessors, beholden to a host of attacking luminaries. Serial Premier League goal-scorer Robin van Persie will play up top as a target man. He will be flanked by wingers Ibrahim Afellay and Arjen Robben. The supply will come from Wesley Sneijder. So gifted is this foursome that they will keep attacking midfielder Rafael van der Vaart and striker Klaas-Jan Huntelaar, the topscorer in the Bundesliga this season, on the bench, where they are joined by Dirk Kuyt and mega prospects Luuk de Jong (a striker) and Luciano Narsingh (a winger).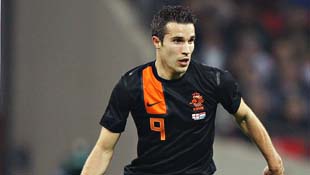 Yet will the Dutch take full advantage of their attacking riches? If they decide that receding into their shell, like they often have under Bert van Marwijk, is a best practice, they will fritter away their strength and instead rely on a weakness. Early indicators suggest they might do exactly that. Van Marwijk has been fielding his two trusted midfield enforcers, Mark van Bommel and De Jong, of late, the same pairing he played in the World Cup final. It long looked like he might go with the more well-rounded Kevin Strootman or the attack-minded Van der Vaart alongside Van Bommel in front of his defence, but De Jong is now considered a shoe-in to start, suggesting Van Marwijk might rely on negativity in the tougher games.
Since Frank de Boer and Jaap Stam retired from international duty in 2004, the Netherlands' back line has been shaky at best and shambolic at worst – and that probably won't change at Euro 2012. Gregory van der Wiel is a strong right back. Beside him, Johnny Heitinga is adequate. But the left side of the defence is a major liability. Joris Mathijsen has never been entirely up to scratch and is coming off a season of questionable form with Malaga. And with left back Erik Pieters out, the spot will be occupied by either Stijn Schaars, who is really a central midfielder, or Jetro Willems, who at 18-years-old will be the competition's youngest player and didn't make his national team debut until the May 22 friendly against Bayern Munich.
If anything is going to undo the Netherlands, it will be their defence, likely to be preyed upon by the high-octane attacks of Portugal and Germany in the group stage. Just imagine Willems and his six Europa League appearances and two caps having to hold off Cristiano Ronaldo for an afternoon.
The last line of defence will be goalkeeper Maarten Stekelenburg, who, like his backups Tim Krul and Michel Vorm, is very capable, but could be inundated with work.
With a brutal group draw, rounded out by Denmark, the Dutch are in real danger of seeing their run of six consecutive Euro quarterfinals – winning four of them – come to an end.
And if they fail to be true to their ideals and don't take advantage of their strengths, the Oranje seem unlikely to dazzle or indeed put a dent into the title chances of favourites Germany and Spain.
The new Dutch shirts, unveiled just before the tournament, may have de nieuwe meesters – the new masters – inscribed in their mastery of ball and opponent might well be over. And that at best makes the outsiders to add to their only international silverware, a Euro '88 title, in Poland and Ukraine.