Focus on Portugal
No panic for hot and cold Portugal
Andy Brassell examines why Paulo Bento's side have been struggling for form ahead of Euro 2012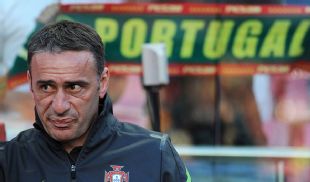 "We hope we won't repeat today's mistakes in the Euros, but it's better to concede goals in this game than afterwards." Miguel Lopes may have been making his Portugal debut against Turkey on Saturday, but the Braga full-back seems already to have mastered the art of positive spin.
The rest of Portugal is a touch more sceptical, with the loss to Turkey seeing the national team booed off for the second successive weekend, following the turgid draw with Macedonia in Leiria. On Sunday, Mais Futebol's headline described the defeat a "Turkish bath ahead of the Euros", while O Jogo puffed out its cheeks and exclaimed "It's going to take some work". Record reflected on the reaction from Germany ("Germany says it's not necessary to fear Portugal") behind a blunt front-page headline prodding at the errors which gifted Turkey their goals: "This defence is frightening".
All hope is not quite lost, but there is considerable anxiety among a general public still bearing the scars - and fearing a repeat - of their national team's non-performance two years ago at the World Cup in South Africa. A country with a population around the 11 million mark, Portugal realistically overachieved in the opening stanzas of the 21st century, but success breeds expectation. "The Portuguese are a bit impatient," Chelsea's Raul Meireles said when asked about the whistles from the Estadio da Luz stands after the Turkey game. "When we're unhappy about the result, we make our feelings known."
More than one news outlet has trotted out the fact that Portugal are still without a win in 2012, three games in. Cristiano Ronaldo hasn't scored an international goal in this time either, but these are not statistics that will bother the Portugal camp too much. The reality is that Portugal have achieved in even reaching the finals in Poland and Ukraine, given the disastrous start to a short qualifying group back in autumn 2010, when the Portuguese Football Federation (FPF) was still struggling to put the Carlos Queiroz reign out of its misery.
Paulo Bento, as is his wont, was blunt when he took over in that October - Portugal would need to win all their remaining fixtures to secure passage to Euro 2012. As it turned out, a draw in Copenhagen in the final group game would have done the trick, and though Denmark ran Bento's men ragged in denying them that, an emphatic victory over the much-fancied Bosnia-Herzegovina saw Portugal through in the play-offs.
Bento was given the job as a safe pair of hands - solid, dependable and frank - but he has innovated by stealth, in much the same way as the far more celebrated Andre Villas-Boas did on his arrival at Porto. As AVB did at the Dragao, Bento has kept Portugal in the same tactical framework - a loose 4-3-3 - but has totally changed the dynamic of the side.
Erstwhile defensive shield Pepe has been moved back to his preferred position of centre-half, while a midfield three rich in the movement of Meireles, the revitalised Joao Moutinho and Carlos Martins was installed. The more defensively-minded but equally elegant Miguel Veloso replaced Martins for the matches against Bosnia, and was a roaring success. With Martins out of the squad injured, Veloso is likely to continue when the campaign kicks off in Ukraine.
These changes have freshened a stale set-up, but that getting the best of Ronaldo is the key to Portugal's success is an unavoidable truth. As he unhappily stalked off the pitch after World Cup elimination by Spain in Cape Town two years back, he was Portugal's impotence in microcosm. Many assumed that Queiroz would be the man to draw the best from Ronaldo at international level, but he scored just twice during the former Manchester United assistant's two-year tenure; a penalty in a friendly against Finland, and in the rout of North Korea in the sole highlight for Portugal in South Africa.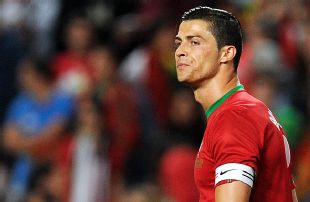 Compare his isolation in this period to what has happened under Bento, and it becomes clear that the new coach has found a remedy of sorts. Ronaldo hit nine in Bento's first 13 games as coach, ending with the brace against Bosnia that sealed play-off triumph.
The advantages have been reciprocal; Ronaldo's backing has put Bento in a position of strength on occasions when he has wanted to stand his ground against dissent. He jettisoned the experienced pair of Ricardo Carvalho and Jose Bosingwa in separate incidents after they questioned his authority, and the coach has remained firm. Asked immediately after the second leg win over Bosnia whether there was a chance of Carvalho and Bosingwa making it to the Euros, he replied with his typical deadpan expression. "Yes. If they buy tickets."
Nevertheless, Bento is not blind to personnel difficulties, and the history of a managerial career that began in 2005 with Sporting tells us that he is not too stubborn to adapt. For all his faults, Queiroz was dealt a bad hand from the start when he returned to coach the side in 2008, with Luiz Felipe Scolari having failed to deal with a waning squad.
Bento is keen to have options, and rewarded Braga's fine season with calls for the previously-uncapped Custodio and Lopes. Later, Hugo Viana's late call-up after five years in the international wilderness, as a replacement for the injured Martins, suggested that Bento recognised a bit of variation might not go amiss. "We will have to adapt to him, and he will have to adapt to us," said the coach after the midfielder arrived at the team's Obidos training camp.
In the game with Macedonia, Bento even addressed the team's understandable Ronaldo dependence, trying out Nani as a No. 10 behind Besiktas' Hugo Almeida in an attempt to find alternative creative outlets. There are still doubts ahead of Saturday's opener against Germany; Veloso looks short of match sharpness, and Portugal missed a string of chances to make their domination of Turkey count in the early stages.
They do, however, have a head coach that won't panic. "Nobody's lost any self-esteem," Bento said after the Turkey game. "We will play with no fear."
Facing the toughest group of Euro 2012, Portugal have at least grasped the first pre-requisite.
Follow Andy Brassell on Twitter - @andybrassell