Off the Ball
VDV smashes balls at Ibra's head
A look at some of the funniest Euro stories before the tournament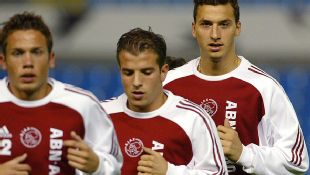 Off the Ball is taking a well-earned break to put its feet up on a Moroccan leather sofa, sip Long Island Ice Tea and lazily channel surf through Euro 2012. But before heading off into the sunset here's one more scratch around the underbelly of football to get you in the mood for this summer's tournament.
Van der Vaart hits golf balls at Ibra poster
Netherlands midfielder Rafael van der Vaart stoked up hostilities ahead of the Oranje's assault on Euro 2012 by smacking golf balls at Zlatan Ibrahimovic's head this week. Well, a picture of the Sweden striker's bonce at any rate.
Van der Vaart has a long-running feud with Ibrahimovic after the Swede injured him during an international friendly in 2004 and periodically one of the duo like to pick at the wound to keep it fresh.
Ibrahimovic, who has a black belt in taekwondo, wrote in his recent autobiography I am Zlatan that he threatened to break Van der Vaart's legs when they were team-mates at Ajax and now the Dutchman has hit back with his nine iron.
Van der Vaart is apparently struggling with his golf swing, so his coach pulls a poster of Ibrahimovic out of his bag and tapes it up at the end of the driving range to help improve the Dutch star's accuracy. It works a treat.
Balotelli: I'd kill racists
Former England defender Sol Campbell addressed the spectre of potential racism in Ukraine this summer by telling fans not to bother going to Euro 2012. "Stay at home, watch it on TV. Don't even risk it... because you could end up coming back in a coffin," he told BBC's Panorama programme.
Sol's strong words prompted a fresh round of racism related questions in every pre-tournament press conference across Europe this week but it was Italy striker Mario Balotelli that provided the best response.
"If racism does happen I would leave the pitch and go home," he said. "Racism is unacceptable to me, I cannot bear it. We are in 2012, it can't happen. If someone throws a banana at me in the street, I will go to prison because I will kill him."
The opinionated star added: "I think I am a genius, but not a rebel. I have my life, my world, I do what I want, without annoying anyone. I believe I am more intelligent than the average person."
Hazard fined a bottle of bubbly for missing bus
Eden Hazard's bumper new pay-packet at Chelsea may not be official just yet, but the Belgian international will be hoping to dip into it sooner rather than later after being punished for turning up late for the team bus ahead of this weekend's friendly with England.
Rather suitably, the Stamford Bridge-bound midfielder's team-mates decided he must buy an expensive bottle of champagne as a forfeit. "Vincent Kompany will choose the label," Belgium manager, Marc Wilmots, is quoted as saying in the Guardian.
But it's not the first time that Hazard has fallen foul of his international manager. Former Belgium coach Georges Leekens substituted the Lille midfielder after 60 minutes of a Euro 2012 qualifier with Luxembourg and the star was later caught by television cameras outside the stadium eating a hamburger, while the match was still going on.
That little "burgergate" escapade landed him with a three-match international ban.
Serbia ban Ljajic for failing to sing national anthem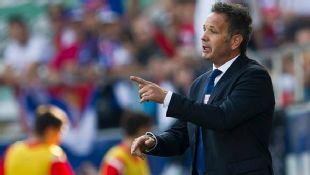 Over in Serbia, it's not quite so whimsical and forgiving, where former psycho-defender turned coach Sinisa Mihajlovic has suspended Adem Ljajic for failing to sing the national anthem before a friendly against Spain.
A Serbia statement said: "Coach Mihajlovic yesterday held a meeting with Ljajic. After hearing Ljajic did not sing the anthem due to personal reasons and that that stance would not change, Sinisa Mihajlovic told the player to return home.
"The door has not been closed forever on the national team but he needs to change his attitude and officially notify Mihajlovic that he has done so. Then when his form merits it, he can return."
Former Manchester United target Ljajic is no stranger to controversy and was involved in a punch-up with his club coach Delio Rossi at Fiorentina last month after his sarcastic gesture at being substituted against Novara didn't go down to well. Shame he's not at the Euros really; it could have been interesting.
---
Video of the week
This week's offering is a gem, as ex-Liverpool striker Andriy Voronin provides his contender for 'the worst miss ever' during Ukraine's 4-0 win over Estonia. To be fair, he did also score one of those four goals. To see Voronin 'worst miss ever', click here.
---
More than words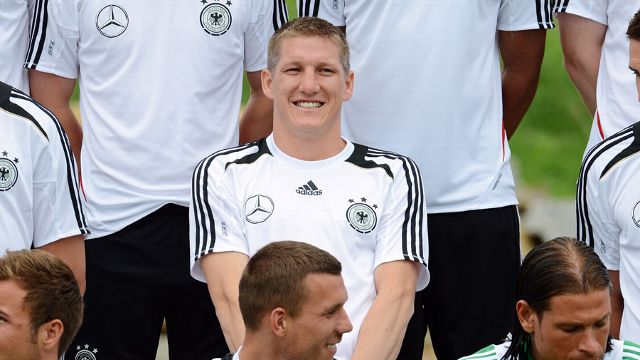 ---
Around the web
Lionel Messi is dead. Or maybe he isn't
Inter Milan's Javier Zanetti pops up on Indonesia Idol
Ronaldinho's brother and agent plunder Flamengo's club shop
Grant Holt 'Farewell' tweet makes for difficult reading
Follow me on twitter @ESPNsoccernetfc