Focus on England
Rejuvenated Lampard a big miss
Norman Hubbard explains why a deep-lying Frank Lampard will be missed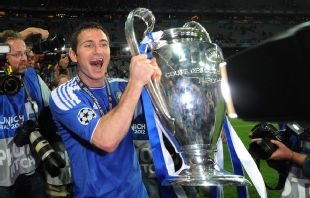 Andre Villas-Boas was right. It is not a sentiment that is often expressed, particularly in the vicinity of Stamford Bridge, but the sacked Portuguese was ahead of his time. About eight months ahead of his time, it transpired.
Last July, in an otherwise forgettable 4-0 win over the Hong Kong side Kitchee, Chelsea's new manager attempted to rebrand a man only nine months his junior. Frank Lampard was deployed in the anchor role in midfield, Villas-Boas saying that the veteran "has the flexibility to play as a No. 10, No. 8 or in a holding position." He attracted rather more attention whenever, especially in Naples, he used the Lampard as his No. 12; omitting the mainstay of many a Chelsea side is the main reason the vice-captain figures prominently in the tale of Villas-Boas' time in London.
Advance to the current day and, if not a visionary, Villas-Boas certainly seems far-sighted. In July 2011, Lampard's verdict was: "As long as I am never told not to stray beyond the halfway line, I'll be happy. I have never been that kind of [defensive] player anyway." Perhaps it took the more diplomatic approach of Roberto Di Matteo to persuade him, perhaps the sense that a deeper role was better than demotion, perhaps the realisation that Ramires is now the Chelsea midfielder with the formidable engine.
Whichever, the reinvention of Lampard has proved a masterstroke for his club. Before a thigh injury ended his Euro 2012 before it had even begun, it promised to benefit his country as well. With Gareth Barry already ruled out and Scott Parker struggling with an achilles problem, the new-look, older Lampard seemed just what England needed at the base of the midfield.
While John Obi Mikel sat even deeper for his club, the Lampard of Chelsea's Champions League triumphs over Barcelona and Bayern Munich was a disciplined, defensive midfielder, exerting an influence, exuding responsibility and eschewing the box-to-box runs that were long his hallmark. In the process, he illustrated his skills as a prompter with passes to Ramires that preceded goals - one scored by Didier Drogba, one by the Brazilian - in each leg against Barcelona. With a self-sacrificing brief and an understated approach to captaincy, he felt a deserving leader of a Champions League-winning side, a feeling that was emphasised by the long wait. A career highlight came late.
It had seemed a timely conversion for England. Roy Hodgson's central midfielders often have a limited scope, asked to do rather more work near their own penalty area than the opposition's. As a general rule, they do not tend to be prolific scorers. They are can appear the antithesis of the player Lampard was. And then, belatedly, he looked the sort of footballer Hodgson would appreciate as well as the midfielder England have often lacked.
Before Parker's overdue promotion to the status as regular, the injury-hit Owen Hargreaves had been the only effective anchor midfielder since Nicky Butt peaked a decade ago. The intervening period was notable for midfield pairings of Lampard and Steven Gerrard, a mismatched duo who served as a two-man metaphor for the golden generation's inability to gel with each other.
Each, like most of England's underachievers in the same period, was accused of being too selfish. Not the Lampard of late, however: exhibiting positional discipline as an economical alternative at the base of the midfield, he was a selfless shield for the back four. Where the Lampard of the past would presumably have looked to time his advances forward to collect Drogba's flick-ons and knock-downs, the newer variant found himself 50 yards from his old ally for large swathes of the game.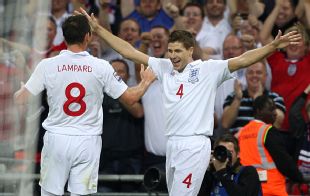 It is a situation where mental strength assumes a greater importance, along with the ability to pick a telling pass when on the ball. The reality is that Euro 2012 will not see English equivalents of Sergio Busquets and Xabi Alonso, constantly recycling the ball from the base of the midfield. They will have to operate in rather different circumstances and, if they should not be starved of the ball quite the way Chelsea were in the Nou Camp, there are similarities with England.
It seemed to serve as an excellent audition for Hodgson. Approaching 850 games for club and country, Lampard had seemed stuck in his ways, too obdurate to change. Instead, one of the great goalscoring midfielders became a willing adjutant in preventing opponents' strikes. As Villas-Boas intended, the poacher was transformed into a gamekeeper.
It is why, though some in the support had long looked forward to the day that England discarded Lampard, their celebrations should be abandoned. His injury was as ill-timed as his reinvention had been opportune. While the presence of Lampard Mk I was long bemoaned, Lampard Mk II will be missed now he's gone.