Focus on France
All Le President's Men
Paul Marshall reports on Laurent Blanc's France squad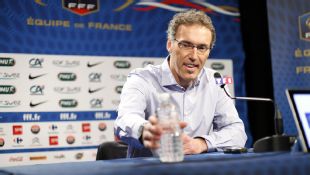 It is appropriate that on the day François Hollande, France's freshly-elected president, was picking key members of the team that will help him lead the country over the next five years, 'Le President' of Les Bleus was selecting his squad for Euro 2012. Monsieur Hollande would barely have had the opportunity to discover where Nicolas Sarkozy had hidden the Elysées Palace remote control when he moved into the presidential digs in Paris on Tuesday before Laurent Blanc made public the full 26 names of his preliminary squad for this summer's European championship.
After the traumatic experience of the 2010 World Cup, when Raymond Domenech's farcical squad announcement set the tone, Blanc unsurprisingly was more sober in his presentation and, unlike his predecessor, did not reserve his initial comments on his choices for a mobile phone company as he added 14 domestic-based names to the 12 foreign-based ones revealed last week. Wise move, as le peuple are not in the mood for any more theatrics from their footballers or their boss. "Two years after the moral and sporting bankruptcy of Knysna, the responsibility of the players and the staff is immense," a recent France Football editorial stated. "They mustn't fool themselves: nothing has been forgotten, nothing has been wiped away."
There is little doubt Les Bleus head to Poland and Ukraine with virtually no public expectation weighing them down after they squeezed through qualifying and a play-off with Bosnia-Herzegovina; the 'bus of shame' of two years ago, when the squad refused to train and were sent home with their tails between their legs after a pitiful group stage campaign, also means Blanc and his men have much work to do to come anywhere near to provoking the public fervour their current coach did with Zidane et al in 1998 and 2000. "We won't ask the world of Les Bleus," the France Football editorial continued. "We just want them to be irreproachable. And that they give us a reason to love them again."
One way of doing that is to appeal to the French love of panache, though Blanc is no doubt aware that style is a commodity that is rare and comes at a high price. He publicly lamented his team's troubles "at the heart of the play" only last week, and perhaps that is why he is running the gauntlet of public ridicule by including Yoann Gourcuff. Brilliant under Blanc at Bordeaux, Gourcuff has been dismal since his 2010 summer move to Lyon, with injury limiting him to just 13 league matches and six full 90 minutes in the current campaign. "If we're pragmatic and logical about it," Bixente Lizarazu reasoned before the list was announced, "he doesn't provide any guarantees for the Euro."
Blanc, who has not called up his former protégé since a friendly with Croatia in March 2011, said: "You can't defend what he's done at club level. He's not played much, and when he has, he's not performed. But for France, his stats aren't as bad as all that. We're going to see whether or not we can get him back into shape during the training camp. He's also benefiting from circumstances. During his absence, nobody has really imposed themselves in his area." It is hardly a ringing endorsement.
While a mentally and physically fit Gourcuff-of-yore would be a boon, the squad get-together at their Clairefontaine base just outside Paris will clearly determine his involvement - or not - in the tournament, and a closer look at the one-time artful midfielder is a luxury Blanc both clearly wants and can afford. Though not exactly cut from the same cloth, Marseille's Mathieu Valbuena, Paris Saint Germain's Jeremy Menez and Samir Nasri - recently told by Blanc to "simplify his game" - could fill in as a classic number ten, as could Sochaux's Marvin Martin, himself a pale-ish shadow of the man who so impressed in the 2010-11 campaign, though he is likely to drop out should Gourcuff get the nod.
If the irresistible Ribery who normally plays for Bayern Munich rather than the ineffectual Franck who often turns up for France is along for the ride - and can put his past differences with Gourcuff behind him after reportedly denouncing him as "a cry baby" to Domenech in South Africa - then Blanc should have a surfeit of attacking skill, especially with Hatem Ben Arfa also likely to make the final cut.
Finding someone to take the chances created might prove harder. Marseille's Loic Remy, an ersatz Thierry Henry, is included, but he is sidelined by a thigh injury for the next three to four weeks and most likely the tournament, leaving Karim Benzema as the team's only established international forward. Montpellier's Olivier Giroud, currently Ligue 1's top scorer and courted by Bayern among others, has already proven his ability to step up from the second tier to the top-flight, and impressed in scoring in February's friendly win over Germany, but as he is the only other recognised line-leading striker on the preliminary list, Blanc's options are limited. However, given the mediocre seasons of players such as PSG duo Guillaume Hoarau and Kevin Gameiro, he could justifiably argue his hand was forced.
In midfield, Toulouse's Etienne Capoue, who has regularly been linked to Barcelona, and Lille captain Rio Mavuba might have expected to feature after excellent individual seasons. Instead, Blanc has opted for Marseille's tried-and-tested Alou Diarra, the former Liverpool and Bayern Munich man having already captained his country under Blanc, and PSG's Blaise Matuidi, defined as "a warrior" by Blanc, who added: "You don't only need artists in your squad." Matuidi, who won the last of his four caps in August 2011, is most likely to miss out on enjoying the delights of Shakhtar Donetsk's five-star training base, where France will be based for EURO 2012, with Yann M'Vila a cert. Not his usual dominant self at all times this season, the Rennes midfielder is seen as integral to the team by Blanc, whose opinion has clearly not wavered despite M'Vila recently spending a night in a police cell over an alleged violent incident.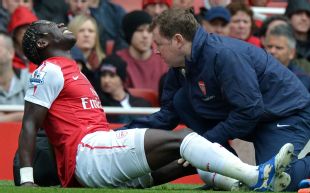 With Bacary Sagna out with a broken leg, Lille's Mathieu Debuchy - excellent for club this season - will likely be promoted to first-choice at right-back, especially given his display against Germany in which he provided two assists and was promptly snogged by Giroud ("I just thanked him," the striker explained. "I'm an affectionate person"). While Lyon's Anthony Reveillere, one of 11 passengers on the Knysna 'bus of shame' to be given a second chance, can cover in both full-back positions if needed, the only eyebrow-raiser was the inclusion of Montpellier's uncapped Mapou Yanga-Mbiwa, though it was hardly of similar proportions to the reaction when Domenech gave Pascal Chimbonda the opportunity to pick up a World Cup runners-up medal.
"With Younes Kaboul out injured, I needed a defender who could be one of my four centre-backs and who would be ready for action straightaway," Blanc said of Yanga-Mbiwa, who was preferred to Mamadou Sakho, little used by Carlo Ancelotti since he took over at PSG. "With the season he's had and the context, Mapou is likely to be in a very good frame of mind, and we believe he is the most suited to play this role."
The all-Ligue 1 trio of goalkeepers, headed by Hugo Lloris, was to be expected, and it will be the Lyon number one to lead the team out against England for their Group D opener on 11 June. Prior to that, Blanc will put the finishing touches to his squad, with friendlies against Serbia and Estonia to come, though with the whole 26-man group convening on 24 May - only five days before the final squad lists have to be confirmed with UEFA - Le President will not have much time to decide on the chosen few he hopes will help him rule Europe.