Italy news
The Old Lady of Italy
Paolo Bandini suggests that Italy may benefit from the success of Juventus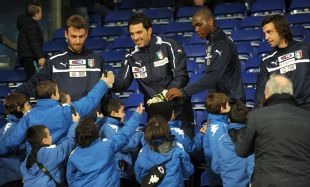 Juventus wasted no time prodding the hornets' nest. No sooner had they been confirmed as Serie A champions, than staff began handing out bottles of champagne labelled No. 30 - a figure representing how many league titles the club would have won, had two of them not been revoked as a result of the Calciopoli scandal. Last Wednesday saw an enormous Scudetto badge pasted onto the Juventus Stadium bearing three gold stars – each one representing 10 titles.
For the Italian Football Federation, Juventus' triumph represented a double-edged sword. Arguments of this nature had been inevitable from the moment that verdicts were handed down in 2006, but for the club to adopt such a defiant position represented an open challenge to the federation's authority. Putting that aside, however, history suggests the people running the national team should never be sad to see Juventus at the fore in an international tournament year.
Including that contentious 2006 Scudetto, three of Italy's four World Cup triumphs have come in years when Juventus were crowned champions. The team-sheets from each of those tournaments show it to be anything but a coincidence.
In 1934, Vittorio Pozzo's squad contained nine members of a Juventus team celebrating their fourth consecutive title; it counted five of those – Giampiero Combi, Giovanni Ferrari, Luis Monti, Mumo Orsi and Luigi Bertolini – as regular starters. At Spain '82, Enzo Bearzot relied similarly heavily on a team which had just claimed its 20th Scudetto – selecting Dino Zoff, Antonio Cabrini, Gaetano Scirea, Marco Tardelli and Paolo Rossi in every game. Claudio Gentile missed only the semi-final, for which he was suspended.
Most recently, in 2006, Marcello Lippi used five Juventus players – Gigi Buffon, Fabio Cannavaro, Gianluca Zambrotta and Alessandro Del Piero – during Italy's final win over France. Indeed, with three of the club's players – Lilian Thuram, Patrick Vieira and David Trezeguet – also featuring for the opposition that day, the whole fixture might have been read as one great act of defiance against those who suggested they had not won the Scudetto on merit.
In a sense it is no surprise Juventus players should play such a key role for the national side, as the club have been (by some distance) the most successful in the history of Serie A, regardless of whether you count the 2005 and 2006 titles. But it is also true that they have always relied more heavily on domestic talent than other leading Italian sides. Juventus players have totalled 2,033 appearances for Italy since the national team's inception; Inter have the second-most with 1,368.
It is a trend that was evident during Marcello Lippi's second stint in charge of the Azzurri. The manager was criticised for spending so much time at Juventus' training ground and so little at that of then-champions Inter, when in reality the latter had few players who were even eligible for selection.
Lippi would eventually bow out having overseen what Gazzetta dello Sport described as "the darkest and most terrible day in our football history", with the 2010 tournament in South Africa seeing Italy fail to win a single game at the World Cup for the first time in their history. The manager had become increasingly cold and intransigent in his approach; his commitment to ageing players who had served him well in 2006, along with a refusal to even countenance a recall for Antonio Cassano, earning him widespread opprobrium.
Aware of the need for a clean break from this unhappy past, Cesare Prandelli would mark his appointment as Lippi's successor in August 2010 by selecting nine players who had never previously been called up in his first Italy squad. He also immediately included Cassano, promising to build the team around him, yet if Prandelli had one thing in common with Lippi it was his recognition of the importance of the Old Lady of Turin. The squad to face Ivory Coast that month also included six Juventus players.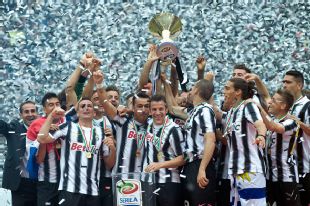 Three of those six - Leonardo Bonucci, Giorgio Chiellini, Claudio Marchisio - were included in Prandelli's provisional 32-man squad for Euro 2012, as were three team-mates not selected on that occasion – Buffon, Andrea Pirlo, Andrea Barzagli and Emanuele Giaccherini. It is not unthinkable that the eventual starting XI could include as many as six Juventus players.
Why not, after all, rely on the core of a side who have just completed an unbeaten season, and whose defence kept a club record 21 clean sheets? Prandelli has much to thank Antonio Conte for, the Juventus manager having revived the careers of both Pirlo and Barzagli – unwanted at Milan and Wolfsburg respectively last summer – while also helping Bonucci develop from a promising but unreliable youngster into one of the league's best centre-backs.
And why not rely too, on a team who have supplied more World Cup winners through history than any club from any other league – 24 in total, and 22 of those representing Italy. "You write 'Italy', but you pronounce it 'Juve'," wrote Franco Arturi following the Azzurri's draw with Serbia in Belgrade last October – a game in which six of the club's players featured. The hope in Italy is that they can help their international team-mates rediscover the language of success.