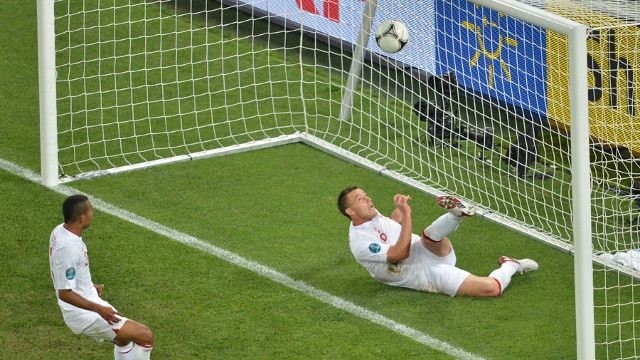 Richard Jolly found England's win to be built from the back
ENGLAND 1-0 UKRAINE
This was a meeting of two teams with similar systems. The co-hosts started at speed, while the eventual group winners, after barely attacking in the first half-hour, absorbed the pressure and then pilfered victory on the counter-attack: this was Poland against the Czech Republic reprised.
That was 4-2-3-1 against 4-2-3-1. This was two variants of 4-4-2, one focused on defence and the other on attack. England's is compact and narrow; Ukraine's wide and expansive. It meant that the hosts invariably had a player in space, usually on the touchline. There was a concerted policy of switching play from left to right with cross-field passes for Andriy Yarmolenko who, in turn, would draw Ashley Cole away from the central belt. The Dynamo Kiev man's height advantage meant Ukraine could also aim aerial balls at him while, when the left-footed Yarmolenko came infield, overlapping right-back Oleg Gusev ensured a constant presence on the wing. That a permanent outlet did not result in more chances perhaps suggests that Cole, when he came across, did well.
Manager Oleg Blokhin had changed both his striking and central-defensive partnerships and both influenced the way Ukraine attacked. Artem Milevskiy often drops into the No. 10 position, enabling him to slide diagonal passes into Yarmolenko's path when the latter headed for goal. Not that there tends to be too much room there as Steven Gerrard and Scott Parker sit deep in a bid to limit space between the lines. England prefer to permit opponents room further from their goal.
It was something Yaroslav Rakitskiy attempted to exploit. He added another aspect to Ukraine's defence, attempting raking passes, not all of them accurate and striding forward, striking long-range shots. Denis Garmash was another to shoot from distance: if a side backs off as much as England did, it allows opponents to let fly.
The major occasion they were caught out – when Milevskiy's shot was deemed (incorrectly) to have been cleared off the line by John Terry – came on a rare occasion when the centre-backs advanced to the halfway line and were then caught on the counter-attack.
If England were a little more adventurous after the opening half-hour – indeed, even with a 1-0 lead, Cole was in the Ukraine box to shoot – their defensive structure remained based around the two banks of four. The difference with the France game, where their tactics were very similar, was that Wayne Rooney was a bridge between midfield and Danny Welbeck, whereas Ashley Young had not been. Rooney's eventual statistics - 24 passes completed – compared favourably with the 12 that Young completed when he occupied that role against the French.
Ukraine ended having made a radical switch to their original line-up. Both starting strikers went off and, if bringing on a defender for an attacker when a goal is required seems a counter-intuitive move, there was a logic: Gusev moved forward to the right wing while Yarmolenko went to play off Andriy Shevchenko, scorer of Ukraine's only goals in the tournament, but England kept their first clean sheet. The victory came courtesy of a goalkeeping error but, as with England's point against France, it was built on defence.
Follow Richard Jolly on Twitter @RichJolly

Conversations