Danes shoot themselves in foot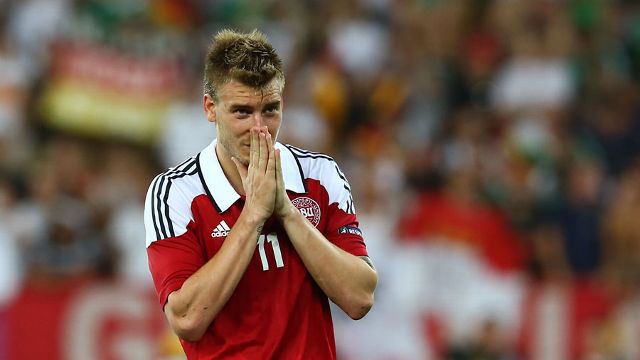 Richard Jolly on how Denmark stifled their own creativity in trying to defend against Germany
DENMARK 1-2 GERMANY
Tactically, this was a pyrrhic victory for Denmark. Even in defeat, they kept Germany quieter than either Portugal or Netherlands had – admittedly perhaps because the group winners only needed a point – but revealed their own lack of ambition and paid the price as they were eliminated.
An unwanted by-product of success is that opponents are likelier to formulate plans designed to thwart winning teams. After Germany expertly outmanoeuvred Netherlands' two defensive midfielders in their previous game, Denmark's solution was to select three, Jakob Poulsen joining William Kvist and Niki Zimling in the team. While Sami Khedira, the least attack-minded of Germany's central trio against Holland, threatened intermittently with swift breaks, Mesut Ozil had his least influential game so far and Bastian Schweinsteiger generally sat deeper.
But the consequence for Denmark was a loss of creativity. Their playmaker Christian Eriksen was shifted to the right, replacing the injured Dennis Rommedahl. Without the speed of the specialist winger, however, Denmark did not have the option of playing diagonal passes over the top of the German defence, a tactic they had used in earlier matches.
Their other problem is that halting Germany is not as simple as restricting the space available in the middle because it is a tactic of Joachim Low's to make the pitch big. Thomas Muller and Lukas Podolski start off in wide positions, stretching the defence. Yet both have spent much of their career in central positions – Muller often plays just behind Mario Gomez for Bayern Munich while Podolski partnered Miroslav Klose in attack when Germany played 4-4-2 – and that is apparent in their movement. For his goal, Podolski began outside and behind Lars Jacobsen, the Denmark right-back, and ended up inside him to finish. It was indicative of his striking instinct.
After Denmark equalised, however, a passage of stalemate ensured. The Danes' three defensive midfielders erected a barrier in front of their goal but, apart from when Jakob Poulsen almost scored, did little to help them break through. Even when their need for a goal became more pressing, their gameplan remained the same. Manager Morten Olsen brought on one defensive midfielder, Christian Poulsen, for another, in Zimling. It wasn't until Lars Bender had struck Germany's second that Olsen belatedly sent for a more progressive player, in Tobias Mikkelsen. Even then, Nicklas Bendtner remained the only out-and-out forward.
If Germany's winner, scored by Lars Bender, owed much to a slip from one full-back, Denmark's Simon Poulsen, that allowed another to break unchallenged, it also showed a couple of things: that the Danes, having guarded the centre of the pitch so assiduously, were slacker on the flanks; and that Low, with Jerome Boateng suspended, selected a midfielder at right-back, and one who was confident when a chance presented itself. A mishap led to his goal, but the fact remains that no Danish midfielder or defender recorded a shot on target in open play. In trying to nullify Germany, they stopped themselves.
PORTUGAL 2-1 NETHERLANDS
There have been plenty of suggestions the Dutch are a divided team. Tactically, it is true: even if the system was officially 4-2-3-1, by selecting Rafael van der Vaart instead of Mark van Bommel the reality was a retro, risky approach with a predictable ending. This was a side where five players defended and five attacked.
That was commonplace in football until the late 1950s – Brazil were pioneers in the 1958 World Cup by withdrawing a forward and playing 4-2-4 – but rare now. It also showed that, as Bert van Marwijk was reluctant to select Kevin Strootman, the choice came down to two extremes: Van der Vaart, who doesn't tackle, and Van Bommel, who does little else.
The Dutch lack midfielders with a combination of attacking and defensive attributes, such as Raul Meireles and Joao Moutinho or, especially, Bastian Schweinsteiger and Sami Khedira. Van der Vaart's merits were apparent in his lovely goal and when he hit the post, but both an open game and the eventual statistics – Portugal had 24 attempts at goal – showed that, apart from the overworked Nigel de Jong, the midfield did little to aid their defence. Whether or not they wanted to, Netherlands were unable to press Portugal.
Cristiano Ronaldo had half of those 24 efforts, scoring twice and hitting the woodwork twice more. Whereas Germany doubled up effectively against him, Netherlands had only the unfortunate Gregory van der Wiel. A theme of the Dutch campaign has been the struggles of full-backs left to fend for themselves against excellent wingers. Arjen Robben never tracks back – although, after a second-half reshuffle, Robin van Persie was the man on the right flank anyway – but a major difference between the 2010 World Cup and Euro 2012 has been the absence of Dirk Kuyt, who was used on the left then. With him on the bench now, the inexperienced Jetro Willems was exposed for a third successive game and eventually replaced.
With Kuyt, Van Bommel and De Jong, Netherlands had seven players who could defend two years ago. Portugal, who freed Ronaldo and Nani from defensive duties, can bring seven back, allowing them to sit in relative comfort and then using their speed to break quickly on the counter-attack, especially as Netherlands, initially adventurous, ended up a shapeless shambles.
Portugal had still more space in the final half hour when Willems was replaced by Ibrahim Afellay. Netherlands then had three at the back, De Jong just in front and six attacking players. Playing a back three – in any formation – is rendered harder when opponents contain wingers. Against a quick Portuguese pair who started high up the field and who can be augmented by attacking full-backs, and with Netherlands having no midfielders to follow them back, it was suicidal. Their predicament meant they needed to be positive but it was a kamikaze tactic in the Group of Death.
Follow Richard Jolly on Twitter @RichJolly

Conversations