Goodbye's all we've got left to say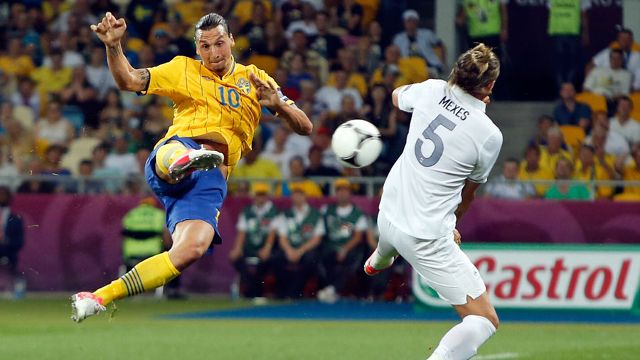 With a stunning performing, 11 proud Swedes put an end to France unbeaten record of 23 games and regained their honour. This farewell affair was all about Sweden, and France were nowhere near the three points. 15 000 Swedish fans were in the stands and Erik Hamren's men made sure they would not go home empty-handed. One should remember that this was a motivated French team playing for their qualification as well as not having to face Spain in the quarter-finals. France could have been packing their bags, had Ukraine beaten England.
Third time was the charm for Hamren, who started Ola Toivonen as a No. 9 striker for the first time this tournament. He also started Emir Bajrami (his first appearance in the tournament) out wide to the left. Both players were up to the task, much like the rest of the Swedish players, and France were outplayed. Hamren certainly found the right balance in the team. Even though Zlatan's goal was a thing of beauty, my man of the match has to be Christian Wilhelmsson, who came on for Bajrami at half-time. This former Roma, and current Al Hilal, midfielder still offers magic on the pitch. He had a field day with the French and set up the second goal.
In this post-match euphoria, there is also a sense of despair. A point from either (!) of the games against Ukraine or England would have sent Sweden to the quarter-finals. This team is not the worst team in group D, even if the group table tells you that. Against France, Sweden showed the trademark defensive strength that had been strangely absent in the previous two games. Combined with the genius of Zlatan Ibrahimovic up front, Sweden can beat any team in the world. This is known, and was confirmed on Tuesday night.
Before the game I wanted the team to leave some sort of mark at this tournament, and I was not disappointed. Apart from the goal of the tournament, Sweden also played the best football of group D on Tuesday. The Swedish players can get on the plane home with their heads held high and build on this victory ahead of the World Cup qualifiers. And even though they have Germany, who might very well be European champions by then, in the group, this team will have high hopes of reaching the global game's flagship competition. This team will hope to reach Brazil.

Conversations