One tough step away from greatness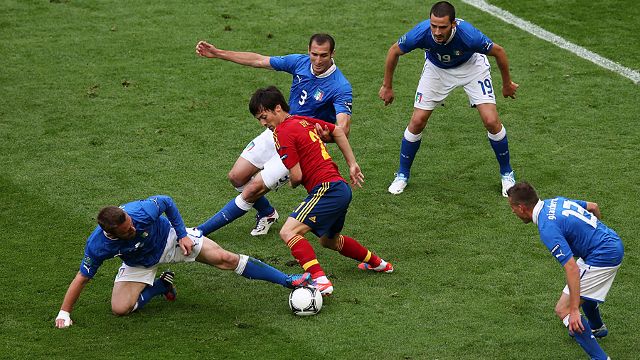 The highly awaited Euro 2012 final welcomes two teams who have reached the ultimate stage of the tournament through very different trajectories. Spain, overhyped before the tournament started, have disappointed many despite their already successful campaign. Their secret, now unveiled, doesn't bring them the same easy wins and big scores of only one year ago. Their tank looks empty; their fantasy has chosen new, greener pastures. At this point, the Spaniards play out of pride and guts, trying to increase their already huge stature by winning an unprecedented third major tournament in succession.
In the opposite corner are Italy, who arrived in Poland after the country's umpteenth corruption scandal and had to bear severe questioning from their own fans and media even before they kicked a ball. Cesare Prandelli, a tactical innovator who brought a different, more offensive approach to the traditionally defensive Squadra Azzurra, made an impressive sequence of tactical choices that first built his own players' confidence and then allowed for further risks to be taken successfully.
But despite these conflicting trends, which should favour the Italians, for most bookmakers Spain are still the favourites, probably based on their impressive track record in knockout matches since 2008: nine clean sheets and nine rivals eliminated – two on penalty shootouts – in a row. Both sound like intimidating stats to any top level team who dare to face the Spaniards, even their bête noire; prior to the penalty shootout victory at Euro 2008, Spain had never beaten Italy at an official tournament.
Two main question marks surround the match, one for each team, and both are probably related. Given that this is Spain's blog, let's start with the Spaniards: the big choice is one of reputation vs physical shape, and of narrowness vs width. Will Vicente del Bosque stick to his preferred starting XI in the offensive midfield department, or will he introduce modifications to bring new blood in and open up the pitch?
On the Spanish side of things, seven players have their place guaranteed on Sunday, and those are the seven players that occupy positions closer to the Spanish goal: Casillas; Arbeloa, Pique, Ramos, Alba; Xabi Alonso and Busquets. From the middle of the pitch forwards, almost anything could happen. If Del Bosque opts for continuity, Iniesta, Xavi, Silva would start and, likely joined by Cesc Fabregas in the false nine formation. That would be the same team picked when Spain and Italy met each other in their first match of the tournament – Del Bosque openly stated that he enjoyed the way the side played that match with that tactical disposition.
If this is his choice, Del Bosque will be relying on experience and proven track record, but again playing with a very narrow side, and one that therefore puts minimal pressure on Italy's full-backs – a similar mistake to that of Germany in the semi-final. The Italian defence have proved that they feel extremely comfortable dealing with frontal attacks for most of the tournament, so even if Del Bosque believes that seniority is a plus, opting for this formation will probably see him introducing new blood early in the second half.
At this point, it seems relevant to mention that Xavi Hernandez and David Silva look knackered, and have decreased their production progressively, as the tournament went along. Del Bosque has not once left Xavi out of his starting XI since he took over, but we all remember how Silva 'paid for the broken plates' after Switzerland defeated Spain in their opening match of the 2010 World Cup. In all truth, I believe that Xavi is in worse shape than Silva, but leaving him on the bench would be a huge shock. Iniesta, not at his best either, has managed to make the odd offensive play here and there after an exuberant start of the tournament, and Cesc gives the squad that extra pass that Del Bosque likes, even though we all know he will never beat an Italian centre-back to a cross from the wing.
My personal bet: Silva will be rested and Pedro will start. That way, Del Bosque would introduce some width. Pedro and Iniesta can play on either side, but I would go with Pedro on the right to compensate for Arbeloa's offensive limitations, and because he has fresh legs. He's also an excellent finisher and at some point should find the net, even though he's lacked that final touch with the national team.
In the second half, depending on the score, Del Bosque can either go for a riskier offensive strategy – introducing Torres or Llorente and Navas for Xavi or a defensive midfielder – or can manage the result by getting Silva back into the side or even the more rested Mata to play keep ball for 40 minutes and infuriate the rest of Europe. Having said all this, Vicente del Bosque has shown at Euro 2012 that anything can happen when it comes to his team selection...
Which leads us to the second question mark: what will Prandelli do? He started the tournament with a very successful 3-5-2 that worked wonders against Spain, but then resorted to a diamond 4-4-2 that looked better and better with each passing match and ended up convincingly defeating Germany. My gut feeling, and this comes from Prandelli's public statements in his scarce free time between walks to and from churches, is that he'll go for the 3-5-2. It sounds as though he does not feel entirely confident of fighting for ball possession face to face with Spain, while his squad should be confident of repeating their formation after giving Spain a decent scare three weeks ago.
For the average fan, some duels sound mouth-watering: Balotelli vs Ramos and Pique indeed deserves its own camera for the full 90 minutes. If Pedro starts and faces Giorgio Chiellini on the same side of the pitch, we'll see another fantastic struggle. But the match will be decided in the middle of the pitch. Just like Ramos said, "we need to deactivate Pirlo", while the Italians are probably saying similar things about our own Alonso and Xavi.
For the first time since Spain's golden age started, I won't watch the final live at the stadium. I am getting tons of emails from close friends – journos and supporters alike – about their trips to Kiev. I am green with envy. I won't sleep much on Saturday night. But frustrations aside, and regardless of the final score, I have to say that this is such a magnificent ride that I feel privileged just to support such a great group of players. Keep calm, root for your team and let's see what happens on Sunday.

Conversations