Poland only needed a win, their first ever in a European Championship, to move past the group stage to the final eight. Unfortunately, all it took was one strike from Czech midfielder Petr Jiracek to bring an end to the Euro dreams of 40 million Poles.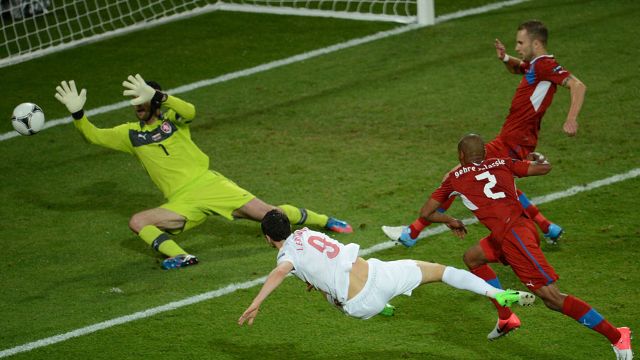 Poland lost 1-0 to Czech Republic on home soil in the third and final match. The Poles knew coming into the game how important this encounter would be, they had the entire nation cheering and riding on their backs to an almost certain historical victory. A victory which would put this Polish squad in the history books along with the Lato's, Denya's, Boniek's, Gardocha's, and Tomazewski's of the 1974 and 1984 Poland "Glory Day" teams. In the end, this was not the case as it seemed the pressure was far too much to handle. The only history book this Polish team will go into is one of choke artists, where they will find plenty of company with the teams of 2002, 2006, and 2008.
What happened:
Poland started the game with the same team that played a valiant and brave encounter with Russia, which ended with a 1:1 draw. Smuda, along with the fans, believed if that side was strong enough to draw with the Russians, naturally it would be enough to make simple work of the Czechs. With both sides needing a win to guarantee their place in the quarter-finals, the game started at a frantic pace, with plenty of goalmouth action.
Despite not having star midfielder Tomas Rosicky in the Czech line-up, they faired well with the defensive Bialo-czerwoni. Having squandered goal chances in the first half, it was do or die at half time. The Poles pushed forward in the second half in search of a goal to put them through to the quarter-finals, more space began to open up in midfield. That space gave the Czechs the opportunity to strike on the counter, and the punishment came with Jiracek's second goal of the tournament. He had also opened the scoring in a 2-1 victory over Greece. Smuda's men responded well and the final chances were all for the home team. A lack of finishing was again their downfall, like in the opening game with Greece.
The Problem:
- Smuda's stubbornness of playing midfielder Rafal Murawski in this match after his poor performance against Russia was the first sign of Poland's downfall. I do not understand why Smuda kept playing Murawski in the middle as the squad's playmaker. The 30 year old Lech Poznan man showed in previous games he is not fit to play, or at least start at this level, much less count on being the main provider for Lewandowski. Why Smuda did not start Mierzejewski over him is beyond me.
- Lack of support for Robert Lewandowski. Playing with one striker up front, you are expected to have a strong midfield that can produce chances and... wait, scratch that, a midfield that can actually pass a ball. Yes, just pass a ball. That Poland can't, means the sole forward up front is helpless. Lewandowski cannot lead the attack himself. We saw this in game one against Greece, he quickly gets himself surrounded by defenders and has no option but to try and dribble his way out of trouble - something he has failed at pretty much almost every time.
- Three defensive midfielders. What is this...? Did I miss the memo? Poland coach Franciszek Smuda decided to play it safe, and set up a defensive formation against a supposedly "weak" opponent. Dudka and Polanski as the two CDM's in front of the defensive line, and Murawski as the semi CDM/CM in front of them. Poland suffered due to this inconceivable tactic all game long. It was not until late in the second half that a light ball ticked on in Smuda's head that this all simply was not working. He immediately brought on two attacking players in the last 30 minutes to push for an equalizer, but couldn't punch through the Czech defence. By then it was too late, and the Czech's themselves switched up from an attacking to a more defensive formation.
- Overconfidence/cockiness: After the Russia game, Smuda and friends assumed the worst was behind them. All that was left in their way of a historical qualification were the "silly weak" Czechs who took a 4:1 beating on day 1. From this point on, media in Poland wrote that the Poles were practically in the quarter finals now, and only a formal match with Czech Republic was left until it would be official. While Poland came into the game high on overconfidence and expecting an easy game, the Czechs, the underdogs came in serious with a game plan to upset the hosts. Throughout the game, Poland players would look sluggish and lazy, expecting that they would not have to work hard to get the desired result. Meanwhile, the Czechs worked their arses off which paid off in the end. It was not until the 30th minute left in the game that Poland decided "Oh dayum, were actually going to have to work here if we want to progress." -funny enough, some particular players on Poland were thinking more absurd things....
- Some players simply did not show up today. Perhaps yes, physically, but not mentally. Guys like the Dortmund trio had the worst game of the tournament. Lewandowski pretty much looking invisible all game and barely pressuring the defence, and even Piszczek struggling with the Czech right winger Pilar. Only Blaszczykowski looked the better out of the three, but even that is not saying much as he too looked like a shadow of himself from the Russia game. With that said, he was one of the better players for Poland today in the attack.
- Poor starting line up. Like I mentioned before, the whole defensive based tactics put in place by Smuda with the 3 CDM's was a big no-no, along with some of his starter choices. Putting Murawski on the starting list was poor, same with Obraniak. He's a good player, but not the type I would personally start in a match like this where I want pace and as much goal chances created as possible. Notice how every game Poland relies on it's dangerous right flank, and never from its left. If the right side was poor like it was today, how do you think the left side did...? Need I say more?
Conclusion:
The loss is a huge disappointment for Poland fans, who were hoping for the country's first ever victory at a European Championship - and a place in the quarterfinals. In return, all we got was another reminder of just how far we are from this achievement.
Czech Republic finish top of Group A with six points, two clear of Russia who were eliminated after losing 1-0 to Greece. Poland, meanwhile lie bottom of the pile and crash out on home soil, having picked up just two points and failing to win in their fleeting campaign.
Lineups:
Czech Republic: Petr Cech, Theodor Gebre Selassie, Tomas Sivok, Michal Kadlec, David Limbersky, Tomas Hubschman, Jaroslav Plasil, Petr Jiracek (Frantisek Rajtoral, 84), Daniel Kolar, Vaclav Pilar (Jan Rezek, 88), Milan Baros (Tomas Pekhart, 90).
Poland: Przemyslaw Tyton, Sebastian Boenisch, Marcin Wasilewski, Damien Perquis, Lukasz Piszczek, Dariusz Dudka, Eugen Polanski (Kamil Grosicki, 56), Ludovic Obraniak (Pawel Brozek, 72), Rafal Murawski (Adrian Mierzejewski, 73), Jakub Blaszczykowski, Robert Lewandowski.
Co-hosts Poland went up against all the odds and managed to draw 1:1 with Group A leaders Russia. Poland deserved to win. They were the better, but more unlucky side  on Tuesday night and have showed a lot more heart than Russia.
Summary:
Poland were the more dangerous side at the start of the match, with two headers ranging on target forcing Vyacheslav Malafeev to react quickly. However, Russia soon realized they would not have an easy game on their hands like last week and picked up the pace. Dick Advocaat's men pressured the Polish defence and made themselves look dangerous, causing the Poles to scramble a lot at back. An unmarked Dzagoev in the penalty box during a free kick was enough to score his third goal of the tournament, and put his side up by one. A goal before the half was ideal for Russian confidence, but made Polish ambition for a response that much greater.
With the first half over and the second half in action, Russia seemed to have slowed down giving the Poles a chance to get back into the game.
Russia were far too dependent on Arshavin and he's not had his best game. His lax response after losing the ball and giving freedom for that Polish counter attack to happen is what resulted to the equalising goal. Top notch screamer from the skipper Blaszczykowski, who deserves that captain's armband.
Poland now have a very good chance to progress from Group A. Winning on Saturday against the Czech Republic will guarantee the Poles a ticket to the quarter finals. A victory on Polish home soil is in the cards, so about time for one which will result in Poland advancing to happen.
Post game reaction:
"I think we deserve praise because all of us put a lot into this match. The tactics we set up before the match we carried out 100%. We're still in the tournament, so with this point a win in our final match puts us into the knockout stage." said Poland captain Jakub Blaszczykowski after the match.
"Poland played very well tonight, under the risk of losing the chance to win a place in the last eight if they lost. Meanwhile, we allowed them to create too many chances in attack. That means we still need to strengthen our defence.
"We also played well and scored before the break and had many chances in the second half, but we missed them all. In general, I'd say the draw is a good result for us." said Russia coach Dick Advocaat after the game.
Group A
Russia need at least a point from their final game against Greece to qualify as of right.
If the Czech Republic draw with Poland and Russia lose, then Russia still qualify because they defeated the Czechs earlier in the tournament.
Poland need to beat the Czechs to qualify and vice versa. Greece will qualify if they defeat Russia.
And if either Czech Republic or Poland win their game, and Russia are beaten by Greece - then Russia are out.
The standings in Group A are as follows then:
Russia are top on four points, Czech Republic are second on three, Poland have two, and Greece are bottom with one point.
With Greece to play Russia and Poland taking on Czech Republic in the final games on Saturday night, it is all to play for.
Arguably the biggest game in Group A: Euro 2012 co-hosts Poland vs Russia. This game will decide who will have the best chance leaving the group and move on to the quarter-finals. It won't be easy, as seen with Russia's 4-1 stomping over Czech Republic, but Poland have shown in this tournament that they know how to play as well. In addition to the football aspect of this game, there will be strong political overtones riding - like any other match when Poland plays Russia or Germany.
Super Express, a Polish tabloid, had Poland's coach Franciszek Smuda on its latest cover riding horseback, carrying a sword and dressed in a 1920 Polish army uniform, harking back to the country's victorious battle against the Bolshevik army, known as the Miracle on the Vistula. The headline read "Faith, Hope, Smuda", playing off the old Polish army saying "Faith, Home, Motherland."
"In 1920 (the Russians) also thought (they would win) ... they got a spanking," the tabloid said. "(Tuesday) they will get the taste of defeat again because Poland's team will show them Miracle on the Vistula 2."
In a press conference, Smuda stated he was not interested in the historical and political issues between the countries, and would rather focus on the football aspect.
"We in general are not thinking about this at all," he revealed in a press conference. "We are thinking about football... what takes place on the streets, we are less interested in that. We are concentrating on the game."
Football or not, the fans of both nations have a different idea regarding the game. Be sure to expect a heated emotional fixture between two historical rival nations.
Poland:
Coach Franciszek Smuda is reportedly making some changes for the game with Russia. Przemysław Tyton will hold the fort in net for the red-carded Wojciech Szczesny, and Dariusz Dudka will replace Maciej Rybus. This change clearly shows that Smuda will be strengthening his side's defensive build - no surprise considering the opponent is best when attacking. Three central defensive midfielders may perhaps be a risky move, but the Polish defence showed in the last game that it clearly needs help.
Russia's defence isn't the best, so I also expect Smuda to add some more attacking flavour into his squad for the game. This means putting Adrian Mierzejewski in the middle for Ludovic Obraniak, whose creativity could cause problems for Dick Advocaat's team. Kamil Grosicki is another possible candidate to find some playing time in the game after featuring with Smuda in a recent press conference.
With regards to the defence, Smuda will likely keep the same set-up as before. Sebastian Boenisch may have been the weakest link in the Polish defence, but Smuda will continue to favour him over Jakub Wawrzyniak. Rafal Murawski and Eugen Polanski will also have to enjoy a strong game; as the two central defensive midfielders expected to start, they will provide the first line of the defence. Polanski played really well against the Greeks, so there is not much concern about him against Russia; it is only Murawski who is questionable. Can he play a full 90 minutes of convincing football against Russia? Smuda believes so, we will have to take his word on that.
Russia:
The favourites of Group A, and with good reason. With a 3-0 win against Italy before the tournament, and a 4-1 thumping over the Czechs in their first game, the Russians are clearly a force to be reckoned with.
Russia play in a Dutch-influenced style, which their coach, Dick Advocaat, implemented. This means they are very dangerous on the attack, especially on the wings. Andrei Arshavin will have trouble dealing with Lukasz Piszczek, but Alan Dzagoev will be a living nightmare for Boenisch, who will need help from his partners in defence to stop him. Poland's left back was the weakest link against Greece, with both goals resulting from that flank, so it should come as no surprise that Advocaat's men will be trying to take advantage of that as well.
Summary:
A draw in a match against Russia would be a good result, but Poland will definitely be going for the win - not only to make up for the draw against Greece last week, but due to pride. Anything less on Polish soil and in the country's capital, Warsaw, would be unforgivable for Poland fans, and would see the co-host's chances of progress left to mathematics.
If Poland come out guns blazing like they did against the Greeks - and maintain their approach for the majority of the match this time and not only for the first 30 minutes - then I would not be surprised with a 2-1 win for Poland. Crazier things have been known to happen in past Euros.