Poland Czech'ed out of Euro 2012
Poland only needed a win, their first ever in a European Championship, to move past the group stage to the final eight. Unfortunately, all it took was one strike from Czech midfielder Petr Jiracek to bring an end to the Euro dreams of 40 million Poles.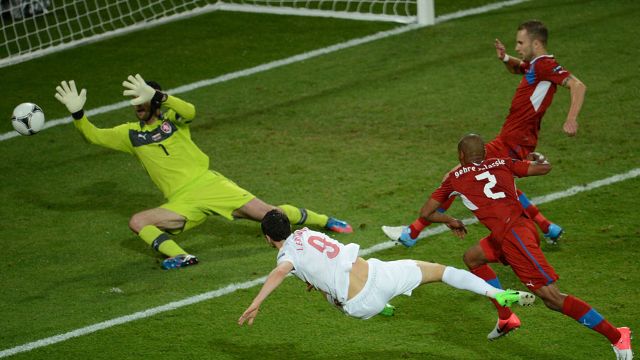 Poland lost 1-0 to Czech Republic on home soil in the third and final match. The Poles knew coming into the game how important this encounter would be, they had the entire nation cheering and riding on their backs to an almost certain historical victory. A victory which would put this Polish squad in the history books along with the Lato's, Denya's, Boniek's, Gardocha's, and Tomazewski's of the 1974 and 1984 Poland "Glory Day" teams. In the end, this was not the case as it seemed the pressure was far too much to handle. The only history book this Polish team will go into is one of choke artists, where they will find plenty of company with the teams of 2002, 2006, and 2008.
What happened:
Poland started the game with the same team that played a valiant and brave encounter with Russia, which ended with a 1:1 draw. Smuda, along with the fans, believed if that side was strong enough to draw with the Russians, naturally it would be enough to make simple work of the Czechs. With both sides needing a win to guarantee their place in the quarter-finals, the game started at a frantic pace, with plenty of goalmouth action.
Despite not having star midfielder Tomas Rosicky in the Czech line-up, they faired well with the defensive Bialo-czerwoni. Having squandered goal chances in the first half, it was do or die at half time. The Poles pushed forward in the second half in search of a goal to put them through to the quarter-finals, more space began to open up in midfield. That space gave the Czechs the opportunity to strike on the counter, and the punishment came with Jiracek's second goal of the tournament. He had also opened the scoring in a 2-1 victory over Greece. Smuda's men responded well and the final chances were all for the home team. A lack of finishing was again their downfall, like in the opening game with Greece.
The Problem:
- Smuda's stubbornness of playing midfielder Rafal Murawski in this match after his poor performance against Russia was the first sign of Poland's downfall. I do not understand why Smuda kept playing Murawski in the middle as the squad's playmaker. The 30 year old Lech Poznan man showed in previous games he is not fit to play, or at least start at this level, much less count on being the main provider for Lewandowski. Why Smuda did not start Mierzejewski over him is beyond me.
- Lack of support for Robert Lewandowski. Playing with one striker up front, you are expected to have a strong midfield that can produce chances and... wait, scratch that, a midfield that can actually pass a ball. Yes, just pass a ball. That Poland can't, means the sole forward up front is helpless. Lewandowski cannot lead the attack himself. We saw this in game one against Greece, he quickly gets himself surrounded by defenders and has no option but to try and dribble his way out of trouble - something he has failed at pretty much almost every time.
- Three defensive midfielders. What is this...? Did I miss the memo? Poland coach Franciszek Smuda decided to play it safe, and set up a defensive formation against a supposedly "weak" opponent. Dudka and Polanski as the two CDM's in front of the defensive line, and Murawski as the semi CDM/CM in front of them. Poland suffered due to this inconceivable tactic all game long. It was not until late in the second half that a light ball ticked on in Smuda's head that this all simply was not working. He immediately brought on two attacking players in the last 30 minutes to push for an equalizer, but couldn't punch through the Czech defence. By then it was too late, and the Czech's themselves switched up from an attacking to a more defensive formation.
- Overconfidence/cockiness: After the Russia game, Smuda and friends assumed the worst was behind them. All that was left in their way of a historical qualification were the "silly weak" Czechs who took a 4:1 beating on day 1. From this point on, media in Poland wrote that the Poles were practically in the quarter finals now, and only a formal match with Czech Republic was left until it would be official. While Poland came into the game high on overconfidence and expecting an easy game, the Czechs, the underdogs came in serious with a game plan to upset the hosts. Throughout the game, Poland players would look sluggish and lazy, expecting that they would not have to work hard to get the desired result. Meanwhile, the Czechs worked their arses off which paid off in the end. It was not until the 30th minute left in the game that Poland decided "Oh dayum, were actually going to have to work here if we want to progress." -funny enough, some particular players on Poland were thinking more absurd things....
- Some players simply did not show up today. Perhaps yes, physically, but not mentally. Guys like the Dortmund trio had the worst game of the tournament. Lewandowski pretty much looking invisible all game and barely pressuring the defence, and even Piszczek struggling with the Czech right winger Pilar. Only Blaszczykowski looked the better out of the three, but even that is not saying much as he too looked like a shadow of himself from the Russia game. With that said, he was one of the better players for Poland today in the attack.
- Poor starting line up. Like I mentioned before, the whole defensive based tactics put in place by Smuda with the 3 CDM's was a big no-no, along with some of his starter choices. Putting Murawski on the starting list was poor, same with Obraniak. He's a good player, but not the type I would personally start in a match like this where I want pace and as much goal chances created as possible. Notice how every game Poland relies on it's dangerous right flank, and never from its left. If the right side was poor like it was today, how do you think the left side did...? Need I say more?
Conclusion:
The loss is a huge disappointment for Poland fans, who were hoping for the country's first ever victory at a European Championship - and a place in the quarterfinals. In return, all we got was another reminder of just how far we are from this achievement.
Czech Republic finish top of Group A with six points, two clear of Russia who were eliminated after losing 1-0 to Greece. Poland, meanwhile lie bottom of the pile and crash out on home soil, having picked up just two points and failing to win in their fleeting campaign.
Lineups:
Czech Republic: Petr Cech, Theodor Gebre Selassie, Tomas Sivok, Michal Kadlec, David Limbersky, Tomas Hubschman, Jaroslav Plasil, Petr Jiracek (Frantisek Rajtoral, 84), Daniel Kolar, Vaclav Pilar (Jan Rezek, 88), Milan Baros (Tomas Pekhart, 90).
Poland: Przemyslaw Tyton, Sebastian Boenisch, Marcin Wasilewski, Damien Perquis, Lukasz Piszczek, Dariusz Dudka, Eugen Polanski (Kamil Grosicki, 56), Ludovic Obraniak (Pawel Brozek, 72), Rafal Murawski (Adrian Mierzejewski, 73), Jakub Blaszczykowski, Robert Lewandowski.

Conversations