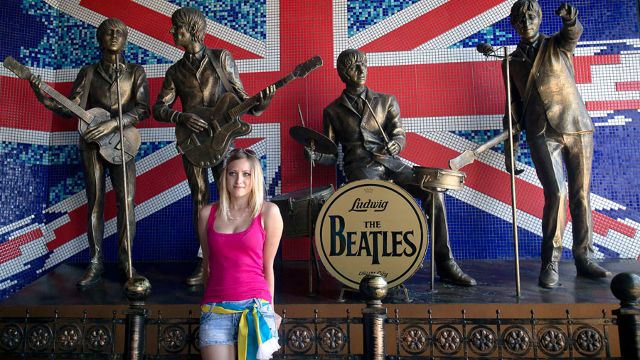 Mark Lomas explains why Donetsk loves The Beatles.
"Yesterday, love was such an easy game to play..."
The sound of England's most famous musical exports filled up the carriage: Beatlemania had hit the No.158 express train from Donetsk to Kharkiv. The sentiment of the song being belted out by five Ukrainian football supporters and one English football journalist was certainly relevant – the previous night, we had all borne witness to the 'Deluge in Donetsk', as a 2-0 defeat to France brought the expectations of the hosts crashing down to earth and certainly left Oleh Blokhin's players needing a place to hide away.
It turns out The Beatles really are very popular here, and it is in Donetsk that one of the most surprising tributes to the Fab Four is located. Because the city was founded by a Welshman in 1869 – entrepreneur John Hughes was behind the initiation of the coal and steel industries that are still booming there today - there exists a love of all things British. Nowhere is that more obvious than the Liverpool Hotel complex, which includes a food market, nightclub and, of course, a life-size monument of The Beatles, complete with a soundtrack of their greatest hits on constant loop and even a traditional red telephone box thrown in for good measure.
Like the band, as a late-night drinking establishment, Liverpool Hotel is peerless. Supporters of Ukraine, France and England danced merrily away until the hours, while 'high-profile' guests included the UEFA competition winner who handed the man of the match trophy to Franck Ribery after Les Bleus' victory at Donbass Arena. "Ribery was not very friendly, but at least I have a photo to keep for life," was the slightly disgruntled Frenchman's assessment of his experience. The venue has got rolling news channel destination written all over it and I am waiting in anticipation for an interview with the manager, during which he will invite Merseysiders Wayne Rooney and Steven Gerrard to partake in some post-match beverages.
Donetsk is characterised by juxtaposition, though not only because of the presence of a somewhat kitsch Beatles-themed hotel nightclub nestled among more traditional cultural establishments such as the Opera and Ballet Theatre. The city's association with steel led it to be twinned with England's equivalent industrial metropolis, Sheffield, but Donetsk's abundance of billionaires ensures the similarities stop there. It is an odd sight, seeing rusted relics of the days when the Iron Curtain was firmly shut shuddering along next to gleaming Porsches and 4x4s; there exists a more striking disparity between the upper classes and the rest than in many of the other cities I have been fortunate enough to travel to.
Before departing I was delighted to find time to take a ride on one of the perilous looking "trolley buses". I am neither an adrenaline junkie nor a public transport aficionado, but for some reason there was something life-affirming about travelling on a vehicle that could well have been made during the early John Hughes years, and that felt it may collapse inwards at any given moment. There may be a new fleet of shiny purple buses provided for the Euros, but I'd take the Soviet style any day: it has far more character.
The train journey back to Kharkiv provided yet more fond Ukrainian memories to take away. Firstly, having worked myself into a frenzy upon realising I was almost certainly going to miss said train, the couple whose home had been my resting place the previous evening threw me in the back of their car and sped me to the station. Should Donetsk ever join fellow billionaires' playground Monte Carlo in hosting a Grand Prix, I can now recommend a decent route. It was another display of unbelievable kindness towards a complete stranger, even one whose embarrassing Russian pronunciation continues to provoke endless giggling fits in all native-speakers who hear it.
Then came the encounter with my Beatles-loving chums. Knocking back vodka like it was lemonade, my immediate presumption was that they were drowning their sorrows after Ukraine's defeat at the Donbass. But while inevitable post-mortems of the game followed during the four-hour journey, it turned out they were in fact celebrating Paul's 28th birthday. "It is not what you think. We do not drink vodka every day," the birthday boy protested, before inviting me to join a toast.
With a slice of apple and some drams of Fanta to wash it down, I sat contentedly with the Two Alexys, Yegor and Paul. Conversation ranged from sport to politics - from Metalist Kharkiv manager hopes of finally breaking the Shakhtar and Dynamo Kiev duopoly on the Ukrainian Premier League to Vitali Klitschko's hopes of becoming the country's next president (I was previously unaware that he has his own political party in Ukraine). As the train rolled into Kharkiv, e-mail addresses were swapped and a plan to reconvene the festivities the next day was drawn up. There was even time for one final rendition of a Beatles classic that they merrily declared was what England will need if they have any chance of beating Ukraine: Help!

Conversations