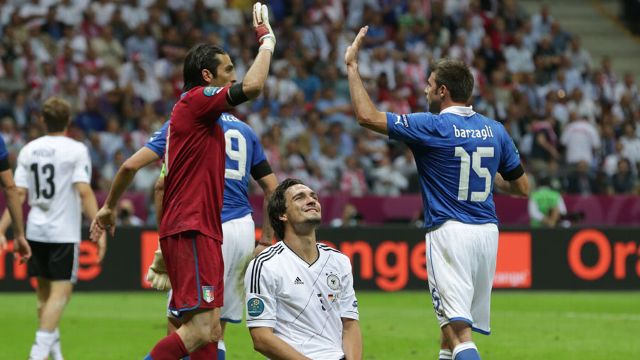 Mein Gott. Never, ever in my life have I had to be more gracious than I have been this year. For those of you that follow my Bayern Munich musings on Soccernet, you know this to be true. To come in second, second, second – and then third place now? It's a nightmare. Strangely, though, I'm not nearly as affected as I was after losing the Champions League final to Chelsea. In the final in May, we (meaning Bayern Munich) were the better team. By far. We had essentially won that match three different times. This semi-final? Not so much. Italy surely deserved to win.
And dare I say that Jogi was out-tinkered? Perhaps not telling your team who is starting until three hours before match time wasn't ideal, mole in the German camp or not...
All the panache and tactical superiority he'd displayed in the previous four matches came to naught. Toni Kroos was not a bad decision, mind you, it's just that the midfield failed to execute the game plan. Toni drifted ever towards the centre, where he plays for Bayern now, and created a big ol' mess in central midfield. There were three attacking midfielders in the centre of the pitch: Kroos, Khedira and Ozil, with Ozil being forced somewhat outside and creating a huge gap on the right. Meanwhile, Bastian Schweinsteiger had a crap 90 minutes with passes ending up generally at the wrong set of feet. (Sigh.)
Not to say that Deutschland still didn't have their chances to win. Despite all the disorganisation, they did. Fifteen shots – eight on target – went to waste in this one. Hummels, Kroos, Ozil, Khedira, Lahm, Reus and Gomez all had good looks at the goal, and not one could finish. Meanwhile, Prandelli's men managed ten total shots – five on target – and finished twice.
After disappointing previous outings, Mario Balotelli repaid his trainer's faith in him in spades by scoring a brace of very pretty goals against a calamitous Mannschaft defence. The first, on 20 minutes, had Boateng out of position, allowing Cassano to get past him and Hummels. After beating Mats, Antonio provided a nifty cross over in front of the goal, which Mario headed in after beating Holger Badstuber. And the second saw him sprint in front of our back line, collecting Montolivo's long pass before hammering it past a stationary Neuer. Say what you want about his immaturity, on-and-off-field antics, his hair – anything, really – but when Balotelli is on form, he is absolutely brilliant.
So, where does that leave die deutsche Fussballnationalmannschaft? In 2002 - 2nd, in 2006 - 3rd, in 2008 - 2nd, in 2010 - 3rd, and now in 2012 - 3rd once again. Always the bridesmaid, never the bride. While this team possesses all the talent in the world, eventually they will have to overcome that last hurdle – whatever it is – and actually win something. After storming through qualification and the "Group of Death", I thought that perhaps this was our time. I am wholly disappointed that it is not.
So, it's time for me to say, "Well played, Italy. Well played". Congratulations to Cesare Prandelli and the fine job he has done with the Azzurri. Now, pretty please will you go on to lift the trophy? I can't stand to see Spain lift another one, and there's no shame in losing to the tournament winners, now, is there?

Conversations