So France have crashed out of Euro 2012 following an unsurprising 2-0 defeat to Spain, their first ever tournament victory over les Bleus, thanks to two Xabi Alonso goals in Donetsk. The Spanish were also helped largely by Laurent Blanc's ultra-conservative team selection and France's anaemic attack given that only Franck Ribery and Karim Benzema could be counted as attacking threats in the starting XI.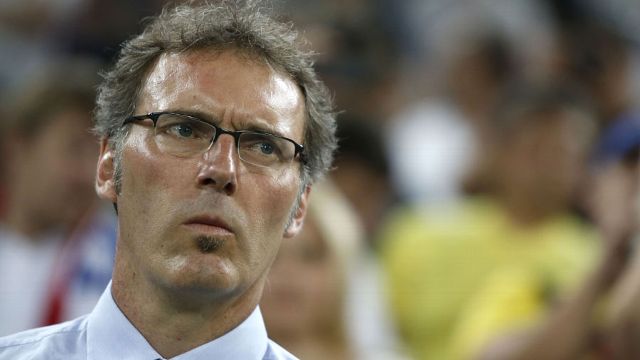 Blanc's gameplan was evidently to soak up wave after wave of Spanish pressure and then hit Vicente Del Bosque's side on the counterattack. However, this plan was blown away by Alonso's 19th minute header and France never really looked like getting back in it from there.
Les Bleus showed some fight in the second half but were once again lacking penetration up front and struggled to create any clear chances. Alonso notched a second though when Anthony Réveillère brought down Pedro Rodriguez and the Real Madrid man converted the spot kick. There was further controversy after the whistle as midfielder Samir Nasri was involved in an altercation with a French journalist, capping a miserable end to a tournament that promised so much but delivered so little for the French.
Suspended defender Philippe Mexès was replaced by Laurent Koscielny, Réveillère came in at right-back as Mathieu Debuchy pushed forward on to right midfield. Yann M'Vila assumed the sole defensive midfield role and was supported by Yohan Cabaye and Florent Malouda.
Karim Benzema yet again failed to register his first goal of the tournament and cut a frustrated figure up top, Real Madrid teammate Iker Casillas was rarely tested by the former OL man.
Spain immediately took control of proceedings and made the breakthrough in the 19th minute. Andrés Iniesta released Jordi Alba in behind Réveillère and the left-back's cross picked out the unmarked Alonso for the opening goal, heading past Hugo Lloris who could do nothing to prevent it.
Les Bleus began to enjoy more possession as the first period pressed on however; their best chance came from a Cabaye free-kick from distance that was tipped over by Casillas, a familiar story in this tournament.
Blanc resisted the need to make changes as half-time and the side suffered a disappointing exit as their attacking deficiencies cost them dearly.
Debuchy, Benzema and Ribéry looked more dangerous in the second period as they started to enjoy some possession and came close to the Spanish penalty area. However, they were unable to muster anything of real note and fans were left baffled by Blanc's decision to only introduce Ligue 1 top scorer last year Olivier Giroud with ten minutes remaining.
In all, a very disappointing display with France lacking direction and drive meaning that Spain never even had to be at their best to reach the semi-finals. Blanc's team selection showed far too much respect to the reigning champions and this generation will now have to wait until 2014 for another chance to prove themselves, assuming they qualify.
Spain now progress to the semi-finals of the competition where they will meet neighbours Portugal in the Donbass Arena in Donetsk.
More to come on France's failure...
France approach Saturday's Euro 2012 quarter-final clash with Spain with little to shout about. Although history is on their side, the realists amongst us will expect the defending champions to dispatch les Bleus easily given their sorry showing in their final Group D clash with Sweden. A lacklustre France outfit succumbed to a 2-0 defeat on Tuesday and French boss Laurent Blanc has already admitted that his side face an uphill task.
So what does Blanc have left that he can change to spark his side into life? Firstly, striker Karim Benzema has still not found the net yet this tournament. In fact, only Jérémy Ménez has scored out of Blanc's attacking options in his 23-man squad. The Paris Saint-Germain player was dropped for the Sweden game depriving the side of his direct approach, something they will need to rediscover if they are to find a way past Jordi Alba at left-back and Andrés Iniesta on the left of midfield.
One way to ensure this without losing anything in terms of creativity is to possibly consider playing Benzema as the number 10 with Ménez and Franck Ribéry either side utilising their pace to outflank opponents and benefitting from Benzema's natural tendency to take up a more withdrawn position that better suits him laying goals on rather than scoring them.
Without trying him there, Blanc will never know if Benzema can adequately fill Zinedine Zidane's shoes as France's new number ten but he will need a far more creative presence behind a predatory goalscorer like Olivier Giroud if he wants to reach the semi-finals. Either he accepts Bezema's preference to play the withdrawn role or he risks benching him and disturbing the team chemistry. Alternatively he could spring a huge surprise and try new Lille signing Marvin Martin in that role despite having used him relatively little this tournament, but given his club form last year for Sochaux this would be a highly risky move.
Who then to lead the line? On the bench Blanc has 21-goal Montpellier striker Giroud who has yet to really be tested this tournament. A few cameo appearances as a substitute have been all that we have seen from the soon-to-be Arsenal striker, Saturday night's showdown could be the perfect place to demonstrate just how complete a player he is. Moreover, having him up front alongside Benzema could finally be the spark that the Real Madrid man needs to get his tournament rolling.
A number of clever assists cannot paper over the cracks and disguise the fact that the former Lyon prodigy has looked shy in front of goal and has preferred to limit himself to shots from range and laying the ball on for his teammates to profit. Giroud is also capable of providing assists but show a more ruthless streak in front of goal, perhaps with him as the focal point of the attack les Bleus can find another gear. The 25-year old's unselfish play can bring players like Ménez, Ribéry and Benzema into the game whilst he will also be the man to finish any chance put in front of him. With very little left to lose following the revelation of yet another internal squad conflict during an international tournament, Giroud could be Blanc's ace up his sleeve.
That said, France have looked far from convincing at the back so far this campaign so the suspension of AC Milan's Philippe Mexès could come as a blessing in disguise. Whilst Mexès has not looked out of his depth alongside Adil Rami in the group stages, there is something disconcerting about a defender who looks like a yellow card waiting to happen being paired alongside a physically commanding presence who lacks any real footballing savvy. Mexès' replacement will be Arsenal's Laurent Koscielny, solid and unspectacular but a far more calming influence on a player who is still finding his feet on the international stage like Rami, the former Lorient man whilst not vastly experience himself, has looked at complete ease in French bleu.
Rami and Mexes are essentially similar players in that both try to take the ball out of defence however, whilst Rami makes the most of his considerable physical advantage, Mexes is the one left to sweep up the mistakes that Rami makes or the chances that pass him by. When the former Lille man brings the ball out of defence he more often than not loses possession, so with Mexes being the one who has to step in to bail him out it was inevitable that France's vice-captain would find himself suspended at some point this tournament. Koscielny and Rami will be a more solid pairing and if you add that to the fact that Spain, despite trouncing the Republic of Ireland in their second game, have not looked like scoring particularly readily, you feel that if France can get their attacking unit in gear then they stand a chance of knocking the holders out.
History is on France's side, the last time the pair faced each other was in 2006 when France beat Spain en route to the World Cup final where they were defeated on penalties. Les Bleus' victory over Ukraine was their first in a competitive international tournament since their semi-final victory over Portugal in that same competition. How France would love to roll back the years on Saturday and repeat their 3-1 victory over la Furia Roja, but it will be difficult without the instrumental 'Zizou' this time around.